Manchester City and Leicester missed chances rule the day in 0-0 draw
LEICESTER, England -- Here are three quick thoughts after Leicester City and Manchester City played to a disappointing, goalless draw for both teams.

Leicester City
Manchester City
Game Details
1. Missed chances rule the day for both clubs
Another day, another disappointing big game in the Premier League. Leicester and Manchester City played uninspiring football after Manchester United and Chelsea played out a 0-0 draw on Monday.
The visitors had the majority of possession and had long spells of dominance, but despite their incredibly talented and expensively assembled forward line, Man City could not break down a largely excellent Leicester defence. If ever a game was to sum up the Premier League this season, this was it. It was fast, frantic, involved a great deal of pressing and closing down, but also featured a large number of mistakes, moments of low quality and an alarming lack of poise in either penalty area.
Players of high standing, large transfer fees and otherwise fine form seemed to line up to miss chances, from Sergio Aguero and Raheem Sterling, to Jamie Vardy and Riyad Mahrez. This was an encounter of much bluster, but little end-product. Both goalkeepers were required to make saves, but most would have featured on blooper reels had they not been kept out. That one of the most notable elements of the fixture was Sterling's haircut should speak volumes.
That's not to say it wasn't entertaining in spells (because incompetence often is), and that there weren't moments of quality and good performances: Wes Morgan was excellent at the back for Leicester, N'Golo Kante continued to prove he was one of the shrewdest pieces of business last summer, while Kevin De Bruyne was always threatening for Manchester City.
It also represented something of an achievement for Manuel Pellegrini's men, as it was their first clean sheet of the season without Vincent Kompany, again absent after his aborted comeback on Boxing Day. As achievements go, one shutout for a central defensive partnership -- Eliaquim Mangala and Nicolas Otamendi -- that cost in the region of £80 million is not exactly mind-blowing, but it's a start.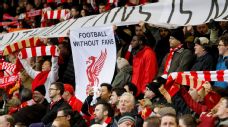 2. The curious case of Yaya Toure
Yaya Toure is a rather curious player these days. In his better moments, he resembles the force of nature he was a few years ago, an unstoppable and marauding midfielder who could plough his way through defences and had a much more delicate touch than he was given credit. He was a couple of midfielders in one, allowing Roberto Mancini to play a 4-4-2 formation because he was everywhere. Mancini could push forward to create a Toure-shaped juggernaut in attack.
These days, at 32, Toure is a slightly less fearsome proposition. Or at least he is for the majority of games. He can still turn it on, and still does so, but only tends to in short spells. This was most evident against Arsenal when the Toure of 2015 turned into the Toure of 2012 in the last 15 minutes of the game, scoring a beautiful goal in the process. Of course, by that point, the game was more or less lost and the sudden finding of his mojo was virtually moot.
Those 15 or so minutes in which he makes a difference can obviously be game-changing for City, but it would be entirely preferable for him to, well, offer a little more than a quarter of an hour for every 90 minutes. Still, 15 minutes was more than they got against Leicester, as Toure was largely anonymous throughout, outshone by Kante and Danny Drinkwater in the home midfield.
Toure wasn't spectacularly bad, but he also didn't contribute enough, and in games such as this, City need more from him. Indeed, if they are to win the title in this most open of seasons, they certainly need more from him.
3. Vardy isolated, as Ranieri's formation ineffective
Leicester changed formation slightly to incorporate an extra midfielder, specifically semi-forgotten man Gokhan Inler, into their side, presumably to try and deal with the waspish threat of David Silva. The formation was roughly 4-1-4-1, with Inler sitting deep and Danny Drinkwater and Kante in front of him -- not the most attacking of central midfield trios.
The theory was fine, but it was executed slightly strangely, because they seemed to spend the majority of the first half bypassing that midfield and hoofing the ball over their heads in the general direction of Vardy, who was ploughing the loneliest of furrows up front on his own. Vardy was remarkably isolated, and although he did his best to unsettle Mangala and Otamendi (not always the most onerous of tasks), his effectiveness was stymied by a lack of support.
Mark Albrighton and Mahrez did their best from wide positions, but in general, their threat came from their own efforts, rather than trying to supply Vardy. Leonardo Ulloa came on in the second half, in theory to lend Vardy a hand, but in the end, he contributed relatively little, frequently finding himself on the left wing for reasons unclear.
It seemed like a performance designed to get a point, rather than go for a win, which was rather curious given how Leicester have played to get themselves in this position. They have been a counter-attacking team all season but have relied on their forwards' thrilling pace to slice and dice opponents, making them very effective and highly entertaining.
This was a game against the most dangerous attacking quartet in the Premier League, so an element of caution is understandable. But it would be a shame if Leicester were to move away from the principles and tactics that got them to the top of the league in games such as this.
Nick Miller is a writer for ESPN FC, covering Premier League and European football. Follow him on Twitter @NickMiller79.