Liverpool destroy Manchester City as Jurgen Klopp's plan works
MANCHESTER, England -- Three points from Liverpool's 4-1 win vs. Manchester City in the Premier League.
1. Electric Liverpool destroy City
Jurgen Klopp's new club ravaged an idling Manchester City in the first half, before guarding their lead jealously in the second period until Martin Skrtel's rattling strike made it 4-1 with nine minutes to play.
Three goals were plundered in the opening 32 minutes and more might have come as Liverpool staged an almost note-perfect rendition of Klopp's philosophy. Sergio Aguero's goal just before half-time reopened the game as a contest, but before that City had been destroyed by warp-speed pressing and thrilling, deadly counterattacks.
Manchester City

Liverpool
Game Details
This was the football that Liverpool fans dreamed of when Klopp replaced Brendan Rodgers on Oct. 8 and its arrival ahead of schedule dumbfounded the hosts, a team with the deepest squad and richest resources in English football.
With neither Christian Benteke nor Daniel Sturridge considered fit enough to start, Firmino played as Liverpool's "false nine," just as he did in a 3-1 win at Chelsea on Oct. 31. In tandem with Brazilian compatriot Philippe Coutinho, Firmino wrenched City's defence apart and, had his finishing been sharper, he might have had at least a hat trick.
It was Firmino who created the seventh-minute opener with a cross that Eliaquim Mangala turned into his own goal. The move itself resulted from the pressing of Coutinho onto a dallying Bacary Sagna, followed by pass that played Firmino, bursting down City's exposed left, onside.
Liverpool's second came after 23 minutes from the type of incisive, speedy attack that has been little but a memory since the 2013-14 season when they ran City so close for the title. Firmino seized on a communication breakdown between Mangala and partner Martin Demichelis and attacked down the right this time. City's offside trap was again sprung as Coutinho scored.
The third, nine minutes later, was constructed by a team utterly brimming with belief. Emre Can's backheel was both cheeky and visionary and allowed Coutinho to play in Firmino to score the goal he deserved. Liverpool were flying, while City were in ruins.
Manuel Pellegrini's men did restore some hope through Aguero's fine goal, and City's quality and spirit looked partially rediscovered from the beginning of the second half.
By then, though, it was too late and Liverpool remained capable of attacks like that from which Firmino forced a world-class save from Joe Hart. Skrtel's goal, nine minutes from time, duly confirmed Liverpool's win.
The result means that Leicester are the Premier League's leaders. That is the state of affairs resulting from an evening that also suggested Liverpool can soon be part of the mix.
2. Pellegrini's selection gamble backfires
City have a gruelling schedule of 10 matches in the 39 remaining days of 2015 and Pellegrini, despite being without Vincent Kompany and David Silva, chose to rest others for Liverpool's visit.
Midfielder Fernandinho and central defender Nicolas Otamendi were dropped to the bench after long trips to play for Brazil and Argentina, respectively. As it turned out, all of Pellegrini's men played the first half as if they had just staggered jet-lagged from a transcontinental flight.
Fernando, in place of Fernandinho until a half-time double substitution brought them into a midfield trio with Fabian Delph, was overrun in midfield. Meanwhile Martin Demichelis, an unused sub in Argentina's pair of World Cup qualifiers, formed a befuddled central defensive partnership with Mangala.
Aguero was also back after an absence of almost six weeks. One bulwarking early run had fans out of their seats, as did his first-half claim for a Skrtel handball. In full flow, the Argentinian is capable of the level of destruction that Firmino and Coutinho wreaked on his own defence.
Aguero's goal, lashed past Liverpool keeper Simon Mignolet, came from nothing, as his teammates had offered less than zero before that moment. It was a reminder of what he offers but was the best he could manage. Clearly not 100 percent fit, Aguero did not last beyond the 66th minute.
Pellegrini's half-time removal of Yaya Toure and Jesus Navas suggested an anger that he later confirmed. Toure had been an absentee from the contest as Lucas Leiva controlled midfield while Navas, the winger who is usually a favourite of his manager, had been equally peripheral.
3. Sterling fails to haunt Liverpool
That Raheem Sterling was booed by Liverpool supporters from the start was predictable. Fervent fandom did not allow his critics to consider that £49 million was good money for someone who had not wished to extend his time on Merseyside.
To counteract that barracking, City fans cheered Sterling's every touch and a discordant sound clash followed his every touch in the early stages until the away contingent became otherwise engaged, enthralled as they were in their team's ultra-speed work ethic, which drew mistake after mistake from City.
Sterling, until those moments when Liverpool retreated into a defensive shell, was never able to impose himself. He briefly had Liverpool hearts in mouths when a body swerve grounded Mignolet, only for a slight delay to allow the Belgian keeper to climb to his feet and save Aguero's shot.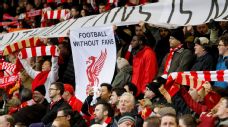 Sterling's former fans also got to enjoy a late open-goal miss from the man they once cheered and, as the game petered out, "Sterling, what's the score?" rang out from the away end.
For Klopp and Liverpool, this was a withering response to the disappointment of losing tepidly to Crystal Palace in their last game. They looked distinctly fresher than their opponents, and both Firmino and Coutinho, not picked for their country last week, wore glowing signs of having worked hard for the past two weeks with their new manager at their club's Melwood training ground.
Brazil's loss was Liverpool's gain. With Firmino and Coutinho resplendent, Sterling became a forgotten man, now part of Liverpool's past. When the Klopp plan works like it did at Eastlands, Liverpool fans can believe in their club's future.
John Brewin is a staff writer for ESPN FC. Follow him on Twitter @JohnBrewinESPN.