Fabian Johnson leads U.S. to big win over St. Vincent and the Grenadines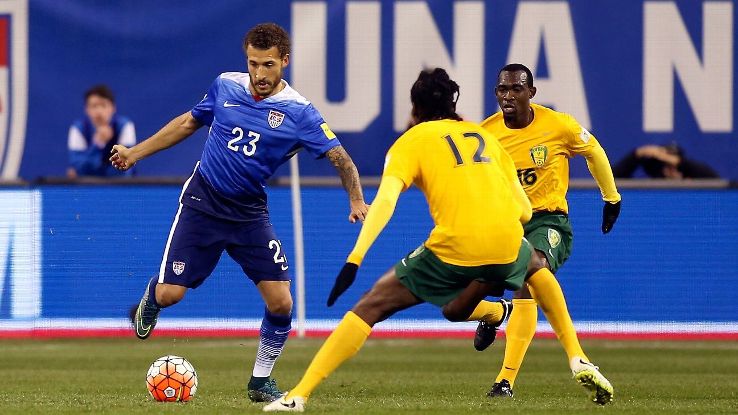 ST. LOUIS -- Fabian Johnson is one of those performers who can play just about anywhere on the field and give a solid performance. For the bulk of his U.S. national team career, that has meant playing at outside back. But a stint on the left side of midfield benefited both player and team alike Friday night, helping the Americans roll to a 6-1 victory over St. Vincent and the Grenadines.
It's almost mind-blowing to think that about a month ago, Johnson's international future was apparently in question. In the wake of the Americans' 3-2 CONCACAF Cup defeat to Mexico, U.S. manager Jurgen Klinsmann publicly shamed Johnson for begging out of the match. The player said he was injured; Klinsmann wasn't buying it and sent him back to Germany ahead of a friendly against Costa Rica. The move was surprising given the consistency Johnson has displayed since first suiting up for the U.S. back in 2011, and it raised all kinds of questions. Exactly how long would Johnson be banished? And when he returned, how long would he stay in Klinsmann's doghouse?
As it turned out, it didn't take much for Johnson to get back on his manager's good side. Johnson's performances for Borussia Monchengladbach had been stellar, including a goal in the UEFA Champions League against Juventus. And sure enough, Johnson's name was on the roster when it was released a week ago.
When asked how much being sent home hurt, Johnson took the high road. "We have talked about it," Johnson said about Klinsmann. "We are leaving it behind us and I'm glad that I'm here."

United States

St. Vincent and the Grenadines
Game Details
Once onboard, it was then left to Klinsmann to sort out where to play him. Injuries to a passel of full backs forced the U.S. manager's hand to a degree over the past few months but against an opponent the U.S. was expected to dominate, Klinsmann had a bit more flexibility.
"Right now, he really has his starting spot [with Gladbach] in midfield," Klinsmann said after the match. "So we thought it might be a good idea to keep that consistency. He has a good run of games right now with his team, so we left it that way."
Johnson went on to have a significant impact during Friday's encounter. His ability to tuck inside and make positive touches provided a reliable conduit between central midfielders Jermaine Jones and Michael Bradley and the front line, enabling the duo to play a bit deeper. It also allowed Tim Ream to venture forward, giving the U.S. another reliable ball distributor farther up field.
"That's just the way I play as a left midfielder," Johnson said. "I'm playing it the same way as with my club team. I think it worked out pretty well."
Bradley for one was pleased to have another skillful player near him to contribute to the attack. "You want to have guys around you, and you want to play with guys who are predictable and easy to play with," Bradley said. "Who give[s] you the ball when it's good for you. Who know[s] how to move. When it's right to play one-touch, they play one-touch. When it's right to dribble, they dribble.
"Fabian is a good football player. He's smart. He's has a football brain. You see that at times in terms of his versatility. He's able to play a number of different spots. I thought tonight, what he gave us tilted off to the left was very good."
Johnson also was a threat from set pieces -- his deliveries from corners contributed to two goals and he also scored from a deflected free kick.
"I said to Fabian before the game, 'It would be nice if you would put one of our free kicks in the net' because in training he does four out of five," Klinsmann said. "It's about time to do that here too in the games."
Johnson seems a certainty to reprise his role Tuesday against Trinidad & Tobago, who secured a 2-1 road victory against Guatemala. Yet T&T will present a much sterner test.
"I think we will see a completely different game on Tuesday," Johnson said. "We expect a very physical game in Trinidad & Tobago, a tough opponent. They showed it in the Gold Cup. They showed it in their recent games. It's going to be a completely different category that we deal with, and we [are] going to prepare for that."
That said, Johnson's move into midfield gives the U.S. a more balanced look between attack and defense rather than the disjointed approach that has characterized the Americans' play in recent months. Johnson certainly looks and feels comfortable.
"It feels good to have the win in the bag," Johnson said. "And we're trying to take it over to Trinidad to get another three points."
Notes:
-- Jermaine Jones appeared to suffer a hamstring injury late in the match and moved back to defense in a bid to avoid more physical confrontations. But the U.S. midfielder didn't seem too concerned about his availability for the T&T match.
"It's good. We checked it, and it's nothing on the muscle," Jones said. "It was tight. We don't want to go risk this, so that's why I went to the back four. I think next game, yeah, it will be OK."
-- Both Darlington Nagbe and Matt Miazga made their senior international debuts in the match. Nagbe's appearance came just months after the Liberia-born midfielder acquired his U.S. citizenship.
"It was definitely a tough wait [for the citizenship], just waiting, not too sure when it was going to happen," he said. But once Nagbe got on the field, he looked sharp, displaying an ease with his touches and movements.
"It felt good. The guys are good players. I felt good; they made sure they got me the ball. I gave it back [to] them when I needed to. Everyone was happy for me, so it felt great."
Miazga's cap comes in a year in which he's represented the U.S. at U20, U23 and now senior level. Given that Miazga has a Polish passport, there had been some concern that there might be a tug-of-war over his international allegiance. Miazga said his intention was always to play for the U.S.
"I always had my options open. I talked to both federations," he said. "But at the end of the day, I grew in the U.S., and I've been with the U.S. since the U14 national team. I've always envisioned and dreamt of being with the full team."
-- The match drew 43,433 fans to Busch Stadium, the largest crowd for any U.S. national team game in the state of Missouri.
Jeff Carlisle covers MLS and the U.S. national team for ESPN FC. Follow him on Twitter @JeffreyCarlisle.