Ireland take upper hand despite Bosnia and Herzegovina domination
ZENICA, Bosnia and Herzegovina -- Three thoughts on Ireland and Bosnia and Herzegovina's 1-1 draw in the first leg of their Euro 2016 playoff on Friday.
1. Bosnia promise much, but produce very little
You would say it was an opportunity wasted for Bosnia and Herzegovina, given their superiority and advantages in this match, except they didn't exactly create all that many chances.
That is the crux of their performance, and the big question is whether they could have done more.
Bosnia and Herzegovina manager Mehmed Bazdarevic reportedly played Edin Cocalic in defensive midfield -- giving the centre-half his first competitive start -- because he was so concerned with Ireland's propensity for long balls and set-pieces, but it soon became so clear that Bosnia realised they had little to be worried about. Initially somewhat nervous, they began to pour forward more and more.
Bosnia and Herzegovina
Republic of Ireland
Game Details
At times in the first half, they were cutting through the shapeless Irish midfield with ease.
The one worry for them in all of this was that, for all the chances they were creating, few of them were coming from properly constructed play. They weren't exactly fashioning moves.
Edin Visca seemed to personify this. His pace was a constant source of trouble for Ireland, and forced so many openings, but he didn't end up doing all that much.
Two of his best runs were easily cut out, and it was no surprise he was eventually taken off, despite how good he seemed at the start.
He was like his team -- suggesting something better was there, but not doing that much.
It says much that it took Ireland finally going ahead for Bosnia to be properly productive.
The wonder is whether they can produce enough in Monday's return leg.
2. Combative Ireland make up for key absences
Somehow Ireland earned a draw in this match, even if it was often as difficult to see how it would come as the Zenica pitch through a thick fog.
O'Neill deserves huge credit for that, given the amount of selection difficulties he had before this game.
Ireland lack options anyway, but this severely limited him. Consider what O'Neill was missing: his main defensive leader in John O'Shea was suspended. His main goalscorer in Jon Walters was also suspended, and there was no Shane Long to offer any kind of force up front, given that he was injured.
As such, O'Neill had to throw in Ipswich Town striker Darryl Murphy -- and, combative as the Championship forward is, that is hardly the kind of Premier League quality that Edin Dzeko spoke of before the game -- and it probably influenced his decision to finally select Wes Hoolahan for an awkward away game.
The Norwich playmaker has sat out all of Ireland's trips abroad in this campaign other than the easy win over Gibraltar, but the tough reality for O'Neill was that he may as well have sat out this one too, as he just couldn't get into the game.
That was not solely his fault, since Ireland couldn't seem to string two passes together, with Glenn Whelan particularly culpable in repeatedly losing possession. The best Ireland could offer were set-pieces, as they looked to work the channels to win free kicks and corners time and again.
The positive, however, was that this gradually ground Bosnia down. Ireland may not be that composed in terms of technique, but they are greatly combative. That is not a cliche. They do have qualities that other international teams lack.
Ciaran Clark showed this more than anyone in this game, and stood in for O'Shea superbly, making two key interceptions and one crunching challenge.
By the end, Bosnia were well aware they were in a fight, and will have to fight to claim the goal they need in Dublin.
3. Ireland take advantage back to Dublin
After a game of attrition that was difficult to see through the thick fog that descended on the Stadion Bilino pitch, one thing is at least clear: Ireland have the advantage after Robbie Brady's key 82nd-minute away goal helped give O'Neill's side the valuable draw.
The one thing that looks set to greatly complicate matters for the Irish, though, is how quickly they then conceded a Dzeko equaliser.
Bosnia and Herzegovina look well capable of claiming an away goal themselves in Dublin they need. The frustration for Bazdarevic's side is that they probably shouldn't have needed to, because they were the better side for much of this game.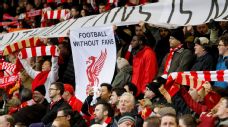 By the time the stadium clock hit 82, Bosnia had seen all of Ervin Zukanovic, Miralem Pjanic and Dzeko himself go close as they repeatedly played through a largely shapeless Ireland.
It was at that exact point, though, that Ireland's dogged competitiveness and spirit paid off.
After Richard Keogh and Clark had done so much to keep Bosnia at bay, Brady found himself clean through on Bosnia keeper Asmir Begovic to finish brilliantly.
It was the first real chance they had but what followed was the first real time in the game that Ireland's backline fell asleep. Dzeko suddenly found himself unmarked to divert a cross past Randolph.
It is clear that Bosnia are going to have to be as clinical, and much more productive than in this game, to have any chance of scoring in Dublin and making Euro 2016.
Miguel Delaney covers the Premier League and Champions League for ESPN FC. Twitter: @MiguelDelaney.