Atletico substitutes make Real Madrid rue lack of initiative in derby
Three things as it finishes 1-1 at the Estadio Vicente Calderon between city rivals Atletico Madrid and Real Madrid.
1. Atletico subs work out in the end
For a long time it seemed like Karim Benzema's early goal was going to give Real Madrid the three points and send Rafa Benitez's side top of the La Liga table.
But Atletico Madrid substitute Luciano Vietto scored an unlikely equaliser with just seven minutes left, as tactical changes from Colchoneros coach Diego Simeone, which had seemed hard to understand at the time, worked out in the end.
Simeone picked an attacking team, giving emerging starlet Angel Correa, 20, a first La Liga start in a 4-3-3 system which also featured fellow youngster Oliver Torres. But for most of proceedings the home side were not really in the game, with Madrid's greater numbers in midfield giving them control of proceedings.
Even after the Argentine coach had thrown on three more attacking substitutes, Atletico looked unlikely to equalise, and had just one shot on target, a missed penalty from Antoine Griezmann, with time almost up.
Replacements Jackson Martinez and Vietto then combined with just seven minutes remaining for an equaliser that was very much in keeping with the quality of the game. The Colombian, in fairness, did very well to outpace replacement full-back Alvaro Arbeloa down the left wing, and get a ball across that Griezmann was able to flick on at the near post.

Atletico Madrid

Real Madrid
Game Details
Vietto actually almost missed the chance, with the ball squirming off his boot and going in off a post, but none of the home fans were too worried. And the €20 million summer signing from Villarreal had his first Colchoneros goal in what was probably the biggest game of his career to date. Jackson Martinez, who has also been struggling lately, almost made it 2-1 in injury time, but Keylor Navas did superbly to push away the Colombian's 20-yard drive.
Before the late show, Correa, who missed all of last season after a heart operation, was definitely Atletico's biggest threat here through his time on the pitch. So it was a real surprise when the Atletico coach withdrew the Argentine youngster just before the hour mark, with the only real explanation that Simeone wanted the fired up youngster to avoid picking up a second yellow card.
Until Vietto's late goal, it seemed Simeone had blown his best chance of an equaliser. Nevertheless Atletico's fans and players seemed happy with the point in the end.
2. Madrid fail to seal win
Madrid started quickly and were ahead inside just nine minutes, when Los Blancos' six-hour-plus goalless drought at the Calderon was ended by Benzema heading in a super Dani Carvajal cross.
Benzema was unmarked as Atletico's centre-backs had been distracted by Cristiano Ronaldo's near-post run. This was the inverse of past seasons when the unselfish No. 9 would drop deep to free up space for Ronaldo to run in from the wing. But the former Lyon player has now scored all four of Madrid's most recent La Liga goals, and is now leading the league pichichi -- top goal-scorer -- with six. The Portuguese superstar's positioning at centre-forward actually seems to be helping his teammate.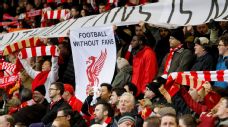 Madrid looked in control of the match for long spells of what was a curiously lethargic game, but presumably under instructions from the bench they played with the handbrake on and did not often trouble Jan Oblak in the Atletico goal. Substitute Gareth Bale did well to set up a dangerous break with the game still at 1-0, but Ronaldo's shot into the side netting was his fifth effort (all off target) of the game.
Benzema did not look happy to be taken off for Mateo Kovacic late on, as Benitez looked to seal the game. Heading into the final 10 minutes the former Liverpool and Chelsea boss must have been congratulating himself on winning the tactical battle with Simeone, and getting the three points needed to go top of the La Liga table.
Vietto's equaliser, however, means that Madrid have now not won in six visits to the Calderon, and Benitez's cautious tactics look likely to be questioned again by his side's pundits and fans.
3. Navas stars again
Madrid goalkeeper Navas was not the busiest player on the pitch on Sunday night as Madrid controlled the game for long stages, but he made a huge contribution to his team, leaving the Calderon with a point at least.
Navas' biggest moment came 22 minutes in, when the returning Sergio Ramos first lost the ball to Torres and then took out Tiago to concede a clear penalty. Griezmann's spot kick was not a bad one, but Navas guessed right and threw himself full length to push a shot around the post.
Navas was not overly busy during the rest of the game as Benitez's decision to start defensively minded holder Casemiro in a four-man midfield -- leaving fit again Bale on the bench -- paid off. Madrid had struggled recently in derbis when Atletico packed this area of the park, but here it was Los Blancos who had the extra players blocking up the space.
Madrid's cautious team shape, and the early goal, meant the game was often not very entertaining. Well past the hour mark there had been just two shots on target: Benzema's goal and Griezmann's missed penalty.
Then came the late drama, and Navas was at least partly culpable for Vietto's equaliser. But the Costa Rica international minutes later showed his importance with a superb save from Jackson Martinez, which stopped Atletico from turning the scoreline around completely.
Even after Sunday night, Navas has now conceded just twice in nine games this season across all competitions, while saving both penalties he has faced along the way. This is all after he was almost pushed out of the Bernabeu to Manchester United against his wishes to be replaced by David De Gea just a few weeks ago at the end of transfer window.
Benitez has backed the former Levante keeper as his clear first choice No. 1, and the coach was grateful for that late save especially, or it would otherwise have been an embarrassing night for Madrid and their coach.
Dermot Corrigan is a Madrid-based football writer who covers La Liga and the Spain national team for ESPN FC. Follow him on Twitter @dermotmcorrigan