Marco Reus and Henrikh Mkhitaryan lead Dortmund's rout over Gladbach
DORTMUND, Germany -- Borussia Dortmund kicked off their Bundesliga campaign under new manager Thomas Tuchel with a surprising 4-0 win over Borussia Monchengladbach. It was a reassuring opener in the league for a team that struggled last season, especially considering they came against a side who finished in Champions League spots in that campaign. Here are three quick thoughts from the Westfalenstadion.

Borussia Dortmund
Borussia Monchengladbach
Game Details
1. Dortmund appear to be back
When the Westfalenstadion is loud, it is incredibly loud. It explodes. Over and over again. The fans get up from their seats, and become one with the famous Sudtribune, the largest standing area terrace in Europe. Thirty-five minutes into Dortmund's match against Gladbach with the home side up 3-0, it was difficult to hear anything but the chants from the stadium.
It's clear by the supporters' enthusiasm in Dortmund's home Bundesliga opener that the club is back with a bang. They bossed the midfield, as their impressive 19-year-old summer signing Julian Weigl helped control Gladbach's few attacks.
BVB pressed high, sometimes attacking Gladbach's defence with three players deep into the Foals' own half. They slowed the game when needed and played quick counters, keeping the ball low as Mats Hummels and Ilkay Gundogan in particular, worked as playmakers from defence and midfield respectively.
That followed on the second goal when Hummels spotted left-back Marcel Schmelzer on the sideline some 35 metres from Gladbach's goal. Pierre-Emerick Aubameyang ran into position, unmarked by the woeful Chelsea loanee Andreas Christensen. Schmelzer crossed, and with a Lewandowski-esque header, Aubameyang headed the ball into the net from some 10 metres out.
At half-time, with the club 3-0 up, Dortmund's stadium speaker Norbert Dickel, a club legend who scored a brace in the DFB-Pokal victory of 1989, gave his approval of the action so far by saying, "Wow, that was sensational. What a game. The atmosphere, it's a treat to be here."
Unlike the rest of the Bundesliga, BVB had been back in action before the DFB-Pokal last weekend. They cruised past Austrian's Wolfsberg in the Europa League qualifying stages, especially in the second leg, when they hinted at what might be their style of play this season. Henrikh Mkhitaryan scored a hat trick in that match and followed that with a brace against Gladbach on Saturday. He has now been involved in nine goals, scoring six in only four competitive games. Last season, he scored four and set up seven in 41 games over all competitions.
Having an early start to competitive matches with Europa League qualifiers has worked wonders for Tuchel. It could not have been a better start to his Bundesliga career at Dortmund. When Aubameyang and Reus were replaced by Kevin Kampl and Adrian Ramos some 15 minutes from time, the stadium exploded once again.
"We are all Dortmund lads," they chanted.
Should Dortmund keep up this pace and improve even more, they might very well be in the race for the Champions League spots this season.
2. Comparing Tuchel to Klopp
Reus' opening goal, picking up a Shinji Kagawa pass, controlling the ball and then sending that rocket past Gladbach keeper Yann Sommer, was a beauty. But the build-up to that goal, showcased the new Dortmund led by Tuchel.
Over on the right, close to the sideline, Gundogan and defender Sokratis Papastathopoulos passed the ball around for a while. The passes went back and forth with the aim of trying to control in midfield. Over on the left, Hummels waived, and received the ball from Sokratis. Hummels found Kagawa. The Japan international ran into position and with only one touch followed by two quick vertical passes, they got behind the Gladbach defense. They slowed the match and sped it up in matter of seconds.
Much like the rest of his teammates last season, Hummels had looked tired and worn out, not fit from years under Tuchel's predecessor, Jurgen Klopp. The former manager's style often involved Gegenpressing (high-pressing) with long balls into the opponents half. Of course, there was more to BVB's football than just high-pressing football, but the team resembled an oil tanker lost on sea in Klopp's final season with the club, unable to move, unable to change directions amid a storm.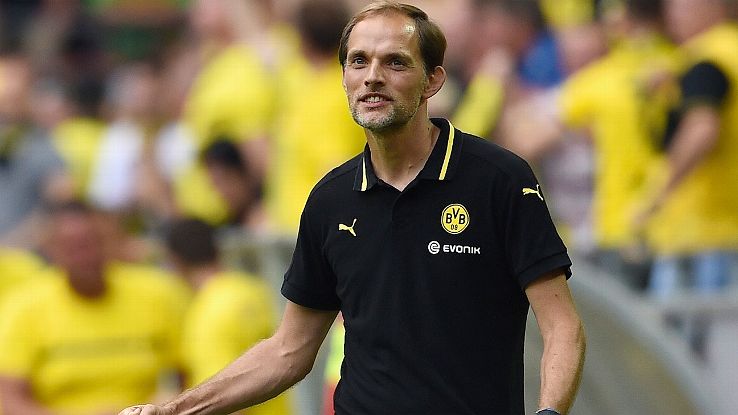 While Klopp has left, the squad, for the first time in what feels like ages, has not changed. Even in-demand midfielder Gundogan, partially unable to find a new club and also partially convinced by Tuchel's plans, stayed. So did Hummels, Aubameyang and Reus.
So what has changed under the new manager? The details. There's more of a focus on control of the ball with emphasis on clean and low passes. As a result the club's form and confidence has improved as it has started the season with two Europa League qualifying wins, a German Cup win and a dominating victory over last season's third-best team in the league in its Bundesliga 2015-16 opener.
The counterattack that led to Dortmund's third goal was one of the best seen in the stadium for a long time. Mkhitaryan's brilliant goal was the result of some superb passing and movement that was started from a stellar pass from Gundogan to Aubameyang that ultimately found the Armenian international. It was one of many wonderful goals at the Westfalenstadion on Saturday.
3. Gladbach may have a difficult campaign ahead
Maybe things would have been different if Switzerland international Josip Drmic had scored in the opening 10 minutes. Wonderfully set up by Ibrahima Traore, who passed the ball into the middle from the left wing, the attacker ran towards the goal. He was ready to beat Dortmund's goalkeeper Roman Burki, when, out of nowhere, BVB's left-back Schmelzer showed up behind him, and with a last-second tackle cleared the situation.
They did not have much to add after that.
Last season, Borussia Monchengladbach finished a deserved third, and, for the first time ever, qualified for the group stages of Champions League.
However, they had to bid goodbye to Germany international Christoph Kramer, with the holding midfielder returning to Bayer Leverkusen after a two-year loan, and also could not prevent attacker Max Kruse from triggering a release clause and leaving for Wolfsburg, where he hopes to win titles.
On Saturday, Gladbach began with 19-year-old Christensen and 20-year-old Marvin Schulz at the centre-back positions, while Tony Jantschke moved from the centre to right-back, where he fought it out with Dortmund's speedy wingers. All three were unable to control the BVB players, who got behind them through pace and via a number of clean passes.
At the left-back position, Oscar Wendt at least tried to go forward, but when doing so, he was caught out of position and was run into the ground. The Foals did not have anything to add in central midfield, where Granit Xhaka was disappointing. He slowed down the game, lost balls, just like his partner Lars Stindl, currently the best uncapped player in Germany.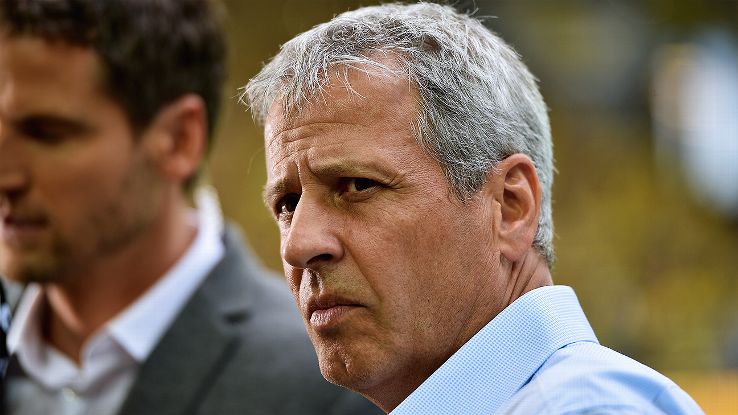 Going into their first ever Champions League season, Lucien Favre's side needs to bolster its defense and hope that the first choice centre-backs Martin Stranzl and Alvaro Dominguez return from their injuries.
Today, against an inspired Borussia Dortmund, Gladbach suffered a heavy defeat, but they know that patience is needed. They need time to gain chemistry after key departures and that's how they'll cope with the early setbacks. Still, the Foals may have just entered what will be a very long and trying campaign.
Stephan Uersfeld is the Germany correspondent for ESPN FC. Follow him on Twitter @uersfeld.