Paraguay knock Brazil out of Copa America on penalties again
CONCEPCION, Chile -- Three thoughts on Brazil and Paraguay's Copa America quarterfinal, which Paraguay won 4-3 on penalties after the two sides drew 1-1.
Paraguay will now face Argentina in Tuesday's semifinal.
1. Brazil pay the penalty versus Paraguay again
History repeats itself after another reprehensible Brazil campaign. Paraguay knocked the five-time world champions out in a quarterfinal penalty shootout for the second Copa America in a row, while the Brazilians bowed out in embarrassingly underwhelming fashion for their fourth straight tournament.
It is time for the country to take a deep look at its football culture, as this was a deeply poor and dull performance. Brazil took the lead in the first half through Robinho in what was their only touch in the opposition box in the opening period. From there, they radiated a complacency born of misplaced arrogance, and Paraguay gradually took deserved advantage.

Brazil
Paraguay
Paraguay wins 4-3 on Penalty Kicks.
Game Details
The equalizer came after Thiago Silva handled the ball in the box in the 71st minute and Derlis Gonzalez smashed home the penalty.
That indicated what was to come, as all of Paraguay's penalty takers except Roque Santa Cruz thumped the ball home for Ramon Diaz's side, while both Everton Ribeiro and Douglas Costa missed for Brazil.
The Ribeiro penalty, in particular, summed up just how many bad decisions coach Carlos Dunga has made in this tournament and what a regressive and bad decision it was to reappoint him after the World Cup ended in humiliating circumstances last year.
The Brazilian manager replaced Robinho with Ribeiro just a few minutes from the end, ostensibly for the latter's penalty-taking. As it was, the 26-year-old attempted to outfox goalkeeper Justo Villar with his run-up, only to feebly roll the ball wide.
This was a feeble Brazilian display, and the squad is now out. Paraguay, meanwhile, face Argentina on Tuesday. At this point, Paraguay are probably worthier rivals than the Argentines' great and historic foes.
2. Brazil must face a harsh reality
This is far from a great and historic Brazilian team, and the questions the country faces about the direction of its entire football philosophy were reflected by how directionless the team looked through this entire game.
As the match progressed, it was increasingly difficult to see their pattern of attack and their game plan.
There were no interchanges and no invention. All Brazil could do was offer athletic runs down the wing or hope for something to happen from set-pieces. There was absolutely nothing else.
Brazil's goal was their only well-worked move of the match, but even that came through Paraguay's only defensive slip. Eduardo Aranda let Robinho go in the box, and he was free to roll in Dani Alves' cross from 8 yards.
In truth, going ahead was perhaps the worst thing that could have happened to Brazil, as it created a false sense of security in their own assurance and ensured they offered absolutely no adventure from that point.
It said much about the manager that Dunga eventually took off Robinho and Willian, the only two players attempting to do something different.
Meanwhile, imminent Liverpool signing Roberto Firmino offered absolutely nothing in this match other than a step-over in the buildup to the goal, though that seems more a consequence of the unimaginative system in which he played than anything to do with the player.
Brazil are a whole lot of nothing, and their psychological fragility was exposed too, as Paraguay's persistence eventually paid off, and Silva was forced into an error.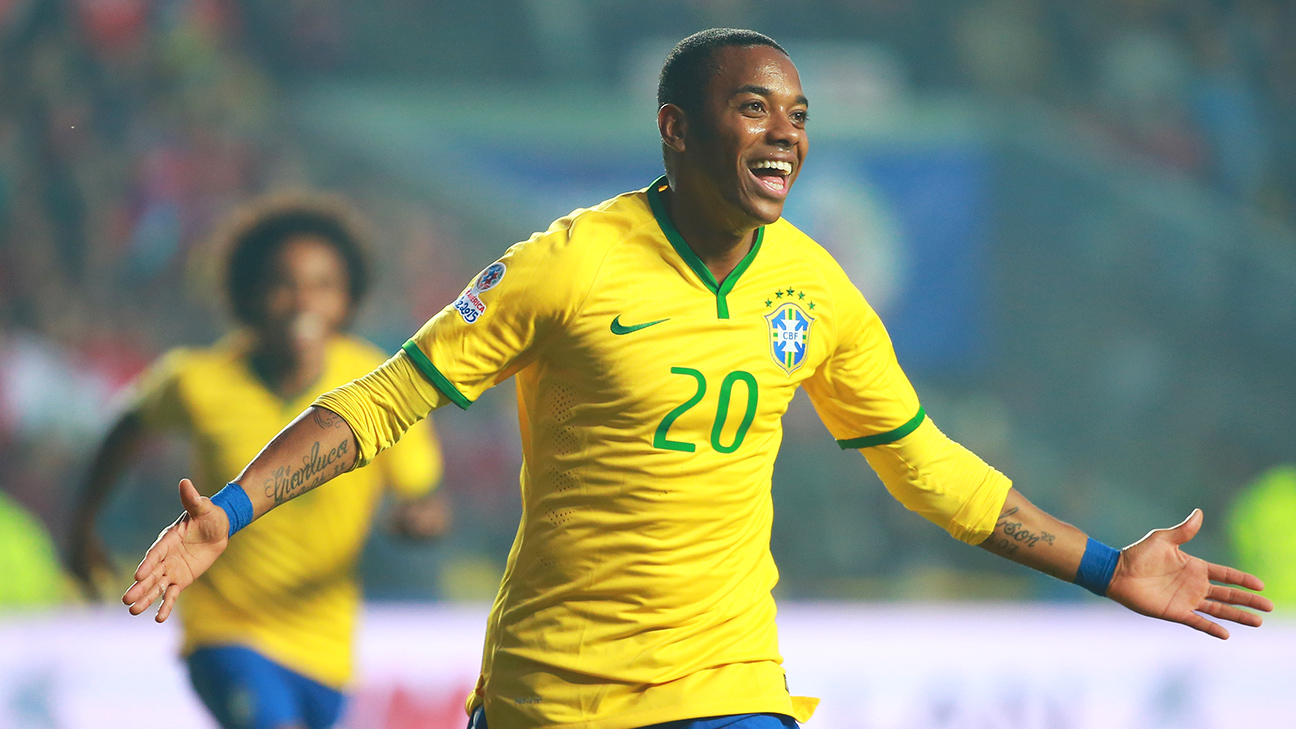 3. Praise for Paraguay
Above all else, Paraguay deserved to go through for their bravery and a resilience Brazil just did not possess. Diaz's side tore at that of Dunga from the start and were the better team from there; there was never a sense they were second-best.
That, however, is not just from the justifiable absence of fear about Brazil since that 7-1 World Cup semifinal defeat to Germany last year.
Although everyone in South America seems to know the five-time world champions are a vulnerable team who can be got at and attacked, Paraguay had enough qualities of their own to back up their belief.
They have now lost only one of the past six games in which they have gone behind, and they radiated that resolve throughout, showing a battle-hardened mentality Brazil could only pretend to have. Never was it more demonstrated than in the shootout.
Santa Cruz might have missed his spot kick, but Osvaldo Martinez, Victor Caceres, Raul Bobadilla and Gonzalez, as he had done in normal time, finished emphatically. Besides, the Santa Cruz had admirably led the line throughout, with Edgar Benitez also putting in a supreme performance.
This is a team no one should want to play, and Argentina know that all too well. They were one of the sides to succumb to Paraguay's resolve in this very tournament, when, having led 2-0, they were held 2-2 in each side's opening game.
Tuesday is far from a foregone conclusion.
Miguel Delaney covers the Premier League and Champions League for ESPN FC. Twitter: @MiguelDelaney.