Mario Gotze seals Germany's triumph
RIO DE JANEIRO -- Three points on the World Cup final that saw Mario Gotze's goal secure a 1-0 win for Germany over Argentina.
1. Gotze's golden goal
Enthralling, absorbing, end-to-end and looking like it would end goalless, a pulsating first half gave way to over an hour where human failings kept the score at a stalemate. Poor finishing, better defending and a demi-god (in Lionel Messi) failing to live with the burden of creating a legacy still kept the planet rapt. The forced drama of penalties was likely to decide the victor, but then came the moment when Germany finally picked the lock.
The nation's fourth World Cup came via two substitutes. Andre Schurrle, always aware of space, found Gotze, whose volleyed finish was delivered with a coolness no other had shown in 112 minutes. Messi's moment came and went, while coach Alejandro Sabella must face flak for three subs who failed; none of Sergio Aguero, Rodrigo Palacio and Fernando Gago could match the impact of their German counterparts.
Germany
Argentina
Game Details
Germany looked fresher in extra time. They were beginning to find the space of the early salvos while centre-backs Mats Hummels and Jerome Boateng had mastered an increasingly ragged Argentina strike force.
Schurrle had been on for stricken Christoph Kramer since the 30th minute; he was to maintain his impact until the end. Argentine goalkeeper Sergio Romero had to make a full-length save just after the sub's arrival, but in the 70th minute, Schurrle lost control as he scuttled the point of a triangle created by Thomas Muller and Mezut Ozil, flickering back to life after being shut down following a first half in which they had caused havoc.
If Germany had a more mobile striker than Miroslav Klose, they might have been out of sight at the break. At 36, he did not have the legs to work the correct channels, but Joachim Low could hardly drop an all-time record-breaking striker after he had scored in the 7-1 victory over Brazil.
They might have rued Benedikt Howedes heading against a post and Toni Kroos dragging softly wide when Ozil laid him a piledriver on a plate. Eventually, though, the chance came, and Gotze took it beautifully.
Germany had conquered Brazil, and the host country could be happy again. Argentina's dream had been dashed.
2. Messi flops like the rest
The moment Messi could lift himself alongside Pele and Diego Maradona did not arrive. They starred in finals in fashion Messi could not re-create, and he blew his golden chance when placed through by Lucas Biglia. Messi opened the space out from which to score with his left foot, just as he does for Barcelona, but this was not Barcelona's Messi. The ball drifted wide of Manuel Neuer to a stadium full of disbelieving sighs.
In the first half, there were two runs reminiscent of his Barcelona self. Twice, Germany cleared at the last moment, with relief that they had survived being carved open. The first 45 minutes saw Ezequiel Lavezzi make similar surges, only to be replaced by Aguero. Perhaps Sabella wanted only one player to carry out that role; Aguero certainly proved incapable of replicating it.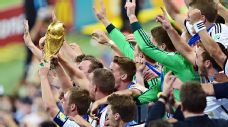 Boateng in particular was the rock on which Argentine attacks were dashed. Aguero's extra-time skew said much about his fitness level; at his best, he would have run through on goal. Instead, with legs failing him, he tried from an unsuitable distance and angle.
Gonzalo Higuain could not be relied on after a first-half miss either. An offside goal would have stood had he not gone too early; anxiety clearly clouded normal striking practice, and his evening got even worse when he was the recipient of Neuer's reprise of Harald Schumacher's 1982 clatter of Patrick Battiston. Higuain departed in the 77th minute, unable to conceal disappointment at a big moment gone bad. To complete the set of sorry striking showings, Rodrigo Palacio failed to capitalise on Hummels' error with a finish as uneven as his hairstyle.
Meanwhile, Messi's touch was lost. He squandered control of the ball when finally offered the chance to run at Howedes and later, having made space for a typical shot from distance, fired well wide.
In the dying embers, a free-kick chance arrived. It was no surprise that Messi's shot made for the Maracana stands. There was a smirk of recognition that the moment had been squandered. The best had not been nearly good enough.
3. Kramer's curious cameo
Both coaches selected the same teams that had won their semifinals. The lack of Angel Di Maria and Aguero suggested far greater problems for Sabella than Low. Di Maria's thrust from deep would be particularly missed.
Then came the shock news that Sami Khedira was a late withdrawal after injuring his calf in the warm-up, a desperate blow for a player who missed almost the entire domestic season and is regarded by Low as a player who binds Germany together on and off the field.
Kramer was the beneficiary of Khedira's injury; the Monchengladbach midfielder would barely have had time to tie his bootlaces before stepping into the biggest game of anyone's life to make his competitive debut. It is a shame that he is unlikely to recall much of his half hour on the field after he was poleaxed by Ezequiel Garay's unnecessary shoulder barge into the back of his head. Kramer would last just 13 minutes more before leaving the field clearly dazed, his distressed state providing another high-profile case study for the growing debate over concussions in football.
In between Kramer's collision and departure, Kroos' mistake in heading Higuain through also looked like the act of someone who been knocked cold. Higuain would perhaps have preferred unconsciousness to the blast of rage a disgusted Javier Mascherano threw in his direction after a horrendous miss.
Kroos got off lightly while Higuain will recall his error in perpetuity. He briefly believed he had gained salvation when slotting in Lavezzi's cross. Higuain raised his arms in celebration, but Sabella knew the truth; the striker was a yard offside. Kramer, during the commotion that followed, gingerly took leave of the field, destined to be a strange footnote in World Cup history.
John Brewin is a staff writer for ESPN FC. Follow him on Twitter @JohnBrewinESPN.