Life in the World Cup wilderness
GOIANIA, Brazil -- Much has been made of the fact that this glittering World Cup has been spread across an ambitious 12 host cities, from Porto Alegre in the chilly south of Brazil to Manaus in the sweltering north. While such a decision was of dubious economic and logistic merit, and driven largely by political backscratching, it at least helped share the World Cup party among parts of Brazil that are more often than not overlooked, such as the north (Manaus) and west (Cuiaba).
Yet the combined population of the World Cup host cities is around 63 million people. In a country of almost 200 million, that leaves roughly 137 million Brazilians stranded in World Cup nowheresville, watching on TV from the sofa or the bar-stool.
One such unfortunate Mundial burg is Goiania, a city of around 2 million people marooned deep in the heart of Brazil's midwestern farm belt. Goiania is famous for many things, among them scorching temperatures, musica sertaneja (cloyingly romantic Brazilian country and western music that has become wildly popular all across the country) and pequi (a local fruit as bitter as sertaneja is saccharine).
Goiania is also known for football. Not, perhaps, like Rio, Sao Paulo, Belo Horizonte or the big cities of the nordeste -- home to famed stadiums such as the Maracana and the Pacaembu and semi-mythical clubs such as Flamengo and Corinthians -- which are known for football, but still, the locals here are as passionate about the game as Brazilians anywhere. Despite the pervasive influence of the big Rio de Janeiro and Sao Paulo clubs, whose games are broadcast all across Brazil, two local clubs, Goias and perennial losers Vila Nova, are well supported, while a third, little Atletico Goianiense, consistently punch above their weight.
And Goiania loves the Selecao. Between the end of the 2010 World Cup and the beginning of this one, Brazil played as many friendlies here (three) as any other city in Brazil, which ties the town with Sao Paulo as the national team's favourite destination. Team coach Luiz Felipe Scolari likes it here -- he managed Goias in 1988 and brought Brazil here for their penultimate pre-World Cup friendly against Panama in early June.
They missed out on the World Cup party. National capital Brasilia, three hours north of here, got the region's Mundial nod. Has the snub dampened the city's enthusiasm for the tournament?
Not on Rua 228 in the town's university district. (For an unknown reason, Goiania has mimicked New York's street numbering system, even though the city is not designed on a grid.) An hour or so before this past Friday's Brazil-Colombia quarterfinal, the street's two bars are a heaving mass of canary yellow shirts, the beer is flowing liberally, and the firecrackers and plastic horns blown by the locals create a splendid, cacophonous din.
Bruno Borges, a businessman, is drinking with friends in the Rule 3 Bar. At halftime, he is pleased by an opening 45 minutes that leave Brazil leading by a goal. "It's the first game I've enjoyed in this World Cup," he said. "Brazil are being more positive. Maicon is playing well -- Hulk too. I was confident before the game. It won't be easy, but we're going to win."
At another table sit Vicente Soares, a local politician, and Leandro Fruhauf, a civil servant. "It's very evenly balanced, but Brazil are a little better," Soares said. Leandro, meanwhile, is worried about Brazil's lack of a cutting edge, with Fred and Jo continuing to disappoint in a toothless attack. "It's the first World Cup where Brazil's central defenders are better than the strikers," he said sadly.
Both men are critical of the money being spent on the World Cup -- an argument common among Brazilians, it seems, from Sao Paulo bankers to northeastern coconut water sellers. "The World Cup is an offence to Brazilian sovereignty," said Leandro, referring to the modifications to local laws, such as a relaxing of Brazil's ban on alcohol in stadiums, as demanded by FIFA.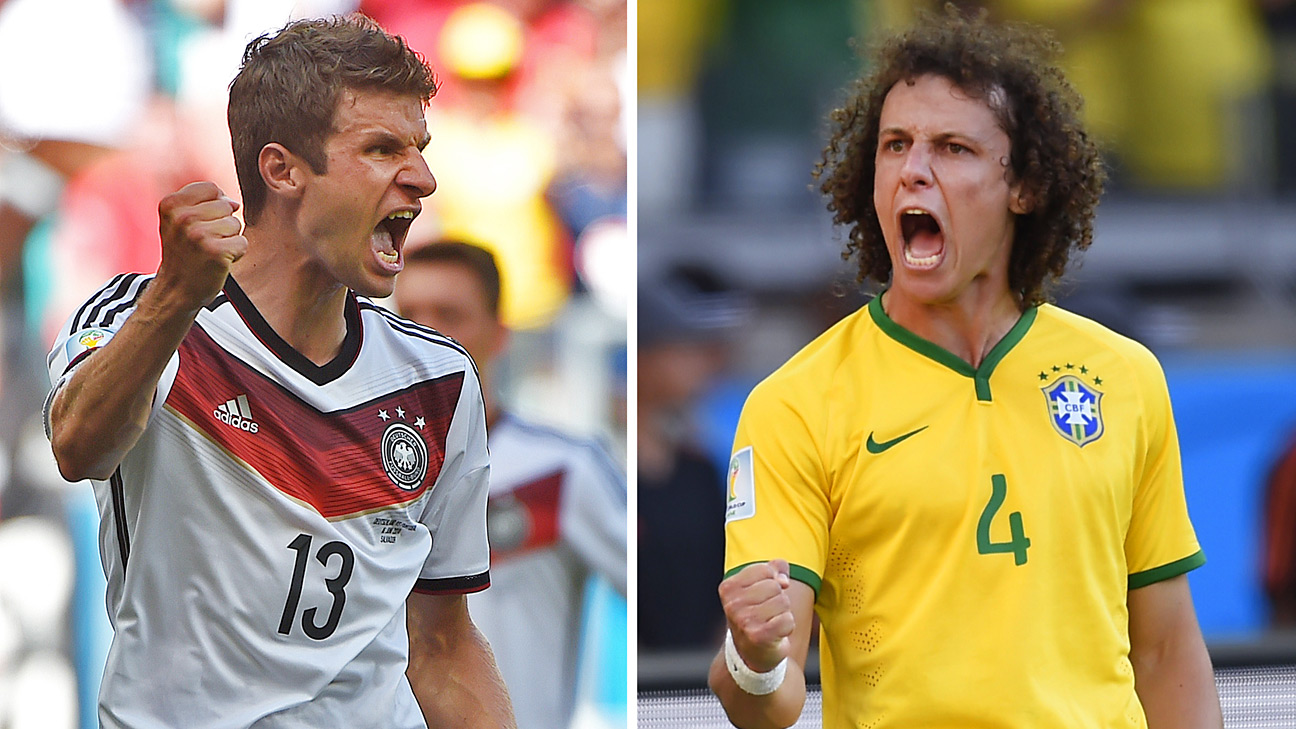 As tensions rise throughout the second half, there are groans from the drinkers at the Rule 3. Across the street, at the bigger Cantinho Frio bar, a more family crowd is watching the game, and as Colombia press for a late equaliser, a chorus of nervous squeals rises into the evening sky.
Finally the referee blows his whistle: Brazil are through to the semifinal. There are cheers from both side of the streets. A car filled with young women drives past with its horn blaring. A group of young men at the Rule 3, one wearing a red Vila Nova shirt, stand and wave while shouting "Vila, Vila!"
Bruno is jubilant and his voice is filled with emotion, both from the game and the watery Brazilian beer he has been drinking. "People in Goiania support the Selecao just as much as people in other places," he said. "We're all Brazilians."
Next up for Brazil is Germany in the semifinal, but Bruno isn't worried. "We'll win by three. Brazilians never give up!" he cried. It is a famous expression here -- o Brasileiro não desiste nunca. "We have to suffer a lot worse than a football match, like corruption and rising prices," he added.

Brazil
Germany
Game Details
Across the bar, Berg Matudino, a graphic designer, and Geraldo Nascimento, a priest (rather improbably), are relaxing after the match. "It was less tense than the last game against Chile," a relieved Berg said. "The goal at the start really helped, and the team didn't take its foot off the pedal," added Geraldo. "Brazil have done what they needed to do in each game. They'll be able to raise their game against Germany."
All across Brazil, especially now that modern Brazilian hero and cultural icon Neymar lies wounded, the World Cup heat is rising. Can these Goiania fans handle the pressure?
"Of course," Berg said. "Especially after a few beers!"
"No problem," Bruno said. "This is the greatest country in the world!"
James Young writes about Brazil and its football. His collection of short stories and blog writings, "A Beer Before Lunch," is available on Amazon.