Brazilian media react to Suarez bite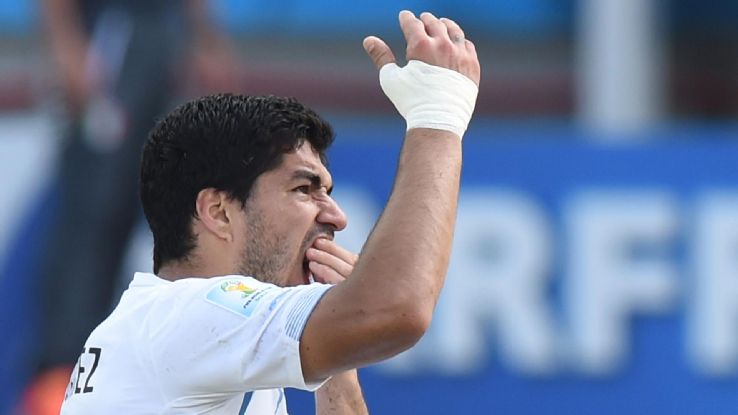 As the world united to chastise Luis Suarez for appearing to bite an opponent for the third time in his career, the Brazilian media joined in the opprobrium of his teething problems with Giorgio Chiellini.
The country's leading football daily, Lance!, splashed "Beijinho No Ombro" ("a little kiss on the shoulder") all over its front page. "A kiss on the shoulder" is a local term meaning to snub or reject someone, while "a little kiss on the shoulder" is a song by funkeira (funk singer) Valesca Popozuda about the best way to deal with haters. The ditty starts with Popozuda expressing the rather Suarez-esque desire that all her enemies have a long life so they can "watch our victories every day."
The paper's editorial ignores Suarez, however, deciding instead to focus on Uruguay's warrior spirit -- although the praise appears somewhat reluctant. "Uruguay is a poor country with 3 million inhabitants. After this, anything they achieve on the pitch is improbable. Yet this Gaulish village manages to get stuck into football's giants and make their lives difficult, always after an epic battle."
Alongside the column is a cartoon of a giant-toothed Suarez under a headline that roughly translates as "sink your teeth into the last 16." In its coverage of the game itself, Lance! discusses the possibility of a long suspension for the "vampire" Suarez and lists other sporting stars not averse to a bit of tooth-chomping action, such as Mike Tyson, Australian rugby player Anthony Watts, and footballers Nadarevic and Gallardo.
Over at the Folha de Sao Paulo newspaper, one of Brazil's most respected football journalists, Juca Kfouri, writes, "Cannibalism aside, Uruguay once again showed that they are capable of anything." Globoesporte, the website of Brazil's biggest TV network, compares the Suarez story to "The Doctor and the Monster," the Portuguese title of "The Strange Case of Dr. Jekyll and Mr. Hyde."
Globoesporte also carries a brief interview with psychologist and Suarez watcher Dr. Mauricio Pinto Marques, who says: "For Suarez, football is a question of survival. It was how he saved his life. It's an unconscious act. When the pressure is on, in the middle of the battle, he does it again and again." The site also notes that Suarez had "rehearsed" his bite on Chiellini during the Confederations Cup last year, posting a photo of the player poised to sink his teeth into the Italian's shoulder.
In general, however, it's fair to say that there is not quite so much moral outrage in the Brazilian media over Suarez's actions as there is in the U.K. media -- perhaps because a certain degree of gamesmanship has long played a role in South American football. In Brazil, Uruguayan football teams in particular have something of a reputation for not always upholding the letter of the law -- as was notoriously seen during the mass brawl after the Copa Libertadores final between Neymar's Santos and Uruguayan side Penarol in 2011. "It's always the same thing," Santos coach Muricy Ramalho could be heard saying during the fight.
James Young writes about Brazil and its football. His collection of short stories and blog writings, "A Beer Before Lunch," is available on Amazon.