How will Pep Guardiola assess Manchester City's current squad?
Predicting Pep Guardiola's assessment of Manchester City's current squad is a trickier task than might be expected. Across his time in charge at Barcelona and Bayern Munich there are common themes and obvious concepts he insists upon -- the simple concept of possession football being the most obvious example -- but his favoured type of player has varied dramatically.
It's worth remembering, for example, that when Guardiola took charge of Bayern three years ago, the consensus was that he'd struggle to find a place for Franck Ribery and Arjen Robben -- wingers rather than the wide forwards with whom he'd worked at Barcelona.
Instead, Guardiola moved away from his preferred 4-3-3 system and actually based the side around Ribery and Robben, attempting to get them dribbling at opposition full-backs whenever possible.
Indeed, it initially seemed "his" Bayern would be based heavily around Mario Gotze and Thiago Alcantara, two recruits he'd specifically requested, plus Javi Martinez and Toni Kroos, the two players most suited to a Barcelona-esque style of play.
However, through injuries and tactical decisions, as well as Kroos electing to leave for Real Madrid, none of these can be considered particularly key players.
We should, then, approach this subject with caution as we look ahead to his time at the Etihad Stadium.
Although City's defence has regularly been criticised over the past 18 months, this is an area about which Guardiola might be relatively optimistic. The defenders he has embraced most during his managerial career have been young, slightly impetuous players, who need moulding into intelligent, commanding footballers capable of anticipating danger and adjusting their position accordingly. Gerard Pique was the first example at Barcelona, but Bayern's Jerome Boateng proves the point much better.
"Guardiola discovered Boateng is totally self-taught," wrote Marti Perarnau in his revealing diary of the Catalan's first season at Bayern. "The young German defender has been explaining that no one has ever shown him how to defend. In fact, Boateng confesses that he didn't even know that the defensive line could be organized. He thought that every player defended instinctively. Guardiola is enchanted by Boateng's wide-eyed innocence on this point, and realizes that he has a pearl on his hands. This is someone with an enormous amount of potential as well as a clear willingness to learn."
It's not difficult to imagine Eliaquim Mangala being considered in a similar light, while Nicolas Otamendi and Vincent Kompany are both all-action defenders, who suit Guardiola's love of pressing high up the pitch, though they will need to be more disciplined and play behind a midfield that is concerned with keeping the side compact.
No longer will we witness City's infuriating tactic of holding their offside trap on the 18-yard line, even when the position of the ball suggests they need to drop slightly deeper; the new man in charge will teach these players how to defend properly.
Guardiola has relied upon quality full-backs at Barcelona and Bayern, albeit very different in style. In Spain, Dani Alves was an aggressive, energetic attack-minded player for him on the right, whereas left-sided Eric Abidal was more reserved, effectively a converted centre-back. With Bayern, Philipp Lahm and David Alaba have sometimes been used in midfield and are ball-players rather than overlappers.
The City quartet of Pablo Zabaleta, Bacary Sagna, Aleksandar Kolarov and Gael Clichy is solid rather than spectacular and it's easy to imagine Guardiola looking to make changes in this area, not least because all four players are over 30.
Sagna might even be converted into an auxiliary centre-back, a position he played in the weekend win over Aston Villa, if Guardiola uses a back three. Kolarov offers the attacking thrust of Alves, but not the passing quality.
The key question about a specific player concerns Yaya Toure. The Ivorian is the only City player Guardiola has previously coached and Toure was used as a holding midfielder -- and sometimes emergency centre-back -- in his Barcelona days. In 2010, and to much dissent at the time, he was dropped and then sold because of Sergio Busquets' emergence at Barcelona.
That feels like a lifetime ago, however, because Toure is no longer a solid holding midfielder and instead is an undisciplined box-to-box -- or arguably attacking -- midfielder. His lack of interest in helping to regain possession has been one of City's major shortcomings in the Champions League and Guardiola will surely take the opportunity to sell him this summer.
In fact, Toure's agent seemed to pre-empt the decision on Monday after Guardiola's appointment had been confirmed.
"I think Yaya will leave the club. But before leaving, I hope he will again win the league and all the cups," Dimitry Seluk said. "It's not a question of whether Pep likes him or not. It's life, you know."
Guardiola doesn't take kindly to players not prepared to pull their weight. One of his first acts upon taking over at Barcelona in 2008 was to announce his intention to sell Ronaldinho, Deco and Samuel Eto'o, although the Cameroonian striker eventually convinced his manager of his worth.
City's midfield has effectively been based around Toure for six seasons, with colleagues like Gareth Barry, Nigel De Jong, Javi Garcia, Fernando, Fernandinho and Fabian Delph needing to play functional roles to cover for him.
The departure of Toure would mean an entirely different shape and would surely require the addition of a genuinely world-class central midfielder to dominate. Fernandinho, meanwhile, might take on a more important role. He is naturally a more attacking player, but has been constrained by Toure's demands.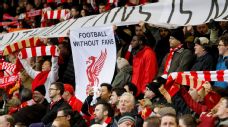 The attacking midfield department is particularly exciting. Guardiola will surely adore David Silva and will know all about Kevin de Bruyne's quality considering the Belgian was the Bundesliga's best player last season.
The new manager could work wonders with Raheem Sterling, a brilliantly dynamic attacker, who has shown tactical versatility and a willingness to learn. Still only 21, Sterling could be converted into a world-beater.
There are doubts about Jesus Navas, who offers an alternative as an out-and-out winger but is simply too inefficient in the final third. While Guardiola embraced Ribery and Robben at Bayern, they are goalscoring threats. Navas, frankly, is not.
Samir Nasri, meanwhile, has been injured and is something of a forgotten man but the Frenchman is an unashamed admirer of the teams Guardiola has created and, unlike many players, is an obsessive watcher of football. He could be the surprise winner from this appointment, perhaps in a slightly deeper role.
Upfront, it will be fascinating to see how Sergio Aguero is used. We know Guardiola likes using false nines, although he's also attempted to accommodate tall central strikers like Zlatan Ibrahimovic and Robert Lewandowski.
Aguero is probably most comparable to Eto'o or David Villa, quick and prolific strikers who were often used in wider roles under Guardiola. Perhaps there could be a change of role for the Argentine.
The future looks less bright for Wilfried Bony, who doesn't appear suited either tactically or in terms of quality. Kelechi Iheanacho is eight years younger than the Ivorian, so won't complain about being used less frequently and can probably develop into a better player.
Of course, whereas Barcelona and Bayern were rich clubs, they weren't instinctively big spenders, having grown accustomed to developing players from their youth ranks. Guardiola bought sporadically, but sometimes unsuccessfully.
At City, he'll have a huge budget and won't be afraid to spend it, which could prompt a significant overhaul of the playing staff, with some surprise names jettisoned.
Michael Cox is the editor of zonalmarking.net and a contributor to ESPN FC. Follow him on Twitter @Zonal_Marking.