Hector Bellerin emerges as the Premier League's outstanding right-back
Arsenal's 3-1 victory over Sunderland in the FA Cup on Saturday was a routine, low-key display with only one truly outstanding performer: Hector Bellerin.
The Spaniard stormed forward to grab two second-half assists and provided a reminder that, while their attacking players receive enormous praise, Arsenal also boast the Premier League's outstanding right-back.
This has been an entirely sudden development. Bellerin was highly rated when he joined Arsenal from Barcelona in 2011, aged just 16, and impressed for the Gunners' youth sides. His pace was his standout weapon -- there are stories about him beating Theo Walcott's sprint times -- but coaches also frequently remarked on Bellerin's professionalism and his work rate.
This was a teenager brave enough, like Cesc Fabregas before him, to leave his hometown in the belief he'd get more immediate first-team opportunities with Arsenal. Even Arsene Wenger, though, seems to have been surprised at Bellerin's rapid development.
That much was shown when Arsenal signed two right-backs 18 months ago. Disappointed by Bacary Sagna's decision to turn down an offer of a new contract and join Manchester City instead, Wenger splashed out cash on Mathieu Debuchy and Calum Chambers almost simultaneously.
Debuchy was a like-for-like, immediate replacement for his French international teammate Sagna, while Chambers was the long-term option, who also offered cover in the centre of defence.
Arsenal also retained the services of Carl Jenkinson, who was sent out on loan to West Ham in order to gain first-team experience. At that stage, Bellerin was effectively Arsenal's fourth-choice bet to be filling the right-back slot.
Initially, Bellerin was given opportunities simply when there wasn't anyone else. Debuchy has suffered terrible injury problems, while Chambers was overplayed during his first half-season at Arsenal, and endured a couple of extremely difficult games.
Bellerin was thrown into the side for a defeat at Borussia Dortmund in September of 2014, in which he made mistakes but still looked promising, and also started a home draw against Hull and the 3-2 defeat at Stoke, which was arguably the low point of Arsenal's season.
He was substituted at half-time at the Britannia Stadium, but started again the following week in a more comfortable game, a 4-1 win at home to Newcastle. The more he played, the more he impressed, and his emergence of Bellerin alongside Francis Coquelin meant Arsenal stumbled upon two players, who were effectively like new signings.
Primarily an attack-minded full-back, Bellerin was accustomed to playing higher up the pitch during his younger days and has studied the movement of Barcelona's Daniel Alves.
Bellerin's pace and acceleration are impressive, but more important is the timing of his runs, always overlapping at the correct moment to provide width, which is crucial considering Arsenal's regular right-sided midfielders -- Walcott, Aaron Ramsey, Alex Oxlade-Chamberlain and Joel Campbell -- all prefer taking up more central positions.
While a decent crosser, Bellerin specialises more at passing the ball into the box, picking out a teammate with a low cut-back or square ball. His assist for Olivier Giroud against Sunderland was a perfect example, as he steered a pinpoint ball across the box, through three defenders and the goalkeeper, to leave Giroud with an easy finish. Some would have stood the ball up to the back post but Bellerin took the more ambitious option.
The goal came at a point when Arsenal were already ahead, a sign that Wenger allows him the freedom to storm forward regularly. Sometimes it costs Arsenal, who conceded the opening goal in an eventual 5-2 win over Leicester earlier his season when Jamie Vardy counter-attacked into the right-back space, with Bellerin still deep inside the opposition half. But, overall, his quality justifies his positional freedom.
The defensive side of his game still needs work, but for a 20-year-old he's an extremely competent full-back in this sense. It's worth remembering that even Ashley Cole looked shaky defensively in his first couple of seasons with Arsenal's first-team before developing his qualities; Bellerin is, at the same age, a better player.
It's difficult to recall many opponents getting the better of him and while his speed helps defensively, he isn't overly reliant upon his recovery pace to get him out of trouble; he's good positionally, and a strong tackler. He also stays on his feet in the tackle and has collected just one yellow card in 26 appearances this season.
The only question about Bellerin's ability is how long he needs to play at this standard before we're convinced this is actually his level of ability, and now just a bright run of form. It's not uncommon for promising youngsters to suffer a dip roughly 12-18 months after their emergence, with Raheem Sterling, Harry Kane and Ross Barkley all having had that experience recently. If Bellerin can reach the end of the current campaign still playing at this level, there should be no doubters.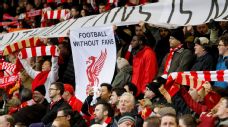 At Anfield on Wednesday there will be an intriguing head-to-head battle down Bellerin's flank, because Liverpool will field another young Spaniard, Alberto Moreno, at left-back. While similar to Bellerin, in the sense that pace is his most obvious quality, Moreno's reputation has effectively plunged as much as Bellerin's has risen.
Before moving to Anfield in 2014, Moreno was a regular for Sevilla, who had just finished fifth in La Liga. He was also a full international who narrowly missed the cut for Spain's World Cup squad, all of which made Liverpool happy to pay £12 million for him.
The raw attributes are clearly there, and Moreno is an attacking threat, but defensively he makes far too many mistakes. There were positional errors early in his Liverpool career, particularly in a 3-1 defeat at Manchester City, but that's inevitable and managers must accept it.
However, not learning from mistakes should cause more worries and, 18 months into his Liverpool career, Moreno remains too impetuous in his attempts to win possession, is too high up the pitch far too frequently, while not yet adept at covering for his centre-backs when the ball is on the opposite flank.
At the start of this season he was benched behind Joe Gomez, who is a talented footballer but plainly not a left-back considering he can barely use his left foot. That was a damning indictment of Moreno's quality, and it's worth remembering that he is now 23, which is three years older than Bellerin.
Full-back is one of the most interesting positions to watch youngsters develop. Frequently, as in the cases of Bellerin and Moreno, they are unaccustomed to the role, having previously considered themselves wingers.
First-team experience usually improves their defensive abilities, but it takes the right attitude and a willingness to learn. Both Bellerin and Moreno have bright futures, but the Arsenal man is more likely to play his way into Vicente del Bosque's thinking ahead of Euro 2016.
Michael Cox is the editor of zonalmarking.net and a contributor to ESPN FC. Follow him on Twitter @Zonal_Marking.