Football fans need to stop expecting the unexpected in the FA Cup
The FA Cup third round is frequently considered to be all about giant killing, whereas it's actually all about the possibility of giants losing. It might be a pedantic distinction, but it explains a great deal about the negativity surrounding the competition in recent years.
The ideal FA Cup tie is, inevitably, a nonleague side at home against a high-flying Premier League club. The third-round draw didn't quite provide that this time around, although Yeovil (bottom of League One) and AFC Wimbledon (League Two) were handed ties against Manchester United and Liverpool, while nonleague Dover faced more modest Premier League opposition, in Crystal Palace.
All three ties were televised in the anticipation of an upset, but all three Premier League teams triumphed. This was considered somehow underwhelming, an affront to the good old-fashioned spirit of the FA Cup. Realistically, it was entirely expected, a natural outcome considering the gulf in quality between the sides. Yet peculiarly, the giant killing has become expected, rather than a bonus.
Particularly noteworthy was BT Sport's coverage of Crystal Palace's 4-0 victory at lowly Dover. Palace were comfortable throughout the game, and Dover will be disappointed they didn't even manage a single shot. But the attitude from the commentary team was remarkable, almost deriding Dover for having the temerity to be outclassed.
"They aren't pressing from the front, it's really poor from Dover," co-commentator Robbie Savage hissed. Now, "pressing from the front" is a concept Barcelona and Dortmund were being lauded for just a few years ago, so it's hardly surprising Dover aren't masters of the art. The difference in quality between the sides ruined the story. "Not good enough," was Savage's final, damning verdict -- but that was surely foreseeable.
The reality is this: upsets in the FA Cup don't happen particularly often. They happen once, every couple of years, and the infrequency of such events is precisely the reason they're so special.
The two most famous giant killings are probably Hereford's 1972 victory over Newcastle, and Wrexham's win over Arsenal in 1992. They're landmark events, but stretch back over four decades. The anticipation of a historic upset in every round, every year, simply doesn't make sense.
Even worse, it's setting the FA Cup up for a fall: having such grand expectations inevitably lead to pessimism when, shock horror, Manchester United beat Yeovil.
Yeovil and AFC Wimbledon performed admirably against United and Liverpool: both ties were won by a single goal, and boasted tremendous tension, which remains football's major quality. Indeed, that tension -- with the occasional moment of magic -- applies nicely to the FA Cup. There's the odd brilliant story, but also a lot of mundane stuff too.
This, traditionally, is what the British sports viewer appreciates. Historically, among the most popular sports in Britain are football (the lowest-scoring sport around), test cricket (where there might be an hours' worth of highlights from a five-day match), Formula 1 (which features long periods of procession, and the odd overtake or crash) and rugby union (where almost nothing interesting happens whatsoever). Britain doesn't demand constant action, repeated upsets, and historic results. Britain quite likes routine.
Something has changed, however. Televised sport coverage now seems an arduous precursor to the post-tournament montage -- by packaging the action into two minutes, the joyful dullness of sport is entirely overlooked.
In recent years, the BBC's Sports Personality of the Year event has increased in prominence. It's a glitzy ceremony which is, in essence, now a montage of montages. It's a perfectly reasonable, extremely popular event, and yet consuming sport in this manner -- all action, no tension, no context, just 10-second clips and talking heads -- feels entirely unnatural.
The BBC preceded third-round weekend by screening the "FA Cup's 50 Greatest Moments", which, once again, strips out the context of those moments and convinces the viewer that the FA Cup is nothing but wall-to-wall great goals and shocks. No wonder Scott Dann nodding Crystal Palace into a 2-0 lead at Dover felt distinctly underwhelming, when we'd watched Hereford United's Ronnie Radford slamming in an equalizer against Newcastle from 40 yards in 1972 a dozen times.
These days, sports fans are demanding historic moments non-stop. At the Professional Darts Championship, an event which has gained massive popularity in Britain, the television scoreboard now indicates when a player is capable of achieving a "nine-dart finish" (scoring the target, 501, with only nine darts, the lowest possible).
For context, this happened just once in this year's championship, from 63 matches. It's an extremely rare event, and yet the graphic appears immediately after the player's first three successful darts. It's comparable to a footballer being described as "on a hat-trick" after his first goal. Over 90 percent of the time, the crowd are left underwhelmed -- and they've taken to booing (granted, somewhat ironically) at the first missed dart in the anticipated sequence. Again, the historic event has become the expectation rather than the bonus, the giant killing of the darts world.
This weekend's FA Cup matches were perfectly enjoyable (particularly the Yeovil and Wimbledon games), and the competition has experienced something of a revival in recent years -- the opening rounds have been good, the finals have been excellent. Arsenal's comeback versus Hull last year was a brilliant game, Wigan's 2013 win over Manchester City was a more improbable victory than Wimbledon's famous victory over Liverpool in 1988.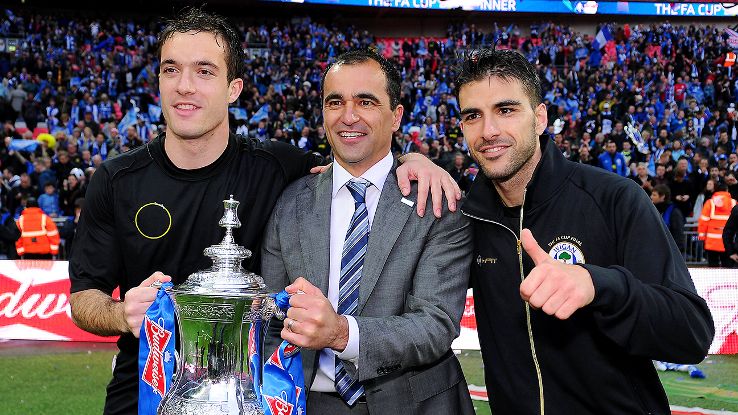 There have been a few upsets, too. In the past four competitions we've enjoyed Stevenage 3-1 Newcastle (2011), Leeds 2-1 Tottenham (2013) and Oldham 3-2 Liverpool (2013). Proper surprises, usually fewer than one per year, which is roughly par.
Shocks don't happen every year -- if they did, they wouldn't be shocks. The sooner we stop expecting the unexpected, the sooner we can return to enjoying the FA Cup, which remains -- by a huge distance -- football's greatest domestic cup competition.
Michael Cox is the editor of zonalmarking.net and a contributor to ESPN FC. Follow him on Twitter @Zonal_Marking.