Tactics Board: City exploit weaknesses
Jovetic exploiting the gaps
Manuel Pellegrini talks about the importance of having four strikers. Really, however, his match-winner in the 3-1 victory against Liverpool is more of a No. 10. Stevan Jovetic helps turn City's 4-4-2 into a 4-2-3-1 formation as he, David Silva and Samir Nasri operate between the lines.
It is a particularly effective ploy against a team such as Liverpool, who feature one holding player, Steven Gerrard, who is more a deep-lying playmaker than a midfielder destroyer and who, at 34, is not as mobile as he once was. Jovetic's pitch map shows that, besides getting into the penalty box often enough to score twice, he tended to operate in the channels either side of Gerrard. This was where City looked to find space: behind the more advanced central midfielders, Joe Allen and Jordan Henderson, and ahead of the central defenders, giving them only Edin Dzeko to mark until others burst forward.
Jovetic's second goal was a case in point. When the Montenegrin backheeled the ball to Nasri, he was in an attacking midfielder's zone. When he arrived to meet the return pass, he was one of three men converging in the penalty area to look for the cutback, along with Dzeko and Pablo Zabaleta and the two runners, Jovetic and Zabaleta, changed the dynamic of the move.
The other element of Jovetic's positioning was that it allowed him to get more involved. His 50 touches is a high number for a forward; really, however, he was helping out a midfield where City, in theory, were outnumbered.
Liverpool struggle on the flanks
Something City did well was to stretch the game laterally. Neither Silva nor Nasri is a winger. Both play infield in pockets of space. It presents a dilemma for opposing defences: the full-backs have to tuck in to make a tight, narrow back four to prevent them threading passes through, yet if they do so, it leaves room outside.
Liverpool had problems on both fronts. City's first two goals stemmed from the inside-right channel where their immediate opponents, Dejan Lovren and Alberto Moreno, were playing together for the first time. Before then, however, the home side's outlet was wide on the left. Gael Clichy had the second-highest number of touches, behind only Yaya Toure, and was often the spare man. There were two factors: one was that Liverpool right-back Glen Johnson was having a poor game. The other was that winger Raheem Sterling did not always track back (nor, indeed, did Philippe Coutinho on the other flank.)
Clichy's touch map (above) shows that he was invariably found in the same strip of the pitch, within 10 yards of the touchline. It was an area Liverpool often left unattended and meant City always had an easy option available. Manager Pellegrini then made an influential change to stretch the game on the other flank by bringing on Jesus Navas, an out-and-out winger, and that led to City's third goal, scored by Sergio Aguero. The Argentine was a replacement who could run behind the Liverpool defence, but without the width Navas offered, he might not have been able to spring the offside trap.
Fernando keeps City ticking
One factor in City's ability to use the ball efficiently and find the free men was summer signing Fernando. The anchor midfielder only misplaced two of his 63 passes and had the highest pass-completion rate of any starter on either side. As his pass map -- which shows where the recipients of his distribution received the ball -- indicates, the Brazilian is not charged with playing the final pass. He didn't once find a teammate in the penalty area, but nor does he try to. His pass combinations show that he simply looks to find more creative colleagues, usually, but not exclusively, close to him, or unmarked men on either flank. He picked out Toure 20 times and Nasri a further 10. It was a fine example of how a destructive player can have a constructive role.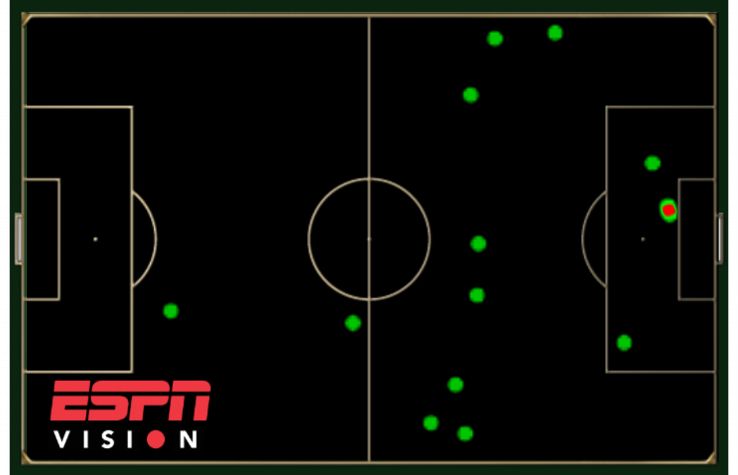 Lambert makes Liverpool more direct
Rickie Lambert is becoming Liverpool's Plan B. The summer signing is the first target man Brendan Rodgers has bought in his time at Anfield and, while the goal he claimed at the Etihad Stadium was debited to Pablo Zabaleta rather than credited to him, it is notable that Liverpool have scored in each of his brief cameos, against Southampton and City. The 32-year-old has only had 14 touches of the ball as a Liverpool player but four have been in the penalty area, as a touch map of both outings indicates. While he was involved more in the build-up during his days at Southampton, now his presence on the pitch encourages Liverpool to cross more. They go a little more direct when he is introduced.