Fernando in to do the dirty work
Manchester City had arguably the finest central midfield partnership in England last season. Their response was to bring in three more players in that position. If Frank Lampard, borrowed from New York City FC, is much the most famous and Bruno Zuculini, the young Argentine, is the futuristic choice, Fernando, bought from Porto, may be the most significant. The reason is simple: the Brazilian-born player is very different from the established duo of Fernandinho and Yaya Toure.
The newcomer is less prolific and less dynamic. He has the potential to become more popular with his back four, simply because he devotes his attention to shielding the defence. Fernando's touch map (below) from City's 2-2 draw against Liverpool in the recent International Champions Cup shows that, whereas Toure and Fernandinho play on the front foot and are often found in the opposition's half, Fernando plays in a deeper role.
Nor is that a one-off. Fernando's touch map for Porto's entire Champions League campaign last season is revealing. In six group games, he is rarely found in the final third. Instead, he operates in and around the centre circle, regaining and retaining possession. He had an 89 percent pass completion rate, averaging 70 passes per game. The most pertinent element is that he is an out-and-out defensive midfielder. For example, in the 1-1 draw away at Zenit St Petersburg, he made five tackles, the most of anyone on the pitch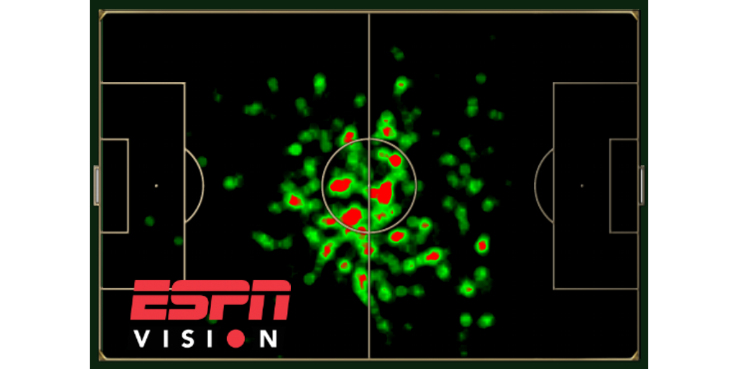 So the 12 million-pound man may be particularly useful in Europe. While Manuel Pellegrini's 4-4-2 formation worked well in England, Toure and Fernandinho were outnumbered and outmanoeuvred in October's home defeat to Bayern Munich. Thereafter in Europe, Pellegrini looked to incorporate a third player, with one behind a sole striker, at the expense of a centre-forward, against high-quality opposition: Javi Garcia, Fernandinho and David Silva played away at Bayern, while Toure, Fernandinho and Silva started both last-16 ties against Barcelona.
None of that trio is an out-and-out anchorman, however. The difference between Fernando and his near-namesake Fernandinho is illustrated by the latter's performance in December's 6-3 win over Arsenal. Ostensibly the most defensive of the City midfielders, he scored twice -- in comparison, Fernando only got two goals in seven years at Porto -- and, as his touch map proves, spent more time in the final third than the newcomer will do.
Fernandinho's energy allowed him to get forward but, compared to Fernando's touch map, it is significant how rarely he was in possession in the centre circle -- just three touches -- and, as result, how infrequently there was a man patrolling the area in front of the centre-backs.
Pellegrini has talked about giving Toure a free role and sparing him any defensive duties. Whereas the Ivory Coast international was perceived as a defensive midfielder in his Barcelona days, now he is seen as an attacking one. He scored a career-best 24 goals last season and his touch map from the same game against Arsenal when he had five shots and scored once is another indication of how much time he spent looking to add to his goal tally; indeed, unlike Fernando, he is often ahead of the ball.
So the latter's arrival gives Pellegrini the option of keeping Toure and Fernandinho in the same roles while adding some defensive solidity behind them in the shape of Fernando. It might be similar to the 4-2-3-1 system Roberto Mancini used in the 2010-11 season, with Fernando taking on the Nigel de Jong role, even if, within a similar shape, City ought to be a more prolific side than they were then.
Pellegrini disposed of one deep-lying midfielder, Gareth Barry, last summer. The signing of Fernando isn't quite an admission he made a mistake, however, as the new recruit is more of a destroyer, whereas the Everton player's strength lies in his passing. Fernando, who is quicker, can cover more ground in his attempts to halt opponents. He is also more mobile than Garcia, the only specialist defensive midfielder in Pellegrini's squad last season, and was nicknamed "the octopus" by his Porto teammates for his ball-winning ability.
It is where comparisons with De Jong may prove pertinent. The Dutchman lost his place in City's title-winning 2011-12 season, when Mancini made them more attacking, but was effective before then.
His contribution in the opening-day 0-0 draw at Tottenham in August 2010 is notable because of his energy. A map of his defensive contributions -- tackles, clearances, interceptions and aerial duels -- indicates how he was able to get out to either flank to help protect his full-backs. That was something that, when Fernandinho was injured, Martin Demichelis struggled to do when he was a makeshift midfielder in February's defeat to Chelsea.
While City have an outstanding home record in the last three seasons, dropping only 19 points in 57 games at the Etihad Stadium, suggesting they rarely need a specialist defensive midfielder on their own turf, they may opt to include one away from home. They only claimed five points from their first six league games last season. Fernando might not be seen as a match-winner, but as someone who stops them losing.