Tactics Board: Where Luke Shaw fits in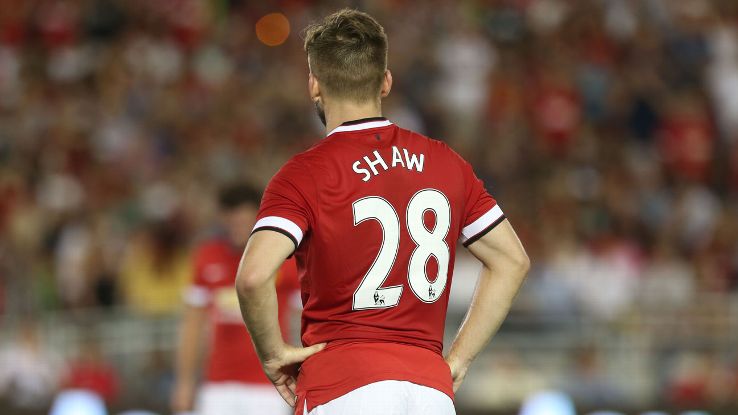 Luke Shaw has a new club and a new position. The most expensive teenager in the Premier League spent his entire Southampton career as a left-back. As Louis van Gaal has opted for a 3-4-1-2 formation so far, Shaw, 19, is now a wing-back. Shaw's performances in the International Champions Cup games against Roma and Inter Milan indicate how advanced a role he has had to adopt. His touch map from the two games (it is worth remembering he played the second half of each match, so it amounts to 90 minutes on the pitch) indicates how much of his time he spent in the opposition's half.
One element of Manchester United's new shape is that, unlike the 4-4-1-1 David Moyes used or the 4-2-3-1 or 4-3-3 systems Shaw played in at Southampton, no one else is stationed on the flank. As he is the sole presence on the touchline, if Shaw leaves the flank, his side lack an outlet there.
- Shaw: I need to get fitter
He is accustomed to having a player in front of him. It was often Jay Rodriguez at Southampton, where the combination of an overlapping left-back (Shaw) and an inverted winger (Rodriguez) cutting infield to shoot on his favoured right foot worked well.
Shaw's naturally attacking attitude was apparent in his time at St Mary's. The pressing game Mauricio Pochettino employed also meant his full-backs were likely to be spotted further up the pitch than their counterparts at other clubs.
His touch map from last December's draw against Manchester City indicates how much of his work was done in the middle third. The basic difference with his United touch map comes in the final third: Shaw ventured there more often in the colours of his new club.
However, he will have to advance more often. The wing-back's role requires high-energy levels, which is particularly pertinent after Van Gaal accused Shaw of being unfit. Rather than spending much of his time in a 40-yard zone, as he did for Southampton, his sphere of influence now extends over 100 yards. As United's probable front trio of Robin van Persie, Wayne Rooney and Juan Mata are at their most dangerous in central positions, Shaw will be charged with getting nearer to the corner flag more often.
A different touch map from Shaw's Saints days came in March's 3-2 defeat to Tottenham. First, there are fewer touches -- 53 to 67 -- and there isn't the same sense that Shaw is being used time and again immediately either side of the halfway line.
The biggest change, however, comes in his defensive third, and in particular when Shaw was required infield. In Van Gaal's 3-4-1-2 formation, those are duties the left of the trio of centre-backs -- probably Jonny Evans -- should take from him. At White Hart Lane, Shaw had to operate more as an out-and-out defender, with three tackles, four interceptions and 11 clearances, and in a more advanced role than he probably will have to as a United player. As the attacking half of his game is better than the defensive, operating as a wing-back should suit him.
The other side of that equation is that if Shaw has less direct responsibility for stopping goals, he should have more for creating them. Progressive as he was for Southampton, he recorded only one assist -- in January's 2-2 draw against Arsenal -- and created 30 chances. If Van Gaal perseveres with a wing-back formation, he will be expected to top both tallies for United.
His pass map for the entire league season for Southampton indicates that there were times, whether with passes or crosses, that he picked out teammates around the penalty spot. A large part of his game, however, consisted of looking for colleagues closer to hand, in a large block on the left side of the pitch.
His most frequent passing contributions involved a mixture of more defensive and attacking players: He picked out central midfielder Morgan Schneiderlin most, followed by the No. 10 Adam Lallana, who wandered between left and right flanks, then left-sided centre-back Dejan Lovren, followed by left winger Rodriguez. What he wasn't doing so much was either passing it long (only 12.6 percent of his passes) or playing the final ball. When the 19-year-old gets into positions nearer the corner flag, as he has done during the Champions Cup at times, he will be charged with finding players in scoring positions.
Finally, a comparison from a Van Gaal team. Daley Blind operated as a wing-back for Netherlands in the World Cup and is a very different sort of player -- a defensive midfielder at club level -- and less accustomed to breaking forward. Van Gaal's tactics were different, too: In the group-stage win over Australia, Blind played in his own half rather more than Shaw will, as his touch map highlights.
Blind lacks Shaw's pace, which will enable him to get forward, but he proved capable of penetrative passing from deep positions -- think of his two assists against Spain -- and Van Gaal showed he was tailoring his tactics to suit the players at his disposal.
Richard Jolly covers the Premier League and Champions League for ESPN FC. Twitter: @RichJolly.