Tactical trends of the 2014 World Cup
Once upon a time, the World Cup featured genuine tactical innovations, with far-flung countries arriving at the tournament with something the rest of the world had never previously encountered.
These days, that simply doesn't happen -- there's too much knowledge about world football in general, and tactics have become homogenised. Now, the World Cup acts as a barometer of the dominant style of the moment. Here's what World Cup 2014 featured:
Aggressive goalkeepers
Arguably the main tactical talking point from the tournament was the extremely advanced sweeper-keeper role perfected by Manuel Neuer, most obvious throughout Germany's 2-1 extra-time victory over Algeria.
Neuer continually charged out of his goal and into wide areas to make tackles -- not just interceptions, but literally outfield tackles -- as Algeria continually attempted to break in behind the German defence. This was too extreme for Joachim Low, and the fact that the sluggish Per Mertesacker was dropped for the rest of the tournament was probably a recognition that Germany were relying on Neuer too much as an eleventh outfielder. Still, Neuer continued that approach in the final, wiping out Gonzalo Higuain in the left-back zone.
The vast majority of goalkeepers weren't as aggressive as Neuer, but many were extremely quick off their line. This was a crucial part of Tim Howard's superb display against Belgium: The saves weren't spectacular, but he shut down the angle excellently, so they didn't have to be.
In the same match there was another fine example: Thibaut Courtois' superb save from Clint Dempsey after the USA's well-worked free kick. Again, it looks like a simple block, but Courtois' quick reaction and tremendous acceleration was truly remarkable. Whatever happened to goalkeepers going in goal because they weren't mobile enough to play outfield?
Neuer's approach is an exaggerated example, but it's easy to imagine young goalkeepers across Germany -- and elsewhere -- becoming inspired by his proactive style.
Three-man defences dominate
This tournament was a fantastic advert for the three-man defence. By the end of the group stage, three-man defences had played eight matches against teams playing a back four, and remained unbeaten, with only two draws, both without a goal: Costa Rica against England, and Mexico against Brazil.
Recently, three-man defences have often been used for attacking reasons, but throughout this tournament, the three-man backlines were secure defensively. Costa Rica and Mexico played the system throughout, while Chile and the Netherlands switched between a back three and a back four according to the nature of the opposition.
It's highly unfortunate these sides found themselves on the same route to the final -- the Dutch beat Chile in the final group game, then eliminated Mexico and Costa Rica. All four sides can consider themselves unfortunate to be eliminated: the Netherlands, Chile and Costa Rica all lost on penalties, while Mexico trailed in the entire competition for less than two minutes, victims of a late turnaround against the Dutch.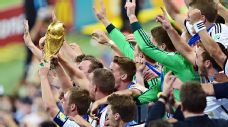 Three-man defences aren't entirely uncommon in modern football, but it felt like opponents were entirely unprepared for the challenge. The best example was on the second day, with Mexico's 1-0 victory over Cameroon -- it should have been more a more resounding win, but for some poor offside decisions. Mexico wing-backs Miguel Layun and Paul Aguilar continually pushed back the Cameroon wingers, who were playing in a 4-3-3 system and therefore should have been supporting the central striker. Instead, they tracked back Layun and Aguilar all the way, to the point where Cameroon were effectively playing a back six, and unable to break forward.
That was one small example, but it summarised the problems with playing against wing-backs -- the most natural way to counter them is to play wing-backs yourself.
Classic strikers continue to struggle
It was only natural that Thomas Muller, that most unusual of forwards, was the obvious pick up front in everyone's team of the tournament. This wasn't a World Cup for strikers.
Muller played up front in the group stage, netting a hat trick against Portugal in Germany's first game, but he actually spent that match continually sprinting laterally to the flanks, making space for others to exploit. Of course, Muller eventually moved right to make way for Miroslav Klose, which helped the balance of the German side. But Klose wasn't a major factor in Germany's knockout stage success, and while he surpassed Ronaldo's all-time World Cup goal-scoring record, he still feels like a throwback -- if Neuer is the ultra-modern goalkeeper, Klose is the ultimate old-school striker.
Few other strikers shone. Gonzalo Higuain of Argentina had a poor tournament apart from one brilliant snapshot against Belgium, and wasted the final's best chance. The Netherlands' Robin van Persie was quiet by his usual standards, his superb header against Spain his most significant contribution. Brazil's Fred was terrible throughout.
Elsewhere, strikers were often exciting sides' weak link -- Colombia's Teo Gutierrez disappointed, as did Mexico's Oribe Peralta. There were flashes of brilliance from the likes of Joel Campbell, Enner Valencia, Josip Drmic, Georgios Samaras, Islam Slimani and Luis Suarez -- but only Campbell reached the quarterfinals, where he had his quietest game.
The tournament's best six attackers were Muller, James Rodriguez, Arjen Robben, Leo Messi, Neymar and Alexis Sanchez. None were classic strikers, and while there's an argument you still need a striker to bring the best out of these mobile, versatile attackers, these days they're rarely the star attraction.
Lots of crossing
Successful sides rarely base their approach entirely around crossing, but it remains a dangerous weapon when used sporadically, at the right moments. Throughout the competition, various sides had success by getting the ball wide and putting it into the mixer.
There was Italy's fine victory over England, where Antonio Candreva and Matteo Darmian continually combined to overload Leighton Baines down the right, or right-back Serge Aurier's double assist for two quick goals in the Ivory Coast's comeback against Japan. Left wing-back Daley Blind created two goals for the Dutch in their thrashing of Spain, while U.S. got most joy from their right, when Fabian Johnson charged forward from deep -- he was one of the competition's best full-backs.
There were also some excellent crosses from Algerian left-back Faouzi Ghoulam, plus both Costa Rican wing-backs Junior Diaz and Cristian Gamboa, and the energetic Greek pairing of Jose Holebas and Vasilis Torosidis.
Whereas tactical battles in 2010 were about the midfield numbers game, in this tournament the teams looked to shift the ball wide. Games were often about full-backs breaking forward to create overloads, but then leaving themselves exposed to the counter-attack. Switzerland's 5-2 defeat to France was a good example -- Ricardo Rodriguez and Stephan Lichtsteiner continually attacked, but then Mathieu Valbuena and Karim Benzema charged past them into space.
Even the final was about battles out wide -- both teams worked their right wing, with Philipp Lahm sprinting forward to combine with Muller, and Messi drawing wide to help Ezequiel Lavezzi. The tournament's winning goal came from the other flank, Mario Gotze slamming in Andre Schurrle's ball from the left, but it was fitting that the winner came from a cross.
Michael Cox is the editor of zonalmarking.net and a contributor to ESPN FC. Follow him on Twitter @Zonal_Marking.