Brazil and Germany's role reversal
Germany and Brazil have met only once before in a World Cup, which is strange enough, but even more peculiar is the incredible role reversal since their World Cup final meeting 12 years ago.
Back then, the situation was simple: both sides lived up to the stereotype. Brazil had become more physical, but they were still built around the incredible attacking play from Ronaldo, Rivaldo and Ronaldinho, with Cafu and Roberto Carlos flying forward to support from wing-back. They'd stumbled their way through qualification but had put on a tremendous show at the tournament in Japan and Korea, with some dazzling performances and some wonderful goals. They were the popular choice as tournament winners.
On the other hand, Germany were widely regarded as a boring, efficient but resilient unit. They'd scraped their way through to the final with three consecutive 1-0 victories over mediocre opposition: Paraguay, USA and South Korea. Their run to the final feels rather fortunate, if not a complete fluke -- this was a deeply average German side, as evidenced by their terrible performances at Euro 2000 and Euro 2004, when they failed to win a game. Still, the fact that they battled through to that final in Yokohama, despite the lack of quality, was seen as very German.
That said, Germany did have a true star. Michael Ballack had been in sensational form at club level, taking Bayer Leverkusen to the European Cup final with some brilliant midfield displays, while scoring crucial goals. He'd hit the winner against both the U.S. and South Korea. The problem, however, was that Ballack had received a yellow card in the semifinal and was therefore ruled out of the World Cup final through suspension.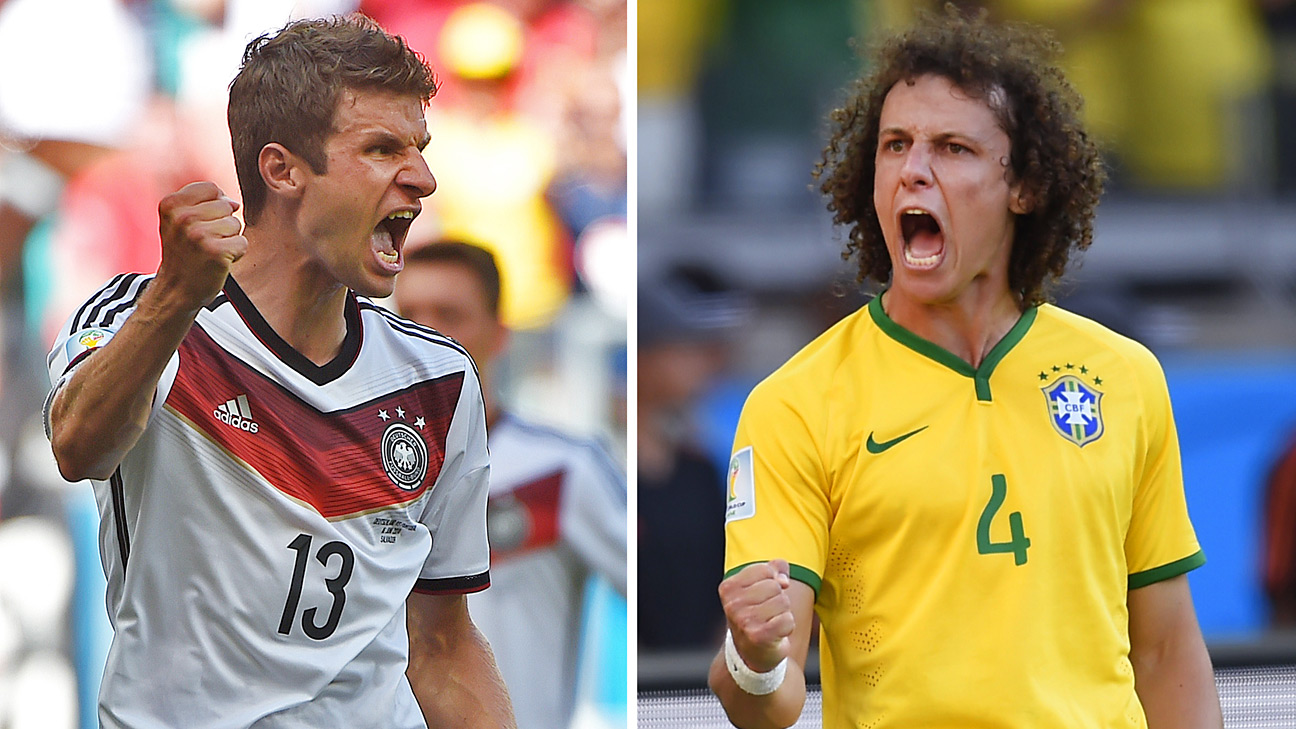 Therefore, we had one technical, exciting, attack-minded side and one solid, physical and boring side -- who were without their only world-class attacker. It's exactly the same situation this time, except the other way around: Germany are the entertainers, Brazil are the fighters and are forced to cope without Neymar.
The transformation is quite remarkable, when you consider that these two sides traditionally occupy positions at opposite ends of football's ideological spectrum. Brazil were the superheroes, Germany were the villains. Now, despite Brazil being the hosts, they're the bad guys in the wake of their highly aggressive approach in the 2-1 victory over Colombia, when they attempted to kick James Rodriguez out of the game.
Both sides' change in emphasis hasn't happened overnight, and isn't primarily the result of their current managers' favourite tactics. It's a long-term process. Brazil's move away from beautiful football has its roots in the mid-1980s, when there was something of a backlash to the failure to win the 1982 World Cup with a brilliantly talented side. Brazil started to rely upon physical, combative central midfielders, with deep-lying playmakers increasingly having to settle for a place on the bench, somewhere between a "luxury" and an "alternative."
This doesn't explain why the 2002 Brazilian side were still so enjoyable to watch, and the truth is that Luiz Felipe Scolari blended the two concepts very nicely. In basic terms, he fielded a 3-4-1-2-ish system that featured three solid centre-backs, and (by the end of the tournament) two functional central midfielders in Gilberto Silva and Kleberson. Scolari's favoured style of play was widely considered futebol brucutu before the tournament, which roughly translates as "bullyboy football."
But there was individual magic in the final third. Rivaldo had previously been voted the world's best player, Ronaldo would be voted the world's best player that year, and Ronaldinho was two years away from being voted the world's best player. Brazil's artistry wasn't the result of an intelligent, forward-thinking strategy from Scolari, or because of an overall approach, but was instead a dependence upon three outrageously talented individuals.
That blend was still obvious in 2006, with a structured side fronted by the likes of Kaka, Ronaldinho, Ronaldo and Adriano. But gradually -- perhaps because of the increasing defensiveness, physicality and brutality of Brazilian football overall -- the country simply stopped producing this type of attacking talent. By 2010, there was a reliance upon Robinho and Kaka with no other creativity in the squad, and by 2014 it's essentially Neymar and little else, with even Oscar a very functional playmaker rather than a pure creator. With great individuals, Brazil can be beautiful, but it doesn't mean their overall approach is beautiful.
The German development in the opposite direction can be traced back to the 1999 decision to build 121 "national talent centres" across the country, and the insistence that each club in the top two divisions had a youth academy. Quite simply, this has flooded the Bundesliga with brilliant young, raw talent. While Brazil's attacking play in 2002 depended upon three particular individuals (no one will remember backup strikers Edilson or Luizao with great fondness), Germany's approach is more collective, more about strength in depth, more about an overall, cohesive game plan.
Ironically, this style of football was first obvious at the World Cup four years ago, when Michael Ballack was due to captain the side, but a pre-tournament injury forced him to miss the competition, and the success of the youngsters effectively ended his international career. It was a great shame, considering Ballack's efforts in dragging an average side to the latter stages twice in his international career, but realistically it worked out well, allowing the next generation to shine. After all, this wasn't a German side that relied on individuals, but a more harmonious approach -- and in a way, Ballack was the unfortunate antithesis of that.
There is just one survivor from the 2002 meeting between these sides. Miroslav Klose needs only one goal to become the all-time World Cup-record goal scorer -- he's currently tied with Ronaldo, who scored both goals in that 2002 final. It would be fitting if Klose managed to surpass Ronaldo in this week's semifinal -- it would be a neat summary of how, in terms of attacking play, Germany have surpassed Brazil.
Michael Cox is the editor of zonalmarking.net and a contributor to ESPN FC. Follow him on Twitter @Zonal_Marking.