Key matchups of the semifinals
After a goal fest in the group stages, things have quieted down in the knockout rounds with tighter games and fewer goals in open play. One moment can change everything, and one individual battle can decide a game. Before this week's semifinals, here are four key individual battles that could determine who contests the final on July 13.
Argentina vs. Holland (4 p.m. ET July 9, ESPN/WatchESPN)
Gonzalo Higuain vs. Ron Vlaar
After being extremely quiet throughout this tournament, Gonzalo Higuain definitely needed his winning goal against Belgium in the quarterfinal, and it was a brilliant, instinctive, first-time finish into the far corner. It was perfect timing with Sergio Aguero out injured, Angel Di Maria about to be ruled out of the tournament and Lionel Messi increasingly forced to shoulder a colossal responsibility. Higuain's goal was the mark of a top-class, ruthless finisher.
He was allowed a yard of space because Belgian defender Vincent Kompany had left him for just half a second, the type of small but crucial error Ron Vlaar cannot afford to make. Vlaar's approach throughout this tournament has been to stick extremely tightly to his opponents, even when they move into deep positions, thereby preventing them from turning and forcing them to play backward passes rather than charging toward goal.
Argentina have been a little underwhelming because they've played much slower than usual, and Higuain's pace behind the opposition defence has barely been obvious -- in stark contrast from his performances at Napoli this season, when his speed to reach through-balls surprised many. Therefore, Louis van Gaal has a decision to make about the positioning of his defensive line; they pushed up very high in the opening game against Spain, with great success, but since narrowly defeating Chile, they've played much deeper.
That would play into Vlaar's hands. He's not the quickest defender and could be surprised by Higuain's pace, but he is likely to man-mark him wherever the Argentine striker goes.
Netherlands
Argentina
Game Details
Martin Demichelis vs. Arjen Robben
Demichelis has been a late addition to the Argentina XI attempting to win the World Cup; he replaced Federico Fernandez for the quarterfinal against Belgium and seems set to retain his place following a good performance. The pace of Arjen Robben, however, is the trickiest test a centre-back can face in this competition.
Robben started wide right against Costa Rica but for various reasons will probably return to a more central role for this semifinal. Van Gaal will need extra midfield protection against Lionel Messi, which means a 3-4-1-2 or a 4-3-1-2 system rather than a 3-4-3. From his de facto centre-forward role, Robben has been at his best and drifted into both channels on the counterattack before attempting to roar past the opposition defence.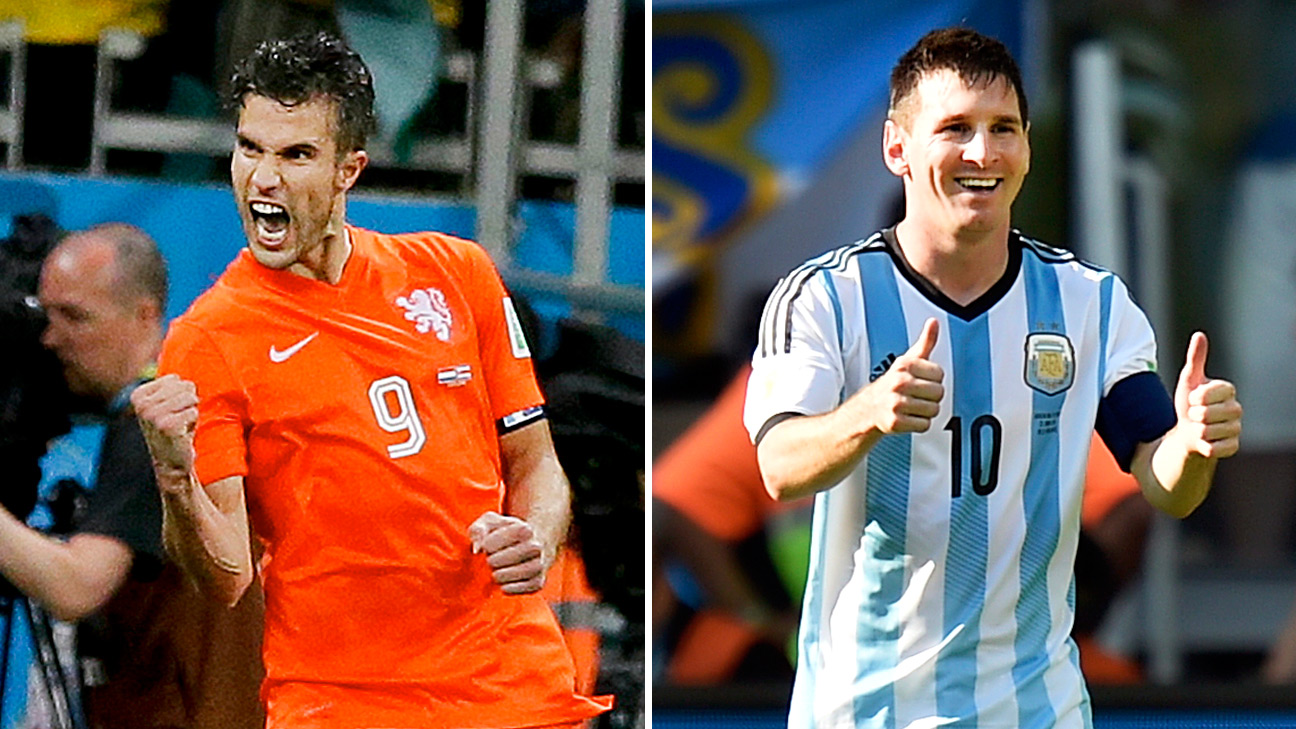 Demichelis recovered from a difficult start to his Manchester City career to become a Premier League winner, but he seems most vulnerable against quick players -- in particular, those boasting a tremendous turn of speed. That's precisely what Robben offers; it's easy to imagine Demichelis being lured into a cynical, uncompromising tackle to stop the Dutchman.
Demichelis can at least rely upon first-hand knowledge of Robben's traits -- they played together for 18 months at Bayern Munich. It's arguable that Robben has become even more effective in the three years since, however, and he only needs one counterattacking opportunity to put the game beyond Argentina.
Brazil vs. Germany (4 p.m. ET July 8, ESPN/WatchESPN)
Oscar vs. Bastian Schweinsteiger
In the absence of Neymar, who sadly was injured against Colombia and is out the rest of the World Cup -- his World Cup -- Luiz Felipe Scolari has various options, but they essentially follow two very separate routes. He can include another attacker, in attempts to find someone else who can provide Neymar's invention and trickery in the final third; alternatively, he can bring in another midfield scrapper and play an aggressive game.
Hopefully, it's the former; this would mean Oscar would be brought inside from a wide role to play as the No. 10, the position he played throughout Brazil's Confederations Cup victory this past year. Oscar prefers this role, and while Brazil can't compensate for Neymar's lack of individual quality, Oscar arguably makes Brazil more of a true team.
In that No. 10 role, he would likely be up against Bastian Schweinsteiger, who was used as Germany's deep-lying playmaker for the first time in this World Cup in the narrow 1-0 quarterfinal victory over France. He looked more comfortable than Philipp Lahm in that position and played some good forward passes into dangerous positions.
Schweinsteiger doesn't like being pressed in that deep role -- something Oscar can do excellently, particularly at the start of matches. If Brazil can play a high-energy game and get into the faces of the Germans from the outset, they can ensure the game is played at their tempo. More than anyone else, Oscar must step up and lead Brazil, but he might do that with his pressing rather than his creativity.

Brazil
Germany
Game Details
Thomas Muller vs. David Luiz
It remains to be seen where Muller will be deployed. He's generally played as the central striker throughout this tournament and consistently made runs into lateral positions. Against France, he started on the right flank but consistently drifted inside to support Miroslav Klose, thus becoming a second striker.
Either way, he'll be up against David Luiz. With centre-back colleague Thiago Silva suspended, Luiz is now Brazil's leader at the back. There have been plenty of concerns about his positioning and impetuousness at club level, but he's more solid, dependable, consistent and mature for his national side.
Muller and Luiz are opposites; Muller is the no-nonsense, understated but clinically efficient forward, while the Brazilian is flashy, extroverted and sometimes worrying when it comes to the basics of defending. Sometimes it can be difficult to work them out -- how does Muller provide so many decisive contributions, despite seeming invisible for long periods? Why doesn't Luiz get caught out more, despite his high-risk style of defending?
The second-to-last time the duo met, in the 2012 European Cup final, Muller scored by sneaking in behind at the far post to head Bayern into an 83rd-minute lead that surprisingly didn't last. Another strike could be crucial -- one goal could easily decide this game.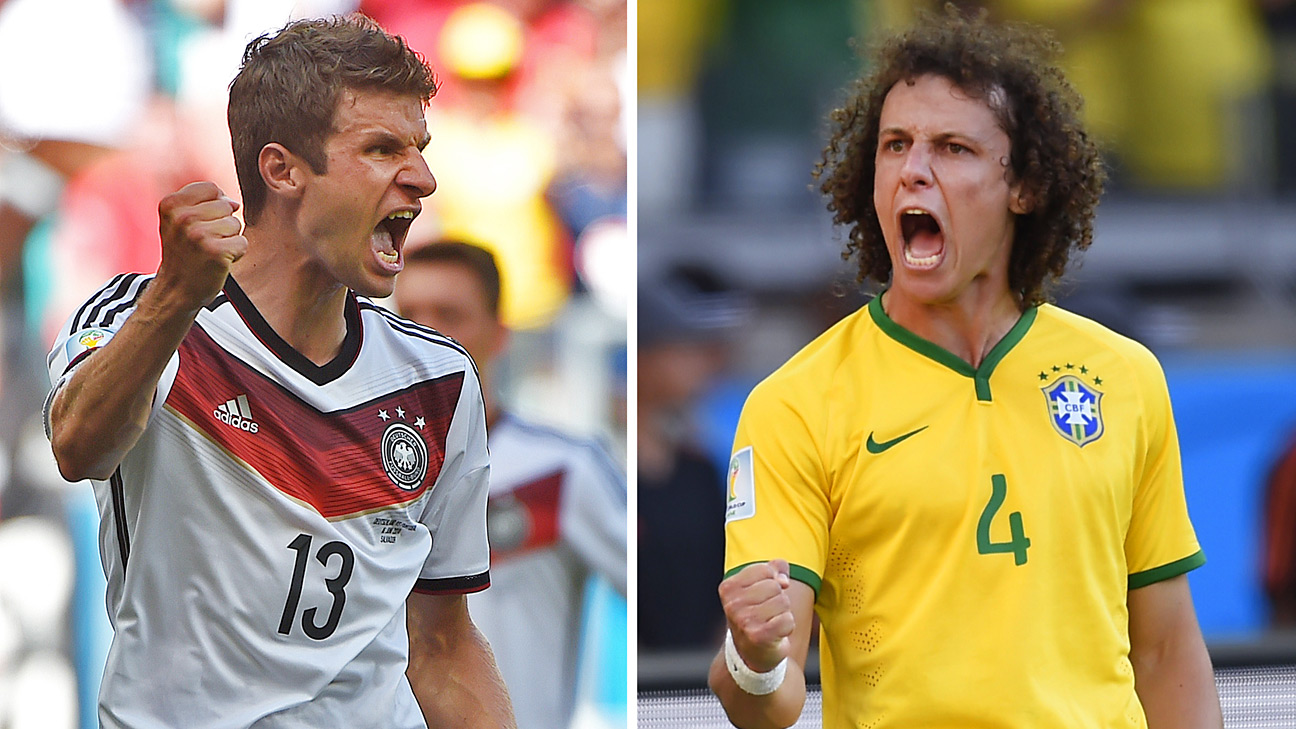 Michael Cox is the editor of zonalmarking.net and a contributor to ESPN FC. Follow him on Twitter @Zonal_Marking.