Key matchups of the quarterfinals
The World Cup quarterfinal stage boasts four European sides and four Latin American sides, and there's a bit of everything in the quartet of matches: two intercontinental fights, one all-European game, and one all-South American contest.
Of more interest are the individual matchups that will shape the games, however, which range from goalkeeping contests to classic destroyer-versus-creator battles. Here are the four head-to-head clashes that will shape the quarterfinals.
---
France vs. Germany: Hugo Lloris vs. Manuel Neuer
Hugo Lloris and Manuel Neuer are close to being the best two goalkeepers in the world, but the intrigue in this meeting is all about their style. Of the handful of goalkeepers considered world-class, they're by far the most proactive duo.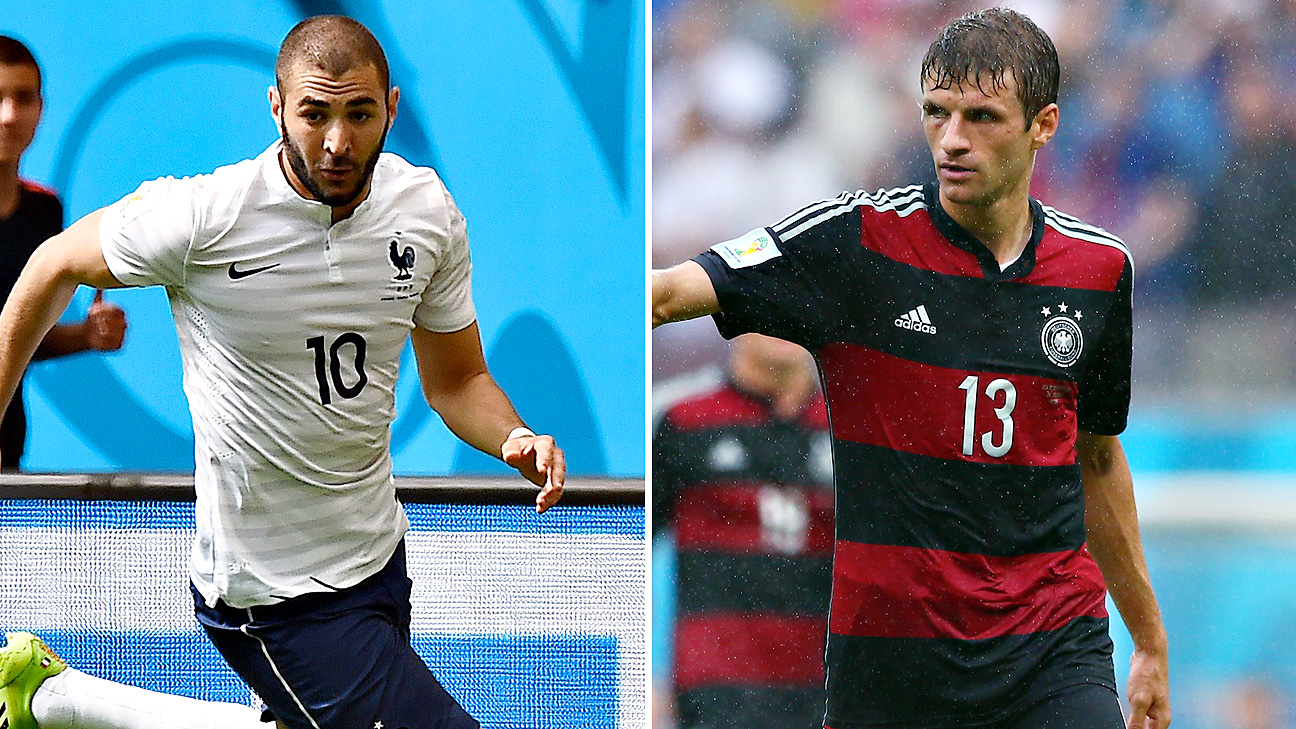 Lloris' reputation as a sweeper-keeper was established during his debut season at Tottenham, where Andre Villas-Boas' preference for a high defensive line meant Lloris often darted outside his penalty box to smash clearances into the stands. That urgent, all-action style also applies to the way Lloris deals with crosses -- he's always sprinting forward into a mass of players, attempting to claim the ball and relieve the pressure, rather than simply reacting to shots.
Even Lloris must have been staggered by the approach of Neuer against Algeria on Sunday night, however. Playing behind a defence that was extremely vulnerable to the pace of striker Islam Slimani, Neuer made some quite extraordinary dashes out of his goal to clear the danger. In the opening stages he made a desperate tackle on Slimani in the right-back zone, then midway through the first half, he beat Sofiane Feghouli to a 50-50 tackle some 35 yards from his goal.
The style of these two goalkeepers is partly because both teams play very high defensive lines, of course, and that pattern should continue in this intriguing quarterfinal. Balls over the top will be plentiful, and the two goalkeepers will be extremely proactive. One mistake could define the contest.
---
Brazil vs. Colombia: Marcelo vs. Juan Cuadrado
Quite rightly, Colombia's James Rodriguez has received the most attention so far for his stunning performance in the No. 10 role, but Juan Cuadrado has also been excellent throughout the competition, and the quarterfinal meeting with Brazil could be his time to shine.
Cuadrado is a fantastically entertaining footballer, an old-fashioned outside-right who loves roaring past the opposition left-back, and has become increasingly efficient with his end product over the last year. Colombia's first instinct is to look for Rodriguez, but when he receives the ball in deep positions, he often knocks it over the top for Cuadrado to run onto.
Cuadrado will be up against one of the competition's best full-backs in Marcelo, and it feels like the Real Madrid man has a big responsibility this weekend. With rumours suggesting Maicon will replace Daniel Alves at right-back, furthering the uncertainty on that side, Marcelo must be solid and reliable alongside David Luiz to the left. Chile forward Alexis Sanchez's goal against Brazil originated from the left-back zone, and Brazil must ensure they don't allow Cuadrado space this weekend.
Stopping Rodriguez is the key, of course, but Brazil can do that with numbers -- by getting two men out to him quickly, and by keeping it tight between the lines. Marcelo won't receive much help in stopping Cuadrado out on the touchline, which means this is the key individual duel.
---
Argentina vs. Belgium: Lionel Messi vs. Axel Witsel
On the basis of their performance against Switzerland in the second round, Argentina are Lionel Messi, and not much more. Angel di Maria grabbed the late winner but had been extremely disappointing, Gonzalo Higuain has done very little in the competition thus far, and Ezequiel Lavezzi continues to be the most frustrating footballer around. This is Messi's Argentina.
Tasked with stopping him will be Axel Witsel, and it's not unfair to suggest that the Belgian holding midfielder hasn't been properly tested so far. He hasn't faced a top-quality No. 10, and it's likely he'll go head-to-head with Messi, in contrast from the way Switzerland shut him down with two men -- both Gokhan Inler and Valon Behrami.
Witsel is capable of strong tackles, but more important will be his positional play against Messi. The Argentina captain in such a multifaceted player that it's difficult for opponents to know whether to let him go free when he drifts deep, or stick tight and risk leaving space in front of the defence. The latter seems the best bet against this Argentina side, where no one seems willing to drift between the lines and take up Messi's position when he's elsewhere.
Witsel is a good ballplayer, too, and he might have an influence upon his side's attacking play, starting moves from deep, because Messi contributes little at the international level when the opposition have the ball. Getting the better of Messi is a tough order, but what an opportunity for Witsel to stake a claim as one of the best central midfielders around.
---
Netherlands vs. Costa Rica: Ron Vlaar vs. Joel Campbell
Netherlands have played a counter-attacking approach so far in this tournament and have been fortunate to meet sides who like dominating. Spain, Chile, Australia and Mexico are all possession-based sides who push high up and leave space both in front of and in behind their defence, which has resulted in plenty of counter-attacking opportunities for Arjen Robben.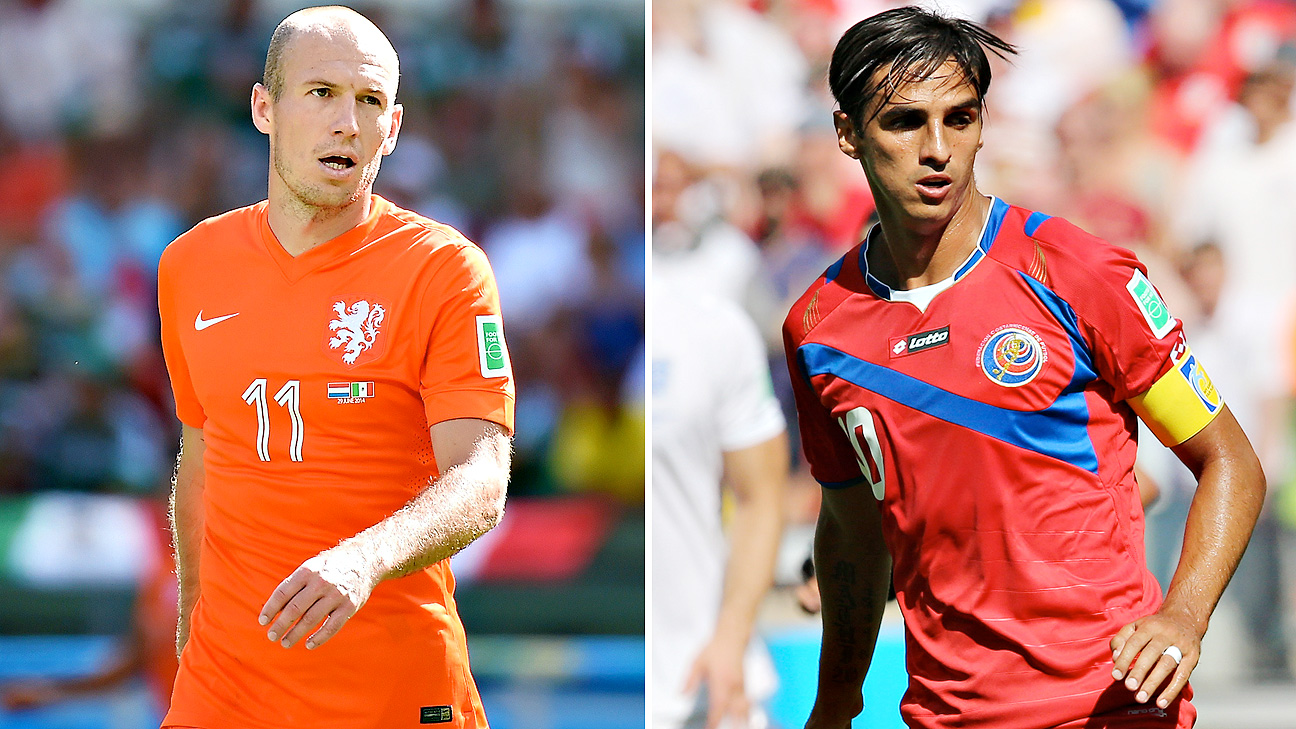 This weekend, the tables might be turned. Against Costa Rica, Netherlands will surely have more possession, and it will be the underdogs attempting to counter-attack -- partly through wide players Bryan Ruiz and Christian Bolanos, but primarily through centre-forward Joel Campbell.
Campbell's most eye-catching quality is unquestionably his raw pace, but he's also proved excellent at fighting against opposition centre-backs, bringing down long passes with immaculate control. He'll offer a permanent out-ball for the Costa Rican defenders, likely to be arranged in a solid line of five to deny Robben space in the channels.
Campbell particularly likes working in the inside-right channel, and while the Dutch have played a high line so far, their defenders aren't particularly quick. Ron Vlaar man-marked Diego Costa admirably, but Campbell is probably even quicker -- this will be a real test of Vlaar's mobility.
Michael Cox is the editor of zonalmarking.net and a contributor to ESPN FC. Follow him on Twitter @Zonal_Marking.