How the U.S. can improve
This World Cup has not been so much about the United States falling in love with soccer, but about soccer falling in love with the United States.
A key reason was the fight and spirit the team showed toward the end of its round of 16 clash vs. Belgium. The second half of extra time was truly thrilling, with a highly energetic U.S. side outrunning and outfighting Marc Wilmots' Belgian side, which seemed utterly exhausted in midfield and unable to put up a fight. There were a couple of golden opportunities for the Americans to snatch an equaliser.
To a certain extent, however, that late rally hides the fact that the United States were second best throughout the game. The shot statistics are absurdly one-sided: Belgium had 39 shots to the United States' 17, while the shots-on-goal breakdown was 17-5.
The U.S. left too much space in front of their defence, with Jurgen Klinsmann's surprising decision to drop Kyle Beckerman crucial in this regard. Kevin de Bruyne was the most common Belgian player to exploit that space. He helped create a succession of chances, but Tim Howard stood tall, delivering one of the best goalkeeping displays of the tournament.
As in previous games, there was something slightly frustrating about the Americans' approach. When desperately requiring a goal, they showed an ability to dominate the game and put constant pressure on Belgium. But, not for the first time, they didn't manage this throughout the entire game and seemed galvanised only when having conceded. No side can dominate 120 minutes of a World Cup encounter, though, and it's worth remembering that the U.S. had 53 percent possession in total.
Overall, the United States overachieved by getting out of the group stage. Of the 16 teams that have played four games in Brazil, only four have taken fewer shots (44) and none have allowed more shots against (74). These are not impressive numbers, and the U.S. squad list remains underwhelming compared to other knockout stage teams.
It does sum up the fact that Klinsmann created a solid, motivated and disciplined unit. Overachievers don't overachieve for the sake of it; they usually do so because of determination and fighting spirit.
"I think they learned a tremendous amount," Klinsmann said after the loss to Belgium. "I think they all went to their limits. They gave everything they had.
"You meet teams like Belgium and you meet teams like Germany, and they maybe have a little bit more quality in their program."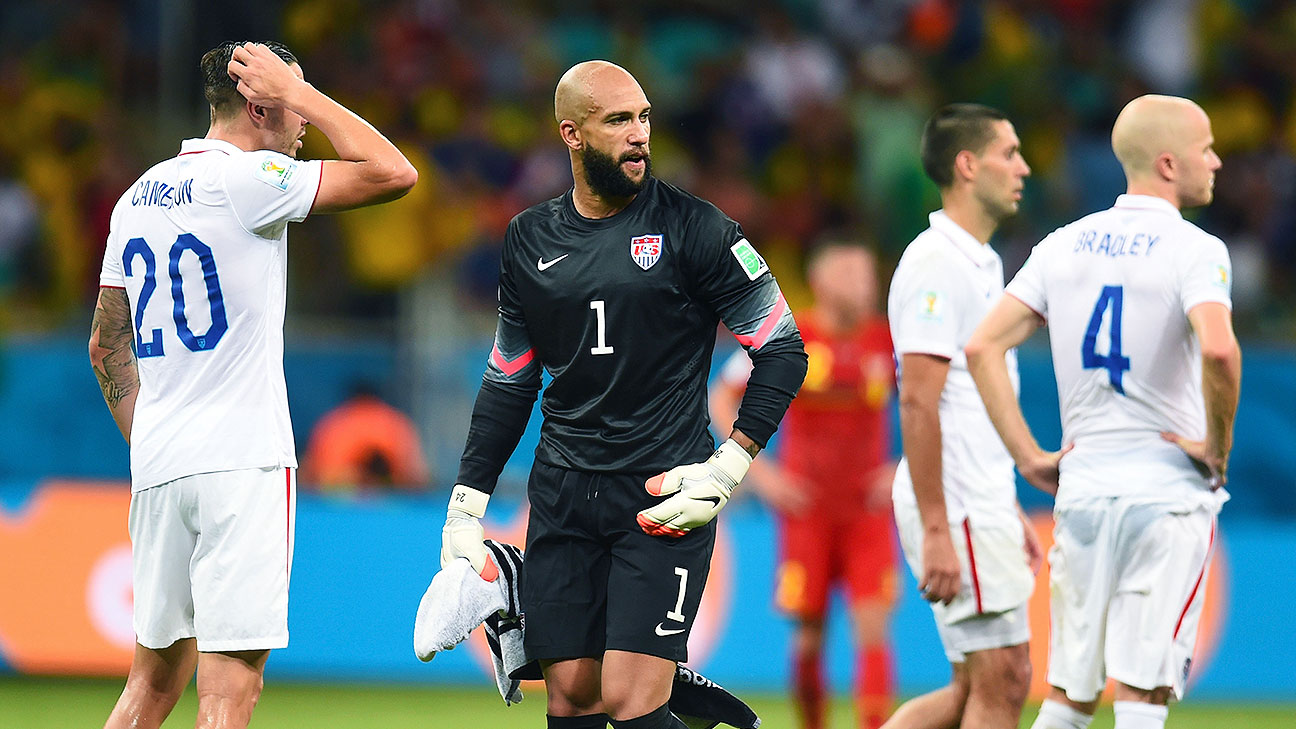 The next question, then, is obvious. What might the U.S. do if they had top-class footballers?
The secret to success is simple: good players. It's not a guarantee of success, because you need so much more, such as organisation, tactical intelligence, motivation and physical conditioning. These concepts essentially add value to raw player talent but count for little without that talent. To become a major force in world football, the United States don't need more intelligent tactics from Klinsmann but simply better players.
Of the current squad, none are likely to play Champions League football next season. Two stars, Clint Dempsey and Michael Bradley, returned to MLS after some excellent seasons in Europe while Julian Green is owned by Bayern Munich but is unlikely to feature consistently for the first team next season.
Therefore, the most important aspect in the United States' progression over the next four years, ahead of World Cup 2018 in Russia, will be player development. There will be evolution from this side to that one. Indeed, they are in a peculiar position in that the average age of their starting XI is the highest of any World Cup side (29.8) yet they also have a strong generation of young talent.
There are two things that need to occur.
First, players need the experience of top-level European football. This is a controversial topic and not something favoured by everyone within U.S. Soccer. While Klinsmann has spoken often about his belief in this idea, others, such as former national team coach Bruce Arena, believe the majority of the national team should come out of Major League Soccer. While the quality -- and quantity -- of the domestic league continues to grow, realistically the U.S. won't produce top-level players without significant experience in the European leagues.
It's up to the younger generation -- the likes of Omar Gonzalez and DeAndre Yedlin -- to try its hand abroad. Gonzalez had an unfortunate spell with Nuremberg in 2012, failing to make a first-team appearance after getting injured in his first training session, but he must give it another go. The top-class strikers play in Europe, not in MLS, and he must be tested.
Second, the United States need to produce more genuinely talented athletes. This shouldn't be a problem for the world's best sporting nation, a country of almost 320 million people. The key is getting kids involved in soccer in the first place, and being inspired by the success of Klinsmann's team should help that.
That, in a sense, is more important than anything else. Klinsmann was realistic about his ambitions for this tournament, saying -- to some disgust -- "We cannot win this World Cup because we are not at that level yet." It was absolutely true. The final word of the sentence was the most crucial, though. Klinsmann has a contract until 2018 and fully intends to be in Russia with the United States. This is a long-term project.
The U.S. were just four games away from winning the World Cup, yet realistically they were a million miles away. Klinsmann needs better players.
And, to repeat, for that to happen, national team players must go abroad and more raw talent must be found. In that sense, Klinsmann has done his job perfectly. European clubs will surely be inquiring about the availability of Yedlin, Gonzalez and Graham Zusi. More kids will be pretending to be Jermaine Jones in their back garden, kicking around a soccer ball.
Ultimately, for the calibre of players at Klinsmann's disposal, there's not too much more anyone could have asked for.
Michael Cox is the editor of zonalmarking.net and a contributor to ESPN FC. Follow him on Twitter @Zonal_Marking.