Howard ready for Portugal challenge
The United States' 2-1 victory over Ghana on Monday was a fine example of how goalkeeping has become such an all-around discipline. Among various star performers for the U.S., generally on the defensive end, Tim Howard was outstanding.
Yet if you inspect the statistics in terms of saves, Howard didn't do anything special. He made two saves from goal-bound shots -- he reached another although it was actually flying just wide -- and conceded one goal. Hardly the most impressive performance.
However, goalkeeping is about more than simply shot-stopping; Howard's broader game was excellent. Playing behind a deep defence that was allowing the Ghanaian full-backs too much time on the ball, he helped relieve the pressure by coming forward and dealing with crosses. Even more impressively, his acceleration to sweep up behind his defence was brilliant -- a sudden dart out of his goal midway through the first half was particularly notable. This is the area in which Howard has improved significantly.
In Europe, the perception of North American goalkeepers is that they're generally excellent at the basics of goalkeeping -- positioning and handling -- yet not particularly talented as the "11th outfielder." Their distribution is nothing more than average, and they tend to stay on their goal line rather than sweeping behind the defence. For example when Brad Friedel deputised for Hugo Lloris, the epitome of the modern goalkeeper, at Tottenham over the past couple of seasons, he appeared completely unsuited to the task despite being an experienced Premier League campaigner and still a fine shot-stopper.
Howard, on the other hand, has learned from Lloris. Midway through last season, Howard spoke about his respect for the France captain; in particular, the way he anticipates danger and proactively stops attacks rather than simply remaining on his goal line to make reaction saves.

United States
Portugal
Game Details
Howard, in fact, has been inspired to replicate Lloris' sweeping, which was particularly obvious in Everton's 1-1 draw against Arsenal at the Emirates last year; he raced off his line three times to stop Arsenal when they attempted through-balls for onrushing attackers. Howard closed down the angle quickly, and by the time he'd got into that aggressive position, the save itself wasn't particularly difficult, so he didn't receive significant praise. However, this is more effective than remaining close to goal and gambling on saving the shot. Saves can be spectacular, but sometimes the goalkeeper should have anticipated the danger sooner.
Howard is one of the many American goalkeepers who owes much to Milutin Soskic, who spent 12 years as the United States' goalkeeping coach from 1993. Soskic concentrated on improving his goalkeepers' positioning and distribution of their weight. Prior to his arrival, there was a strong emphasis upon raw physicality -- it's perhaps a natural idea considering the USA's pedigree of producing fine goalkeepers is surely, at least in part, related to the popularity of sports such as basketball, baseball and American football.
Soskic also asked his goalkeepers to play proactively, as Jonathan Wilson outlines in his excellent book "The Outsider: A History of the Goalkeeper," but this has only become an obvious feature of Howard's game over the past year while playing in a team that has used a high defensive line, as prescribed by Everton boss Roberto Martinez.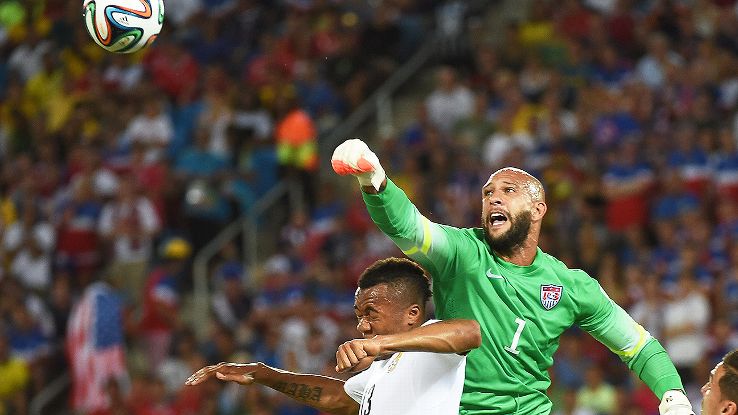 For the United States' second group game, Howard is likely to face a different challenge, however, and his shot-stopping abilities will be of paramount importance. He's up against Cristiano Ronaldo, the most prolific shooter -- never mind goal scorer -- in world football.
Questions remain about Ronaldo's level of fitness, but if even close to 100 percent, it wouldn't be a surprise if the Real Madrid attacker set a World Cup record for shots in a single game, against either the U.S. or Ghana. Though this Portugal side isn't a one-man team, it's pretty much a one-man attack.
One of Portugal's major failings in their 4-0 defeat to Germany was that when Nani and Fabio Coentrao got into decent positions, they wrongly looked to find Ronaldo rather than go for goal themselves. They depend so much upon their main man, and as a result, Portugal vs. U.S. could come down to Ronaldo vs. Howard.
The two men know each other well, having joined Manchester United within the space of a month back in 2003. That period is what Gary Neville slightly uncharitably refers to as "The Djemba-Djemba years" at Manchester United, as that summer also featured the signings of Kleberson, David Bellion and Eric Djemba-Djemba himself. Those three were flops and never shone for the rest of their careers, while Ronaldo was an unqualified success and developed into the greatest player in the world.
Meanwhile, Howard was in neither group. He didn't excel at Manchester United -- his most famous moment was his awkward parry to Porto's Costinha, which resulted in Manchester United's elimination from the 2003/04 European Cup. But Howard improved elsewhere, something you can't say of many players Sir Alex Ferguson sells. At Everton he's developed into one of the Premier League's finest goalkeepers.
- Wright Thompson: Clint Dempsey, the pride of Texas
- Report: No word yet on Altidore replacement
- Jeff Carlisle: CONCACAF showing well in Brazil
Ronaldo and Howard have faced one another on six occasions, with Ronaldo finding the net four times -- twice from penalties, twice from 20-yard drives. It's the latter that Howard will be more worried about this time -- Ronaldo's long-range shooting ability has improved further since he left English football, and this Portugal side is perfectly set up to get the best from Ronaldo in his favoured inside-left positions.
A starring performance from Howard this week could elevate his status significantly within the American sports world. He's achieved some fantastic things with the national side over the years, like winning the 2007 Gold Cup and collecting his 100th cap earlier this month. However, coming out on top in a direct showdown with the reigning World Footballer of the Year at the World Cup would attract more attention. More importantly, it could also secure the USA's qualification to the knockout phase.
Michael Cox is the editor of zonalmarking.net and a contributor to ESPN FC. Follow him on Twitter @Zonal_Marking.