Liverpool's Philippe Coutinho missing more games since Barcelona saga
When Liverpool host local rivals Everton in their FA Cup third-round tie on Friday, they will be missing their two star attacking players.
Mohamed Salah (23 goals in 29 games this season) and Philippe Coutinho (12 goals and nine assists this season) are ruled out of the match at Anfield through injury, manager Jurgen Klopp confirmed on Thursday.
Coutinho missing matches has become a more common occurrence this season. His absences have been more frequent ever since he became Barcelona's main target in the transfer market.
Multiple reports in British and Spanish newspapers claim that a deal for the Brazil international -- which was successfully resisted by Liverpool in the summer despite several bids from Barca -- could finally be struck in the coming days.
Since his arrival at Anfield from Inter Milan in a €13 million deal in January 2013, Coutinho has never missed as many matches or had as many injuries as he has this season.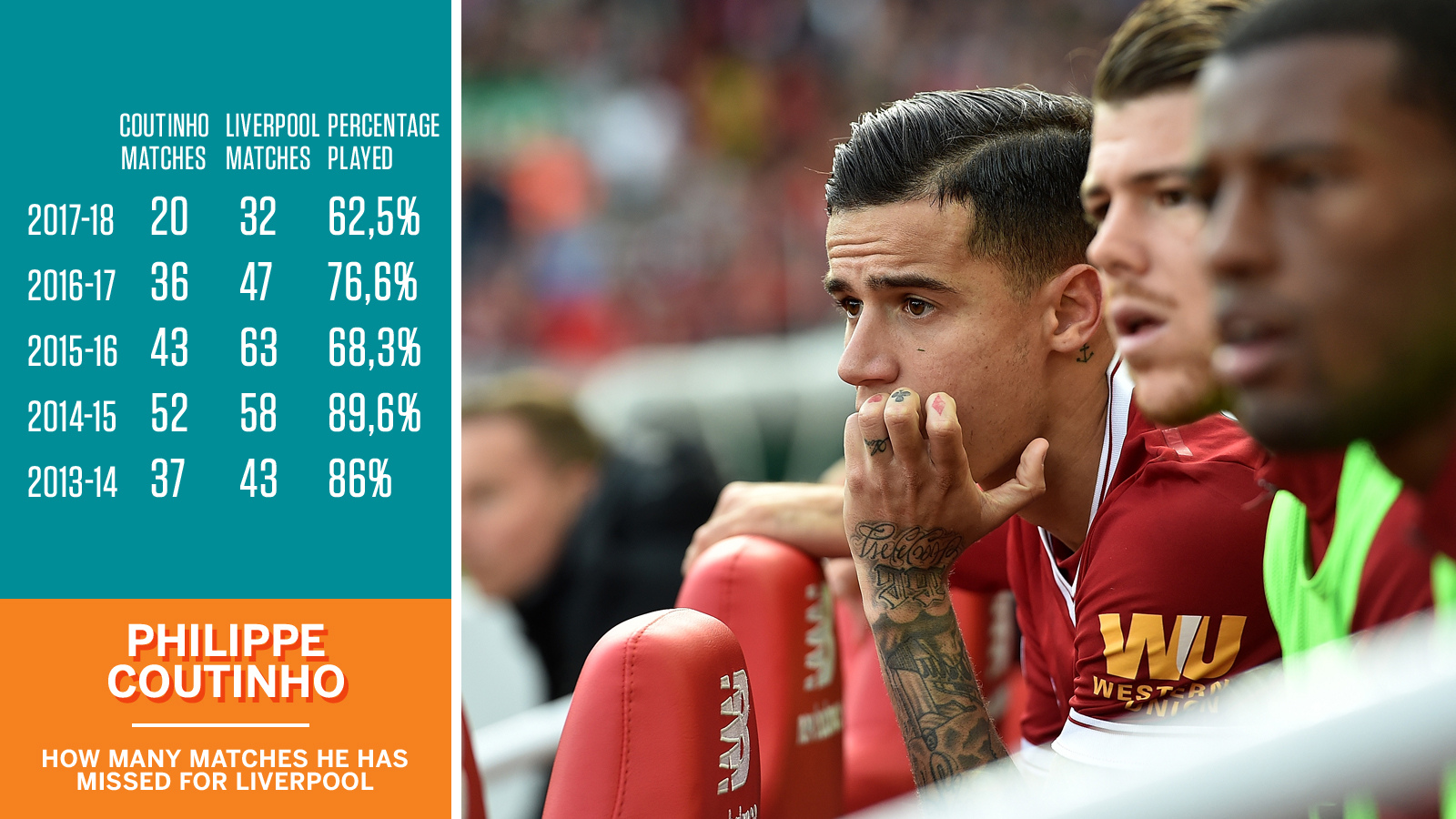 In 2017-18, the 25-year-old has been left out of 10 matches so far, with three different injuries. First, a back problem made him unavailable from Aug. 3-28 -- missing five matches during this period. After that, various physical problems left him out of three games played from Oct. 26-Nov. 7. Now, a thigh injury made Coutinho miss the New Year's Day win over Burnley, and also Friday's derby against Everton.
The numbers are clear: this season, he has been available for just 62.5 percent of Liverpool's matches.
Before that, his worst season in terms of matches missed was 2015-16, when he played only 68.3 percent of Liverpool's games. At that time, he suffered two thigh injuries, which left him on the treatment table for 38 days.
Meanwhile, his best season in terms of participation was 2014-15, when he was present in 89.6 percent of Liverpool's matches: 52 in 58. In that season, he had just one injury, needing medical attention for just one week.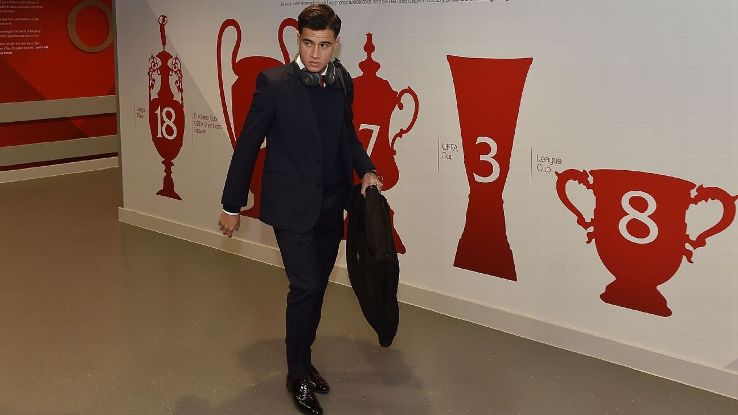 At the beginning of this season, Coutinho's back injury made him unavailable for 25 days. During that time he missed Liverpool's first six matches of the campaign, including their Champions League qualification playoff against Hoffenheim and four Premier League matches -- including the 4-0 home win over Arsenal and the 5-0 defeat at Manchester City.
That absence coincided with the period when Barcelona representatives first came to England to try to close a deal with Liverpool as the Aug. 31 transfer deadline neared. After three bids, Liverpool said that they would keep their No. 10. Throughout the negotiations, Coutinho was unavailable to play.
However, during that period, he was called up by Brazil coach Tite and travelled to South America. After arriving, he was examined by Brazil medical staff and was deemed fit enough to make substitute appearances in World Cup qualifiers against Ecuador on Sept. 1 (when he scored the second goal in a 2-0 win) and Colombia four days later (a 1-1 draw).
Upon his return to England, still a Liverpool player, Coutinho made his first club appearance of the season in their opening Chmapions League group game against Sevilla on Sep. 13. He has since enjoyed one the most productive spells of his career.
With the opening of the January transfer window, however, Barca's interest is renewed. And, like in the summer, he has got injured and stopped playing.
Last Thursday, Klopp said that the Coutinho will be able to play for the Reds against Manchester City, on Jan. 14, in the Premier League. In Barcelona, they may have a different opinion about that...
Francisco De Laurentiis is an editor for ESPN Brasil. Follow him on Twitter: @f_delaurentiis