Wolfsburg's Rodriguez won't come cheap, but he's ready for the big times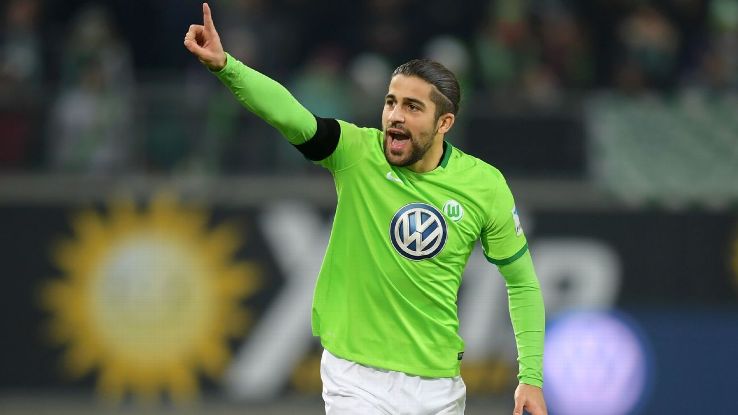 Arsenal, Chelsea, Paris Saint-Germain, Marseille and Inter Milan are reportedly queuing up to sign Switzerland international left-back Ricardo Rodriguez and they have good reason to do so.
Here are five reasons why the Wolfsburg star would be a great purchase:
He's young, but experienced
Rodriguez is only 24, but he has been playing at the highest level for a long time. Destined for stardom ever since winning the Under-17 World Cup with Switzerland in 2009, he soon became a regular at FC Zurich before moving to Wolfsburg in January 2012 for €7.5 million.
During the last five years, Rodriguez has consistently been one of the best full-backs in the Bundesliga and he was imperious when the Wolves finished as runners-up in the 2014-15 season. His contribution to their remarkable run to the Champions League quarterfinals last season was also immense. He knows what it takes to play on the biggest stage and handles pressure well.
Rodriguez's position in the national team has been undisputed for more than five years as well. Very highly praised by Ottmar Hitzfeld in the beginning of his career, Rodriguez was ever-present for Switzerland at the 2014 World Cup and Euro 2016, playing extremely well on both occasions. He has 45 caps to his name already and could be on course to break Heinz Hermann's all-time record, which stands on 118 international appearances.
His attacking contribution is extraordinary
Rodriguez is a very attack-minded defender. He is speedy, possesses great technical skills and excels at both quality crosses from the wing and long balls on the counter. Throughout his career, the Swiss has averaged more than 1.5 key passes per game. That ratio skyrocketed to over 2.0 in Wolfsburg's best seasons in 2013-14 and 2014-15 -- a very remarkable stat for a defender, only comparable to Dani Alves.
His shooting technique is very good and while he's able to send pin-point passes, the full-back also excels at curling shots and firing from distance. In addition, Rodriguez is a dead-ball specialist, usually taking penalties, free kicks and corners for Wolfsburg. Such an array of skills enabled him to become one of his team's most potent attacking weapons. He contributed five goals and a Bundesliga-best eight assists for a defender in 2013-14 and those stats stood at six goals and five assists in 2014-15.
He rarely commits fouls
He might spend a lot of time in the opponents' half, but Rodriguez's speed and stamina enable him to backtrack quickly. He covers plenty of ground in every match, is rarely caught out of position and doesn't give away free kicks. In fact, the Swiss star has committed less than one foul per game since 2014.
It is not surprising, therefore, that Rodriguez concedes very few cards. He has only been sent off once in his entire career, while getting cautioned just nine times in five Bundesliga seasons (and none at all this campaign). The Swiss was only yellow-carded once in European competitions and twice in his 45 matches for the national team. Those numbers are absolutely breathtaking for a defender.
He has an outstanding personality
Born in Zurich to a Chilean mother and a Spanish father, Rodriguez is multilingual and multicultural. He is a role model as a professional -- never making negative headlines and always dedicated to his team. Not for nothing he was described as "the silent phenomenon" by Swiss newspaper Neue Zurcher Zeitung. The fast rise didn't change his personality and he keeps his feet firmly on the ground.
One of the best examples of Rodriguez's character is his unusual friendship with a 12-year-old fan in 2013. The kid, Joey Meister, used to come and watch Wolfsburg training sessions, and was noticed by the full-back who decided to take care of him. Rodriguez drove the youngster to the train station in his car almost every day and the pair became close. Joey even called Rodriguez his "best friend and personal taxi driver."
He's desperate for a new challenge
Rodriguez believed that Wolfsburg could become one of the top teams in Europe when extending his contract until 2019 two years ago, but things quickly fell apart at Volkswagen Arena after the club failed to replace Kevin De Bruyne, who was sold to Manchester City in the summer of 2015. Last season was largely disappointing, despite the great run in the Champions League, and this term the Wolves are in deep crisis in the bottom half of the table. Sporting director Klaus Allofs and veteran coach Dieter Hecking were both fired by the end of 2016.
The difficult situation prevents Rodriguez from fulfilling his potential and aspirations. Incredibly, the new coach Valerien Ismael even used him as a centre-back in several Bundesliga matches, and that position doesn't suit him in the slightest. The Swiss defender is loyal to his team, but it is crystal clear that time has come to move to a bigger club in order to prevent stagnation.
The price is bound to be high, but the multitalented defender is definitely worth it.
Michael Yokhin is ESPN FC's European football writer. Follow him on Twitter: @Yokhin