Manchester City need Jonathan Tah; Joel Matip would help Liverpool
With five days to go until the January transfer window closes, a number of teams contending for honours around Europe still look in need of late additions to their ranks. Here is a look at eight sides who could do with strengthening in key areas for that final push.
Leicester City
What they need: A versatile forward
Although Jamie Vardy and Riyad Mahrez both flickered back into life against Stoke last Saturday, there is a sense, heightened by a much-changed side's FA Cup defeat to Tottenham, that Leicester's key attackers need greater support. The Foxes may never have an opportunity like this again and the addition of another forward with proven quality would add depth and variation ahead of a punishing February schedule. CSKA Moscow forward Ahmed Musa is Claudio Ranieri's top target for the remainder of the window and it is a move that would make sense: Musa can operate across the front line and could be the kind of high-impact signing that helps Leicester's challenge go the distance.
Manchester City
What they need: A centre-back
It says little for Manuel Pellegrini's attempts to strengthen the Manchester City defence that, despite a £60m outlay on Eliaquim Mangala and Nicolas Otamendi, his team still looks brittle whenever Vincent Kompany is laid low. There is a worrying lack of mobility among City's back line and, someone like Bayer Leverkusen's 19-year-old centre-back Jonathan Tah -- an extraordinary prospect who also has the composure on the ball that City too often lack at the back -- would be the kind of addition that could both slot in immediately and be built around for years to come.
Tottenham Hotspur
What they need: A striker
It is a truism to state that Harry Kane is fundamental to Tottenham's chances and there is the nagging sense that, should he face any significant lay-off, Mauricio Pochettino's squad lacks the firepower to compensate. Pochettino sets great stock in the balance of personalities in his squad and is wary of bringing in a high-profile striker who would expect to play immediately. Easing long-term target Saido Berahino in slowly from his exile at West Brom might make sense if a fee can be agreed to, but a deal for Fulham's 19-year-old Moussa Dembele might be easier to do. There may also be an appetite to strengthen Tottenham's defensive options in the eight-week absence of Jan Vertonghen, although Pochettino may not be keen on a short-term signing.
Manchester United
What they need: An attacking midfielder
United need freshening up all over the park but significant incomings are unlikely unless there is the most decisive of twists, one way or the other, in the saga surrounding Louis van Gaal's future. A dynamic, forward-thinking midfielder who can release the ball quickly and join up with the attack would make a particularly big difference to their outlook; Palermo's Franco Vazquez fits that bill, as does Benfica's extravagant young talent, Renato Sanches, while Sevilla schemer Ever Banega has also been linked -- but United may just muddle through until the summer.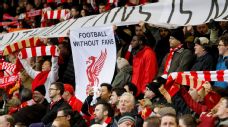 Liverpool
What they need: A forward and a centre-back
The suspicion is that Christian Benteke will go the same way under Jurgen Klopp as Mario Balotelli did under Brendan Rodgers. Klopp wants a forward who plays at a greater intensity and is desperate to seal the signing of Shakhtar Donetsk's livewire Alex Teixeira, who can play in several attacking positions. Equally important to any late tilt at a Champions League place would be the arrival of a centre-back, with Liverpool looking painfully vulnerable from set-pieces in recent weeks. A move for Schalke's Joel Matip looks increasingly likely to go through before his contract ends in the summer.
Bayern Munich
What they need: A centre-back
Jerome Boateng's injury lay-off, expected to be around three months, may not harm Bayern's Bundesliga chances, but it is the kind of misfortune that Champions League rivals will exploit. Bayern now look well short at centre-back, with Medhi Benatia still sidelined, and have little time to find a reinforcement. Tah, mentioned above, would be a good option but -- like many top-level defenders - he has already played in the Champions League for his club. Pep Guardiola needs to find a solution from somewhere ahead of next month's tie against an in-form Juventus.
Atletico Madrid
What they need: A striker
With Real Madrid and Barcelona -- the latter having failed in a bid to sign Celta Vigo's Nolito -- unlikely to add to their squads in the coming days there might be a chance for second-placed Atletico to strengthen their chance of another shock title win. A trolley dash remains unlikely but, with Fernando Torres expected to leave at the end of the season and a transfer ban likely to hamper their chances of summer reinforcements, somebody who can do a better job than Torres or Jackson Martinez of taking some weight from the outstanding Antoine Griezmann over the coming months would be welcome.
Inter Milan
What they need: A striker
Roberto Mancini's team have tailed off recently and now sit six points behind Serie A leaders Napoli. Of the division's top 11 clubs, only Sassuolo have scored fewer goals than Inter's 26. Now that they are failing to win matches that they would have edged in the autumn, a lack of firepower up front is a particular concern and a prolific striker to work with Mauro Icardi might reinvigorate their title challenge. Eder, the Sampdoria striker who has also interested Leicester, has a fine track record in Serie A and has been strongly linked with a move that could set Inter up and running again.
Nick Ames is a football journalist who writes for ESPN FC on a range of topics. Twitter: @NickAmes82.