More goals expected for Cristiano Ronaldo and Lionel Messi - projection
Current goals total in La Liga: Ronaldo 29-22 Messi
After scoring the winner in El Clasico, Cristiano Ronaldo is tipped by ESPN's projection model for more success this weekend. Lionel Messi, meanwhile, is also likely to score, according to the latest forecast.
Ronaldo and Real Madrid host Eibar on Saturday, with Messi and Barcelona visiting Real Sociedad later on the same day.
(Numbers for each player are based on him starting the game.)
2015-16 total goals projection
Ronaldo remains the strong favourite to win the pair's head-to-head scoring battle over the course of the season.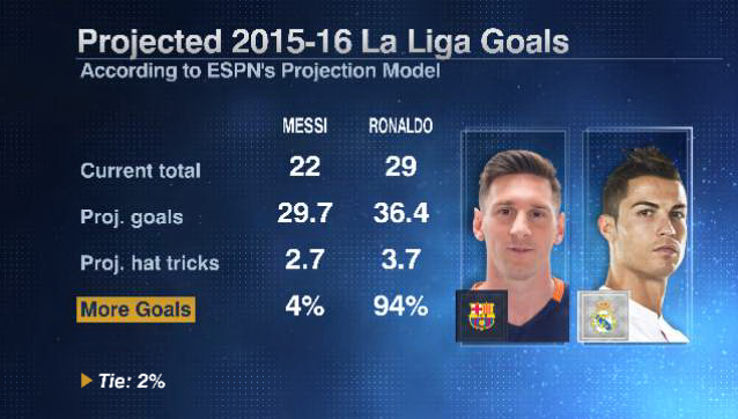 What do you think?
We want your input! Vote and let us know who you think will score the most goals this season, using the hashtag #ESPNFCMessiRonaldo.
2015-16 milestone projection
Messi missing two months of the season with injury decreased his chances to hit various goal landmarks. He is still predicted to end the season with an impressive haul, but Ronaldo is tipped for higher numbers.
How does the projection model work?
Here's a brief explanation from its creator, ESPN Stats & Information analytics specialist Zach Bradshaw:
"These projections account for the historical performance [goals scored and minutes played] of the two players since 2010, strength of opposing defences faced [measured by SPI defensive rating], game location, and the potential for injury or missing games. Based on these inputs, the predictor will estimate the chance of each player scoring any number of goals for each remaining game. From this, we can project the total number of goals scored, hat tricks and the chance of each player accruing more goals than the other over the course of the entire Liga season."