The perils of returning to former clubs
Football rarely permits players a perfect farewell, but Didier Drogba was granted one. His final kick as a Chelsea player was the last penalty in the 2012 Champions League final shootout against Bayern Munich. It secured the trophy and ended a quest to conquer Europe that consumed his Chelsea career. It was redemption for Drogba -- he was sent off in the 2008 showpiece -- and a fitting reward: he had excelled in the semifinal against Barcelona and equalised at the end of regulation time in the Bayern game.
Few have ever said goodbye in such spectacular style. And, for those who like happy endings to even the most turbulent of tales, that should have been that. Except that now, Drogba is back at Stamford Bridge.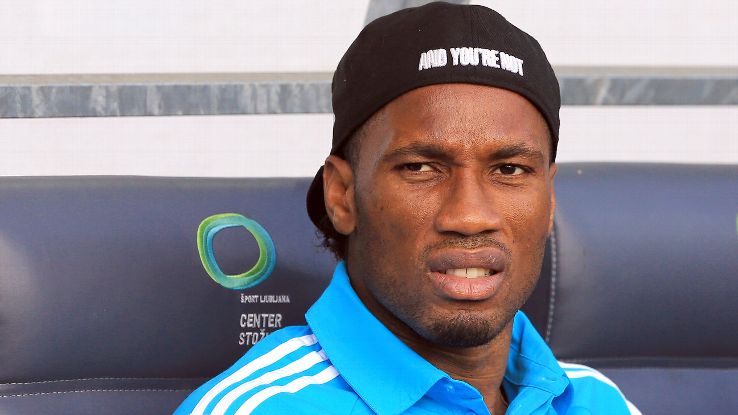 "An easy decision," he called it, though perhaps it shouldn't have been. The lure of reliving his glory days was perhaps too great for Chelsea's greatest player to resist. He is both a pragmatic and a nostalgic signing for Jose Mourinho, the free transfer who will be the Portuguese's disciple, Diego Costa's understudy, an icon and intimidating impact substitute, a fan favourite and a senior player in a dressing room deprived of Ashley Cole and Frank Lampard.
- Mourinho: Chelsea 'need' Drogba
- Phil Lythell: Life in the old Drog yet
If it puts him in a unique position, however, his is not a one-off situation. The old adage is to never go back, but many a footballer retraces his steps. Drogba need only look around the Stamford Bridge dressing room to see another. Nemanja Matic was a marginal figure during his first spell at Chelsea and is a major influence now. Perhaps he is the 21st century Graeme Le Saux, who was underappreciated in his initial incarnation in London and altogether more prominent when he cost rather more.
The Serb represents one strand of players rewinding their personal clock: they had to go away to get first-team football and they cost rather more on their return. Barcelona and Real Madrid have particular experience of paying rather more for a reunion with players who left for lesser sums, even if the Catalans could do little to prevent Gerard Pique and Cesc Fabregas going when they did.
Drogba belongs in a very different group. There is a trend for champions to make a comeback. He is following in the footsteps of Sol Campbell, Jens Lehmann and, in particular, Thierry Henry, who all went back for more at Arsenal. Each, like Drogba, was signed for a second time by the same manager. Like Mourinho, Arsene Wenger proved himself a modernist who was willing to revisit his past.
Paul Scholes belongs in their number, albeit with a difference. He retired rather than leaving Manchester United and slotted seamlessly back in following his reappearance in January 2012. He was also re-recruited by the same manager, Sir Alex Ferguson. That was what made Robbie Fowler's return to Liverpool all the more surprising: it seemed a strangely sentimental decision by the unemotional Rafa Benitez.
But the reality is that striking heroes seem particularly prone to comebacks. Drogba, Henry and Fowler are comparatively recent additions to a lengthy list that includes Ian Rush (at Liverpool), Mark Hughes (United), Duncan Ferguson (Everton) and Teddy Sheringham (Tottenham). The less pleasant parallel with the past is that Hughes is alone among them in enjoying greater success the second time around.
Other attackers belong in the growing group of footballing nomads; perhaps it is simpler to brand them as Harry Redknapp's men, given the reunions created by his incessant trading. Robbie Keane and Jermain Defoe both went back to Tottenham -- each under Redknapp's management. Peter Crouch, another with Spurs and Redknapp connections, and Craig Bellamy, whom Redknapp tried to buy, enjoyed two stints at two clubs: Tottenham and Liverpool for the Englishman, Liverpool and Cardiff for the Welshman. Yet another with Redknapp connections is defender Christopher Samba, whose time at Anzhi Makhachkala was interrupted by a brief -- and lucrative -- few months with QPR.
His isn't a conventional career path. There was a logic to Gary Pallister's twin periods at Middlesbrough, for instance, sandwiching the peaks that he reached at Manchester United in his prime. Others come and go as clubs' status changes. Mid-table, cash-strapped Manchester City had to sell Shaun Wright-Phillips in 2005 to stave off financial meltdown. Newly wealthy, they bought him back in 2008. As they continued to progress, however, Wright-Phillips slipped out of the side. He had been too good for City; within a few years, they were too good for him. It proved to be an anticlimactic return.
Many such returns are. Think of Joe Cole's recent time at West Ham or Juninho's return to Middlesbrough or, indeed, Kaka's second coming at AC Milan. They had rapturous receptions on their return and left to rather less fanfare via the back door. And so while Drogba is yet to make his second debut, the issue is already if he can be the exception again and script another superb exit.
Richard Jolly covers the Premier League and Champions League for ESPN FC. Twitter: @RichJolly.