Bayern benefit from Lahm's Germany retirement
Talk about going out at the proverbial top!
Philipp Lahm announced his retirement from international football at the ripe old age of 30, just five days after lifting the World Cup. Although Lahm's leaving after 113 caps and five goals creates a massive hole at the back for Germany, it is, unquestionably, brilliant news for his club, Bayern Munich.
Before the stellar World Cup campaign, Lahm extended his contract 'til 2018, so the Bavarians can look forward to a fresh and focused club captain over the next four years.
We shouldn't forget Lahm went into the World Cup under a massive injury cloud. The Bayern skipper had to be substituted in the first half of the German Cup final in Berlin with a nasty-looking ankle knock. The double-clinching victory over Dortmund was definitely overshadowed by the skipper's injury and goalkeeper Manuel Neuer's shoulder injury. The doom merchants soon suggested that Lahm could be ruled entirely out of the Brazil bonanza. Lahm actually missed six Bundesliga outings during Bayern's romp to the title. Allowing for Pep Guardiola's extravagant rotation of his troops once the league was already sealed, Lahm's appearance tally for the Reds (28) was his fewest since the 2008-09 campaign.
Certainly, such an impromptu call was most unexpected from the man affectionately nicknamed the "Magic Dwarf." We have grown accustomed to Lahm, the model professional, not being involved in any shocking headlines, and it's definitely not his style to rock the boat. His spat with the Bayern hierarchy in 2009 over its transfer policy is long forgotten. Ultrareliable Lahm can normally be relied upon not to create any waves in the press. Often, if we term a player as a versatile, an all-rounder, one can be in danger of diminishing that player's talent or true worth to any team. We must then stress that, for all Lahm's versatility, he is an absolutely outstanding footballer.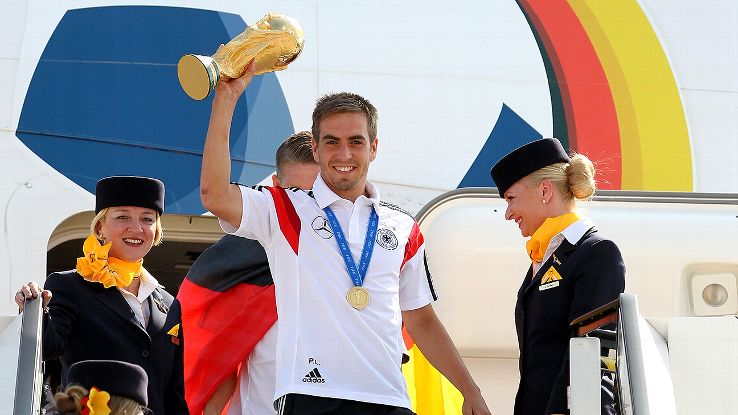 He doesn't need any star allure to go about his business quietly and efficiently, whether as a right-back (arguably his best position), as a left-back or in defensive midfield (the current de rigueur role). Lahm has played them all with aplomb, for club and for country. Some have wisecracked that Guardiola would probably put his favourite pupil in goal if only he were a bit taller.
The World Cup triumph in Brazil is a fitting end to Lahm's international career. Who can blame Lahm for going out at the summit of the world game on his own terms?
Bayern Chairman Karl-Heinz Rummenigge backed this view on the club website, no doubt trying hard to conceal his delight: "There can hardly be a better way to say farewell than to bow out at the peak of a career as world champion."
By deciding to concentrate solely on club football, Bayern's talisman can devote himself to continuing the recent dominance over Dortmund and will be spared the delights of mighty Gibraltar (or Scotland) in the forthcoming Euro 2016 qualification games.
Bayern's Director of Football, Matthias Sammer, also told the club website that Lahm leaving the Nationalmannschaft was a surprise but that he had the "utmost respect" for his leader's decision. FIFA statistics from the World Cup revealed that no player attempted more passes than Lahm -- 651 in total, with 562 finding their intended target (86 percent). Meanwhile, Guardiola will be rubbing his hands together with glee at the prospect of claiming exclusive rights on "the most intelligent player" he has ever trained.
His skipper's passing stats from Brazil will have Guardiola licking his lips in anticipation. With Toni Kroos making the move to Madrid, prized real estate will be freed up in midfield. Thiago, when fit, will be Pep's first choice in his favoured pivot role, but, if needed, Lahm can also continue to play a role there. The Spaniard, of course, is still recovering from a knee injury, so it seems likely that Lahm will at least fill in until the 23-year-old returns.
It is to be taken for granted that Lahm's personal trophy cabinet will increase in size from five Bundesliga titles and German Cups, as Bayern continue to hoover up the domestic silverware. The Champions League will be the main object of desire once again. There is definite room for improvement on Lahm's solitary Champions League success of 2013.
The abrupt ending to his Germany gig means it is highly likely that Lahm will see out his Bundesliga career with his hometown club. There was never any likelihood of the club captain following disgruntled Mario Mandzukic or Kroos out of Munich. Other than an elongated loan spell in Stuttgart (2003-05) in his formative years, Lahm is Bayern through and through.
It is to be applauded should Lahm now want to spend more quality time with his wife, Claudia, (and their son, Julian) and devote more time to his charity work to raise money for underprivileged children in Germany and South Africa.
Well played, Philipp.
Mark Lovell covers Bayern Munich for ESPN FC. Follow him on Twitter: @LovellLowdown.