Chivas Apertura 2014 preview: Relegation battle begins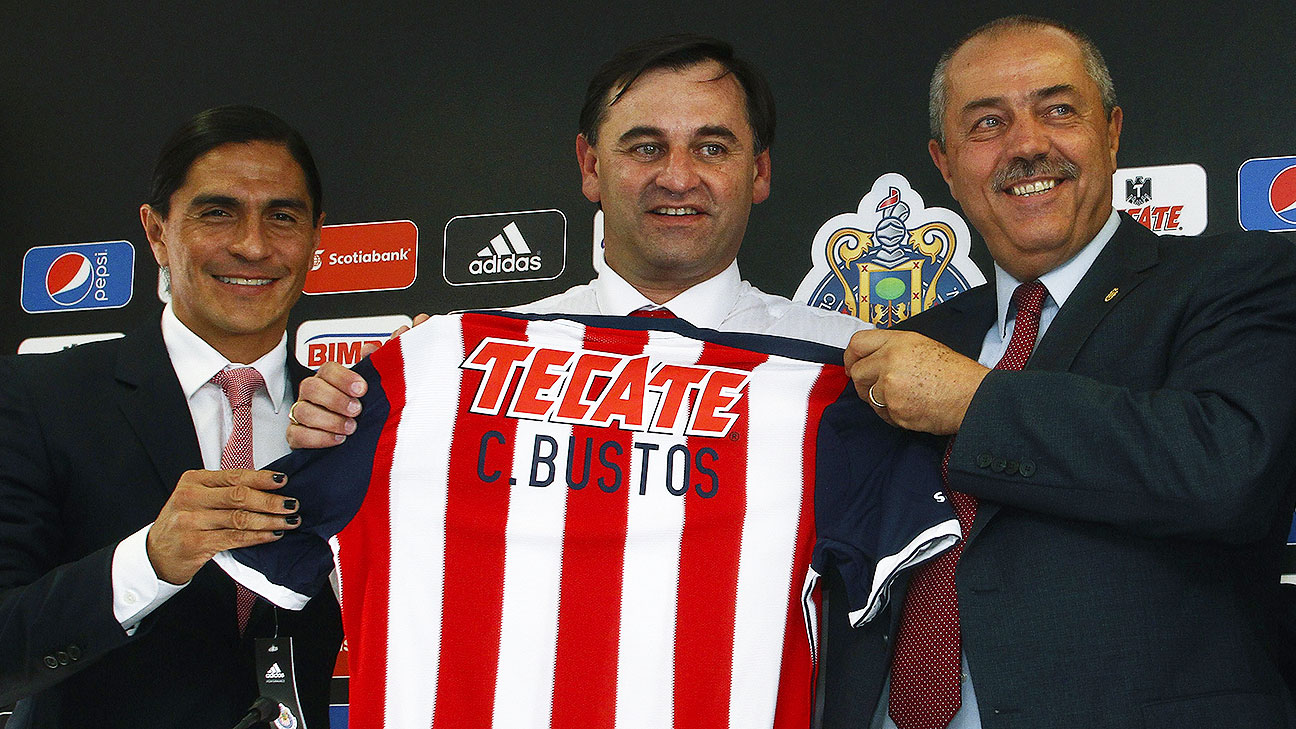 GUADALAJARA, Mexico -- It's been another whirlwind offseason for Chivas ahead of potentially the most important 12 months in the club's history, with the specter of relegation hanging over the Liga MX giant.
Planning for the vital Apertura 2014 was disrupted even before it had properly begun when manager Ricardo La Volpe was removed from his post on April 30, reportedly for allegedly acting inappropriately toward the club's podiatrist.
The club, run by the triumvirate of Francisco Palencia, Juan Manuel Herrero and Rafael Puente Jr. -- under the stewardship of owners Jorge Vergara and Angelica Fuentes -- took their time in appointing a new manager, but elected to go for 46-year-old Argentine Carlos Bustos, ahead of more experienced and proven candidates like Victor Manuel Vucetich and Jose Manuel "Chepo" de la Torre.
Bustos has a reputation for attacking football based on a 4-3-3 formation, but has overseen fewer than 50 games in the first division. This is the Argentine's biggest test by far in his coaching career at a club he doesn't know well and with the pressure of relegation on.
Going into the Apertura 2014, Chivas are just four points ahead of Puebla in the Liga MX's relegation table -- worked out on the average number of points per game over the past four seasons. By next May -- when six seasons are over and one team goes down -- Chivas will have to stave off Puebla, recently promoted Leones Negros, Veracruz (currently level with Chivas), Atlas (five points ahead) and Jaguares de Chiapas (10 points ahead).
Off the field, the structure of the club has been changed this offseason. Jose Luis "Guero" Real and brother Hector -- stalwarts throughout all the change in recent years -- are reportedly out, although that has not been confirmed by the club.
The owners have also bought Coras del Deportivo Tepic FC in the Ascenso MX, providing Chivas' younger players with a place to go on loan to get vital first-team experience and bridging the gap between the Under-20s and the Chivas first team that was proving too much.
The selling of Chivas USA no doubt made that particular purchase that little bit easier. The move is basically rectifying the club's decision to sell Club Deportivo Tapatio to the Universidad de Guadalajara in 2009. Players such as Javier Hernandez, Carlos Salcido, Jonny Magallon and Marco Fabian all got important experience in prepping them for the first division at Tapatio.
In the long run, it should be a very positive move for youth development.
In the shorter term, Chivas have gone out this offseason and done what they should've done years ago and spent money on new, established players who should mean relegation is not a threat.
Coming into the squad are five experienced heads in Carlos Salcido, Fernando Arce, David Toledo, Angel Reyna and returning Luis Michel, as well as younger players Sergio Napoles and Alberto Garcia. In last week's friendly against Cruz Azul in Carson, California, seven out of the 11 Chivas starters were over 30 years old and no player was under 25 years old.
It's undoubtedly reneging on Vergara's promise of promoting youth at the club, but in the Rebano Sagrado's hour of need and with the pressure on the institution fierce, it seems like a rational move.
In the goalkeeping position, Bustos has stated he hasn't decided whether it will be Michel or youngster Antonio Rodriguez. Gerardo Rodriguez is set for the left back spot, with Jair Pereira and Salcido as the center backs and Nestor Vidrio on the right. In midfield, Israel Castro will play the holding role.
Toledo and Arce are likely to be in front. Further forward, captain Omar Bravo is the likely starter on the left wing, with Reyna on the right and Aldo de Nigris -- prolific in preseason -- down the center.
It should be enough for a mid-table finish as a minimum and possibly even a playoff place to move away from the unthinkable prospect of Chivas playing second-division football.
Ongoing stories to keep an eye out for this season at Chivas:
- The Angel Reyna show: The gifted 29-year-old has the ability to light up the Estadio Omnilife. But he has failed to settle at multiple clubs previously, has a reputation for being slightly wayward and his signing represents a risk for Chivas. He could be the spark the club needs, or a really bad influence at the wrong time.
- Getting fans into the stadium: The Omnilife is the most modern stadium in the Liga MX, along with Santos Laguna's Estadio Corona, but getting bums on seats has been a problem. That's partly because fans in Guadalajara haven't taken to the location outside of the city's beltway, but the fundamental reason is that they haven't seen a team worth traveling to see. This season, the product on the field should be better.
- Salcido: There's no doubt that the former PSV player returning to the club is a major positive, even if it should've happened back in 2011. He brings experience and fans relate to his story of a player rising from washing cars outside a Guadalajara bus station to playing for Chivas. Salcido also tends to say exactly what he thinks and won't be afraid to rock the boat.
- The start is vital: Chiapas (home), Pumas (away), Leones Negros (home) are Chivas' first three league games in the Apertura. If Guadalajara fails to win any of the three, pressure would immediately rise on Bustos, Vergara would likely swoop into training sessions to demand answers and the dark cloud that has regularly engulfed the club in recent years would descend once again.
On a more positive note, if Chivas could go unbeaten and pick up seven points, the relegation talk would gradually be toned down and be replaced by that of a potential playoff run.
Tom Marshall covers Liga MX and the Mexican national team for ESPN FC. Twitter: @MexicoWorldCup.