Quarterfinal defensive discussion
Until the round of 16, this was a World Cup in which attack had surpassed defence. Then came eight matches in which only France's 2-0 win over Nigeria and Colombia's 2-0 dismissal of Uruguay were won by a two-goal margin. Even then, the result in Brasilia rather flattered the French.
Closely run matches should be the order of the day now, which means added pressure for defenders. ESPN FC assesses the final eight's back lines ahead of the quarterfinals.
France vs. Germany
Didier Deschamps looks to have hit on a solid centre for Les Bleus. Laurent Koscielny excelled in Brasilia while Raphael Varane, despite some callowness and the odd error of judgement, has the attributes to hit the very heights. The left flank provides serious cause for concern after Patrice Evra struggled badly against Nigeria, who had clearly picked him out as a weak point. On the right, Mathieu Debuchy was far more useful on the overlap, as well as possessing the energy to track back.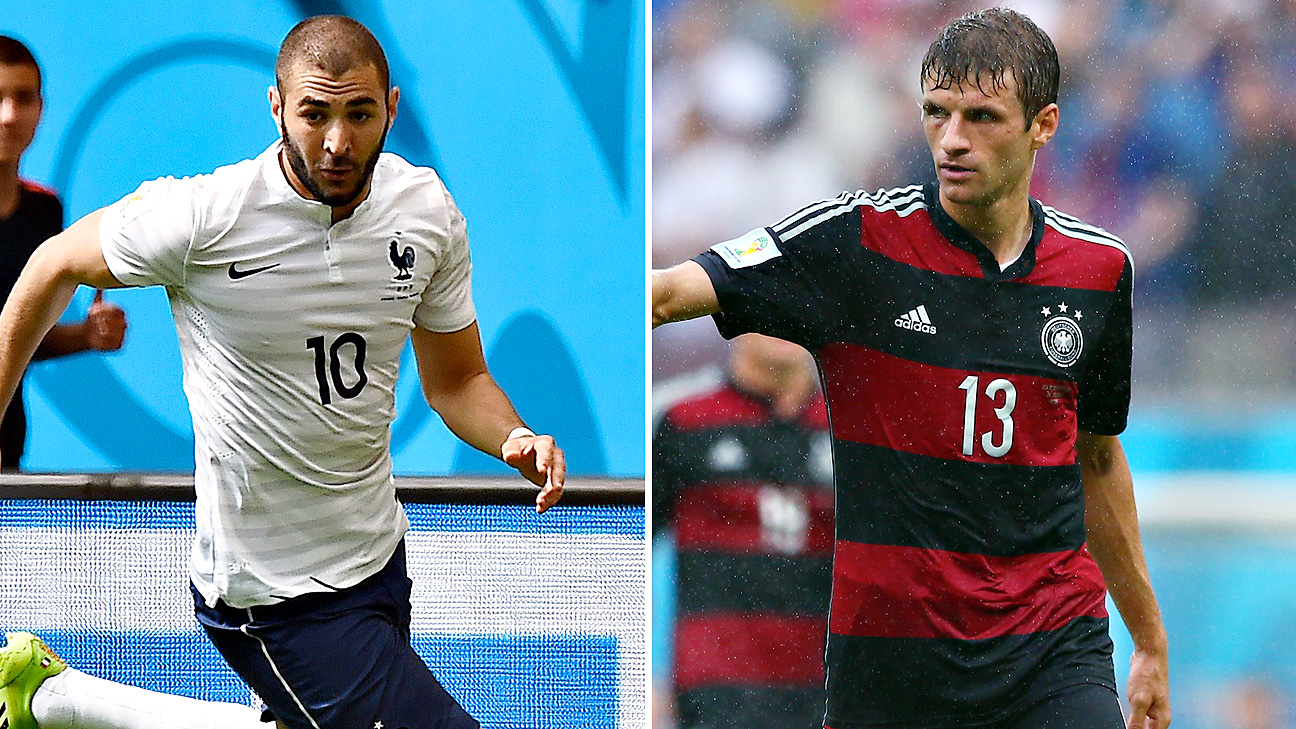 That goalkeeper Manuel Neuer made many charges from goal to clear his lines against Algeria is either a good use of his versatility or a sign that the German defence struggles when it is turned. Philipp Lahm switched to right-back after Shkodran Mustafi's injury, locking down that side of the defence where Per Mertesacker, for his organisational qualities, suffers from playing in a high line. Mats Hummels' return is a boon. Joachim Low has said he is thinking of returning Lahm to midfield, assistant Andreas Kopke said on Wednesday that a shift to right-back is possible.
Brazil vs. Colombia
Beyond the shootout heroics of Julio Cesar and the eternal Neymar, the key to Brazil's eventual progress beyond Chile was the defensive performances of the central pairing of David Luiz and Thiago Silva, who both excelled in Belo Horizonte. Dani Alves, however, suffered badly, and Marcelo was culpable on Alexis Sanchez's goal. The expectation is that veteran Maicon will replace Alves, while the suspension of Luiz Gustavo is the loss of a vital shield.
Colombia have the tournament's most potent attacking force. Now they might have to show off what defensive qualities they possess. Mario Yepes, at 38, is the organizer who has belied his years, even if he has clearly lost speed. Partner Cristian Zapata was a scapegoat in AC Milan's horror season, while Pablo Armero was signed by West Ham but never trusted by Sam Allardyce. It's a motley crew, but has decent protection in Elche midfielder Carlos Sanchez, who is known as "The Rock."
Argentina vs. Belgium
This is the department that Lionel Messi cannot help out. If Switzerland had a striker worthy of the name, then Brasilia would not now be so full of Argentinian visitors. Their defence defines the term "one-paced," and even Pablo Zabaleta has struggled as Alejandro Sabella repeatedly varies the unit from three-man to four-man. Much relies on Ezequiel Garay's leadership, as Federico Fernandez lacks pace and judgment. Goalkeeper Sergio Romero is a caution, too.
It was not until the late stages of that now-famous night in Salvador against the United States that Belgium's defence was tested. Until then, they had looked the most solid unit around. Then came a Chris Wondolowski chance that could have won it for the U.S., as well as the free-kick card-trick from which Thibaut Courtois denied Clint Dempsey. Though Jan Verthongen often plays left-back for Spurs, he is not comfortable there, so much relies on the marshaling of Vincent Kompany, who could be the best defender in the tournament.
Netherlands vs. Costa Rica
The accusation throughout the tournament has been that the Dutch defence is lucky to be behind such riches in attack. Louis van Gaal's constant switching of personnel suggests he is not convinced, either. Against Mexico, Daley Blind was shifted into midfield, while Paul Verhaegh was given only his third international appearance, replacing Daryl Janmaat at right-back. In Fortaleza, van Gaal switched from 5-3-2 to 4-3-3 as he chased down Mexico's lead, which suggests that for all of the inexperience, being adaptable is the key to playing for him. Ron Vlaar, however, has been a reliably solid performer.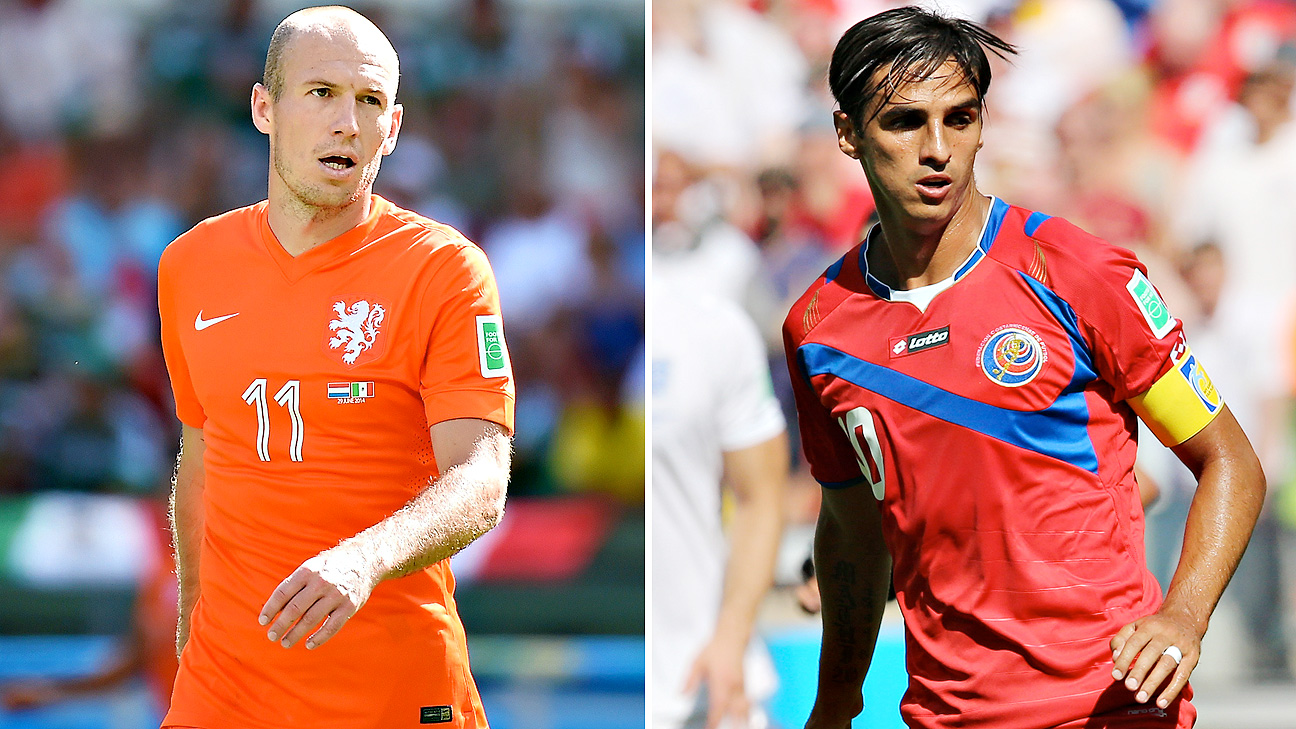 The Ticos have already defied all expectations and arrive in the uncharted territory of the last eight having conceded just two goals. Neither Italy nor England could get past the back-line unit, and Greece had to wait until the last minute of the sides' round-of-16 game, only to then fail to take advantage of Costa Rica being a man down after the dismissal of Oscar Duarte. His loss may prove critical, as the Club Brugge defender, along with Junior Diaz, has experience of playing in European football. However, coach Jorge Luis Pinto, a Colombian disciple of Dutch master Rinus Michels, preaches versatility and variation ahead of the biggest match in his adopted country's history.
John Brewin is a staff writer for ESPN FC. Follow him on Twitter @JohnBrewinESPN.