Previewing the World Cup quarterfinals
Two days without games.
Withdrawal symptoms yet? I know I got them. But I also know that after 19 days of adrenaline, white knuckles, the impossible and the incredible, maybe what FIFA calls "rest days" are in order.
We have our Elite Eight and for the first time in World Cup history, all eight teams happen to be group winners. Does that mean anything? I'm not sure. Because in all eight games -- even those that were distinctly one-sided in terms of performance -- you could easily and plausibly construct an alternate reality, a parallel universe where we end up with eight different quarterfinalists.
What if Mauricio Pinilla's shot had been a quarter of an inch lower? (After the tattoo he got, he'll be reminded of it every day.)
What if David Ospina hadn't pulled off that string of late saves to negate Uruguay's frenetic siege? (And while we're at it, what if Luis Suarez had been there because the thought of biting an opponent -- sorry, the collision that resulted in Giorgio Chiellini suffering "the physical result of a bite" -- had never crossed his mind?)
What if Pedro Proenca hadn't given that Arjen Robben penalty in the fourth minute of stoppage time versus Mexico?
What if Keylor Navas hadn't saved everything in sight during extra-time against Greece?
What if France's Blaise Matuidi had been sent off for that tackle on Nigeria's Ogenyi Onazi, and what if Vincent Enyeama hadn't capped his goalkeeping master class with two uncharacteristic blunders?
What if Islam Slimani hadn't been offside when he nailed that Robin van Persie-sque header against Germany?
What if Blerim Dzemaili's header had been a sliver to the right? (And what if, rather than teeing up Angel Di Maria, Lionel Messi had elected to shoot?)
And finally, what if Chris Wondolowski ... well, you probably know the rest.
This is not to say that the quarterfinalists are not deserving. They are. The fact that they're group winners and the fact that most of the teams that advanced were also more attacking, more proactive and created more chances than their opponents is something to be celebrated.
These eight teams went out and played; they didn't sit and rely on fortune, happenstance and opposition errors to get a result, as we've seen too often in the past. Not one of the round of 16 games could really be described as a "smash-and-grab" -- one of those ties in which a team gets pounded for 90 minutes and then nicks a result.
Yet at the same time each of the round of 16 losers, with one or two breaks going their way, could be in the quarterfinals right now. And while (had that happened) we may have considered some of them upsets, generally there wouldn't be anything scandalous or absurd about it. Even the USA, perhaps the most outplayed in the round of 16, enjoyed at least three crystal-clear opportunities to either win or take it to penalties late in the game.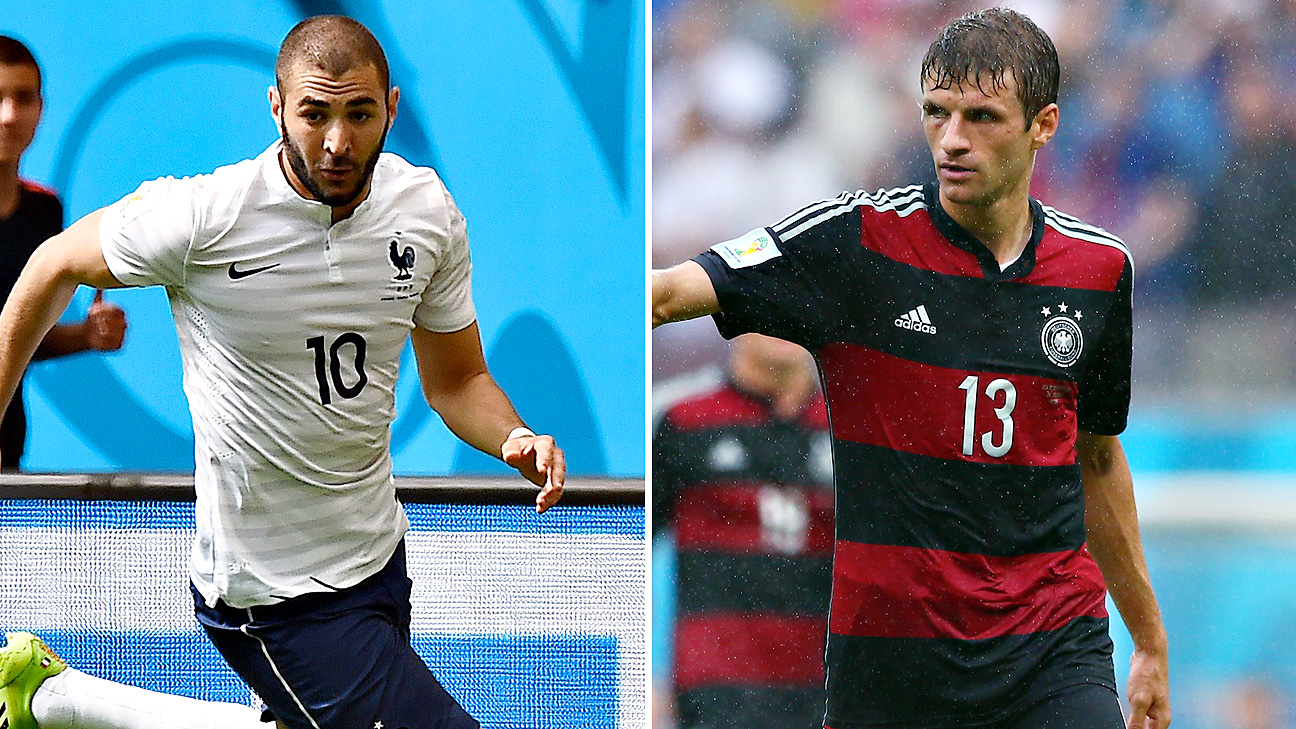 One upshot of this is that we haven't seen anyone play consistently well over all four games. The closest you come is perhaps France or Colombia, though they too have had their scares. I don't think it's a bad thing; it only shows how competitive this field has been.
Fans are getting their money's worth; there's no question about that. The really big stars -- Messi and Neymar -- have lived up to the billing (Cristiano Ronaldo less so, but you can blame it on injury and lack of a supporting cast), and that matters.
We've seen some stellar goalkeeping performances (Guillermo Ochoa, Navas, Tim Howard) and some abject ones too (Igor Akinfeev, Iker Casillas, Stipe Pletikosa).
We've had so much of the pre-tournament conventional wisdom go out the window. The expectation was that the midday and afternoon kickoffs in places like Recife, Fortaleza, Manaus, Natal and Salvador would lead to slower-tempo, more tactical and more defensive games. Not so. The play, with very few exceptions, has been lively and pacey and, if anything, matches have been more open than in past tournaments.
The conditions did take a lot out of the players, yes ... but, equally, the players stepped it up and willed their way to the next physical level, leaving everything inside them on the pitch. (Figuratively and -- in the case of Jan Vertonghen's vomit after the USA game -- literally as well.)
Taken as a whole, the officiating has been pretty good as well. Take away the first few days of the competition (Brazil's penalty against Croatia, some of the offside goals for Mexico against Cameroon), perhaps the Robben penalty (which still divides opinion) and a few others (Joel Campbell not winning a spot kick for Costa Rica vs. Italy, Bosnia's disallowed goal vs. Nigeria, Hulk not getting that first-half penalty against Chile) and it's been pretty smooth sailing.
Referees will always make mistakes because they're flesh and blood. The best you can do is pick the ones who make the fewest errors, hope that these errors don't influence outcomes too much and that officials show personality. That is generally what has happened. Beyond the decisions, they're to be commended for allowing games to flow -- there have been substantially fewer fouls in this World Cup than there were four years ago -- without boiling over into nastiness.
Ugliness? Yeah, we've had some -- Suarez's bite above all. The fact that the FIFA congress wouldn't consider something as logical as term limits; not just that, but the pathetic way some delegates fawned over Sepp Blatter -- age discrimination! Nobody will take away our president! The leader is good, the leader is great, we surrender our will as of this date! Ticketless fans forcing their way into stadiums on at least two occasions. The bonus controversies with some teams, punctuated by that horrid image of John Boye kissing his huge wad of cash. But again, relative to the past, it's been rather minor.
So what now?
Now we sit and hope that the last seven games (yes, seven, because nobody gives a hoot about the the third-place playoff) live up to what we've seen before. And we pray for a clean finish.
France vs. Germany, Belo Horizonte (Friday, noon ET, ESPN2/WatchESPN)
Those stereotypes about German efficiency and solidity ought to have been buried a long, long time ago. Algeria scared the bejesus out of them -- thanks also to Joachim Low's outrageously high line -- and France on the counter are devastating. Les Bleus' midfield also matches up very well against the German possession game. If you believe in patterns and superstitions (1998 and 2006 vs. 1994, 2002 and 2010) the French may be due.
Brazil vs. Colombia (Friday, 4pm ET, ESPN/WatchESPN)
James versus Neymar: could this be the next great rivalry, once Messi and Cristiano hang up their boots? Let's not get carried away here, but it's an intriguing parallel. Neither seems fazed. Colombia's absurd speed will keep Brazil tied up; the main question is whether Luiz Felipe Scolari finds the right mix to support Neymar and take on a back four that doesn't quite appear to be watertight.
Argentina vs. Belgium (Saturday, noon ET, ABC/WatchESPN)
Marc Wilmots was bullish to the point of being bombastic after the USA game (Worry about Messi? Let them worry about us!). You can't blame him for being enthusiastic -- getting stronger as the tournament progresses is huge. Argentina meanwhile (Messi aside) aren't always pretty, and none other than Diego Maradona (not that he'd have an axe to grind or anything) has been very critical.
Simply put: you can't rely on a Messi master class every game. The others have to show up, particularly in the attacking third.
Netherlands vs. Costa Rica (Saturday, 4pm ET, ESPN/WatchESPN)
The last thing Louis van Gaal wants to do is play this game "on paper." "On paper," the Dutch should have stomped all over Australia; instead, Tim Cahill and his mates gave them the scare of a lifetime. Van Gaal will need to rejigger his team without Nigel de Jong (something he's done every game anyway) and get the real van Persie back.
Costa Rica have shown they're no pushovers, though that high line against Robben and possibly Memphis Depay will look mighty tasty to the Dutch. Especially since Oscar Duarte is suspended.
Gabriele Marcotti is a senior writer for ESPN FC. Follow him on Twitter @Marcotti.