U.S. prove they belong once and for all
Let's talk positives, America. Yes, you're out of the World Cup and it's going to feel pretty bad right now. I've been there. I'm English. We used to be good at football too. You're going to sit in the office, your eyes glazed, your mind screening an internal GIF of that late free-kick that so nearly allowed Clint Dempsey to score the equaliser. Later, someone's going to ask you what you think will happen when Germany and France meet this the weekend and you're going to turn on them with blazing eyes, as if they just approached you at your partner's funeral and asked you when you're going to start dating again. It's all part of the process. And here are some reasons to be cheerful.
Belgium

United States
Game Details
First, if you're going to go out, go out with your boots on. No one will ever take an American side lightly again. No one will ever make lazy NFL-themed jokes. This wasn't the Belgium that had bored everyone senseless in the group stages, grinding out narrow wins while rationing fun to a minimum. This was the Belgian side that everyone expected, the one packed with talent and pace. This was the proper Belgium, and Argentina -- who face them this the weekend -- will have watched this from behind the sofa. But the U.S. weren't daunted and they didn't capitulate. When asked to surrender after Romelu Lukaku put Belgium up 2-0, they scribbled the word "NUTS" on a piece of paper, handed it to Marc Wilmots and promptly launched a counter-attack. And they nearly pulled it off.
Second, no one will ever try to tell you that Americans can't deal with the concept of goalless draws. This absurd suggestion is dead, dead, dead because for 90 minutes this was the best kind of goalless draw. The kind of goalless draw in which one team is forced farther and farther back but, with the aid of heroic goalkeeping and a string of interceptions, somehow holds out. You think Americans can't see the drama, the tension, the majesty of that? Get out of my house.
Finally, it's too late for the 2014 squad, but with Jurgen Klinsmann likely to stay on as the U.S. coach, his position reinforced by a performance that exceeded expectations, 2018 looks pretty good. And back home, scores of American kids will have sat and watched this, their first soccer game, and fallen hopelessly in love. They may have screamed, they may have cried, but they couldn't have asked for a more profoundly affecting introduction to the sport. In 2026, perhaps one or two of them will be on the squad. All the others, meanwhile, will be watching on TV, hoping, praying and trying to believe that this year, more than any other year, will make up for the pain of 2014.
---
A word, though, on Belgium and their manager Marc Wilmots, who must be making a play for the manager of the tournament award for his substitutions alone. Losing to Algeria, Wilmots brought on Marouane Fellaini and Dries Mertens and watched them both score to seal the win. Drawing with Russia, Wilmots brought on Divock Origi and he, too, scored the winner.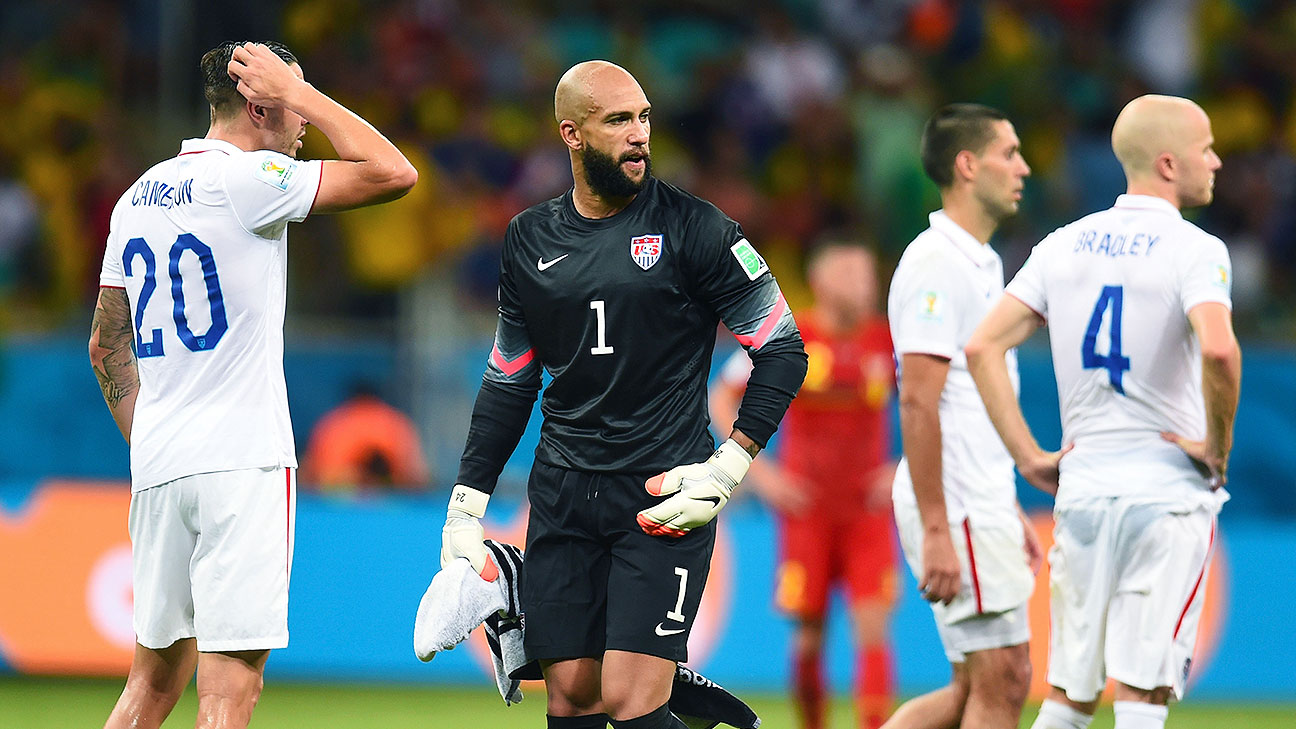 Late substitutes turned the game against South Korea too, but annoyingly for those who like a bit of cadence in their paragraphs, none of them actually put the ball in the net. Here, with the U.S. bunkered down and in no mood to roll over, Wilmots rolled out Romelu Lukaku, dropped for two games previously. Lukaku made one and scored the other. Wilmots is having a very good World Cup.
---
Somewhere in England, David Moyes must have sat back on his sofa and smiled. Everyone else thought he was mad to put so much emphasis on crossing while he was at Manchester United, but there was Argentina, the second favourites for the World Cup, peppering the Swiss box with a stream of lofted balls from the flanks. "Who's mad now, eh?" he shouted at his television. His television declined to answer.
Over the course of 120 minutes, Argentina fired in 53 crosses, not a patch on Moyes' total of 81 crosses in 90 minutes against Fulham, but a formidable effort all the same. It was an odd tactic, given that, for whatever weaknesses they have, the one thing the Swiss do boast is a collection of big centre-backs. And while Gonzalo Higuain stands 6-foot, Lionel Messi is rather shorter.
If Costa Rica boss Jorge Luis Pinto has made the most of limited resources, then Argentina manager Alejandro Sabella seems to have gone in the opposite direction. All those internationally renowned players and all he has to show for it is a string of tight, single-goal victories against Bosnia-Herzegovina, Iran, Nigeria and now the Swiss.
They got there in the end, thanks to Angel di Maria and an extraordinary run from a hitherto exhausted Messi. But this was hardly the sort of performance that will strike fear in the hearts of their rivals. In this, they are certainly keeping pace with Brazil and Germany, who both stumbled into the last eight outside of regulation time. It's an accepted truism of football that you don't have to start a tournament well in order to end it well, but you do have to actually play well at some point. Don't you?