Spotlight on Divock Origi
It was Week 30 in Ligue 1 back in March. Monaco vs. Lille, second vs. third at the Stade Louis II. And that Sunday evening, we saw James Rodriguez against Divock Origi. It was not Rodriguez's best game for Monaco, but he was still creative. His touch was brilliant and his movement, too. But Origi made the headlines. He scored to make it 1-1 just before halftime to bring his team back into the game.
Three months later, Rodriguez is carrying Colombia and is preparing to face Brazil in the quarterfinals as one of the headline acts of this World Cup, not to mention its top scorer. Elsewhere, Belgium meet the USA on Tuesday for a place in the last eight, and Origi is the rising star of the competition.
It is a fairytale situation for the 19-year-old Belgian striker. He celebrated his birthday in April, only a few days after his goal in Monaco, while studying for his Baccalaureat (the French equivalent to U.K. A-levels or a bachelor's degree in the U.S.). He already had a convincing season with Lille with five goals in 30 appearances (and just 12 starts). He caught the eye of every discerning football spectator not only with his pace and power but with his eye for goal, too. Of course, he struggled at times and lacked consistency and focus, but that's normal at that age.
The talent was always there. It's in his blood. Origi comes from a big football family. His dad, Mike, was a Kenyan international who played most of his career in Belgium (Ostende, Genk). Two of his uncles played as well, and his cousin Arnold is the goalkeeper for the Kenyan national team and Lillstrom, a top-flight Norwegian team.
Origi was born in Ostende while his dad was playing there. After starting football early on, he joined the Genk Academy -- where he played with Thibaut Courtois -- and he was already one of the best. He featured for every Belgian youth team since he was 14. It was obvious that his future was bright.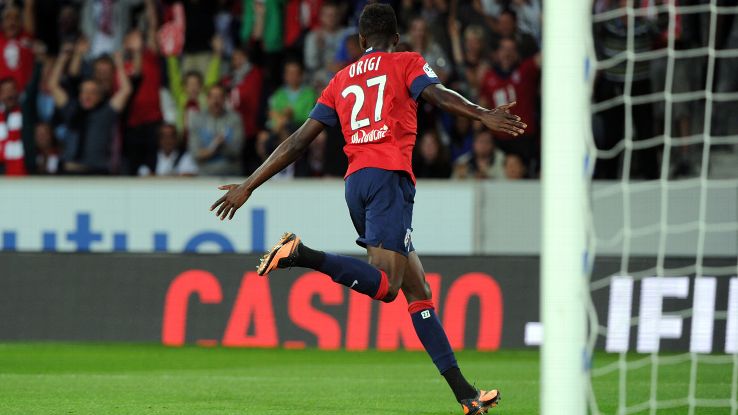 Lille, thanks to its proximity with Belgium, and with exposure to a great network of scouts in the area, won the race to sign him when he was just 15. Eden Hazard took him under his wing and Origi blossomed with the French club. Rudi Garcia, now Roma manager, gave him his chance with the first team after he impressed for the club's reserves, and he scored on his full Ligue 1 debut against Troyes six minutes after coming on. Despite his good first full season in French football, he was preparing to watch the World Cup on TV. He had just made his debut with the U-21 national team when Marc Wilmots rang him up to tell him he would be in his 30-man squad to replace the injured Christian Benteke. Origi made the 23, and the rest is history.
His first cap was on June 1 against Sweden (a 2-0 win) and 16 days later he was playing his first World Cup game against Algeria (a 2-1 win). Five days later, he became the youngest Belgian ever to score in the competition with his winner against Russia (1-0) off Hazard's assist. He might not start against the USA, but he will come on for sure at some point to have an impact on the game.
Everything is moving so quickly for him. While Romelu Lukaku is struggling, Divock is impressing. He feels no pressure and has no fear. He takes on opponents, runs in the space in behind and holds the ball. What I liked about him with Lille is that he played in a lot of different positions last season: wide in a 4-3-3 formation, with two up front in a 4-4-2 diamond midfield and on his own up front as well. He took a lot on in all those games. His best position is probably as a lone striker, as he has everything.
He is solid in the air and in the duels, efficient, quick and good on the ball, too, when he needs to dribble. He still needs to improve, and this World Cup has already made him a much better player. It's no surprise that all the big European clubs are looking at him -- and Liverpool are leading the race. Lille need money to balance their books, but they want the player to be loaned back to them. The price tag is already 10 million pounds ($17 million U.S.). It's a lot for a 19-year-old, but the talent is priceless.
By the way, going to the World Cup meant that he could not get to his Baccalaureat exams. He will have the opportunity to take them again in September, but it appears he's already passed one big test this summer in Brazil.