Neymar's name still on everyone's lips
BELO HORIZONTE, Brazil -- It is getting tense in Belo Horizonte. All of Brazil is tense. The serious business will arrive with the knockout stages, and the test of Chile can only ratchet up the pressure on the host team, coach and their star man.
Luiz Felipe Scolari's Friday news conference saw him deluged with questions about Neymar, including the golden boy's successful legal action to stop Playboy magazine publishing pictures of someone claiming to be his ex-girlfriend.
"Playboy? I'm a bit too old for that," Scolari deflected. He has little interest in his starlet's private life beyond its effect on his form; having made that clear, he swiftly reverted the agenda to on-field matters.
"What I see of Neymar is that for the age he is, he is a very grounded player," Scolari said. "He has a very strong personality, very interesting -- he's a great team player. He's always involved in tactical situations and the balance of the team, but off the pitch, I don't have any idea.
"He has contact with his parents, we talk to him about how he is at home, with his family. He's a kid who is a very good kid and the way he's evolving, if he has that support behind him, was always going to happen as it has been happening. "
With Cristiano Ronaldo having now departed the World Cup, and Lionel Messi alongside Neymar on four goals, there is a growing temptation to make comparisons to those modern greats. Scolari, though, refuses to play along with football's ever-growing obsession with individual stars. He was not willing to reveal with whom his preference lies.
"I think Messi is an excellent player, a star, one of the best in the world, and naturally any club, any national team, any squad or any little backyard game, wherever he is, everything will be around him because he's one of the best," said Scolari, before speaking of the star man of the Portuguese national team he coached from 2003 to 2008. "As for Ronaldo, he is one of the biggest players in the world, and we should respect that. My opinion is my personal opinion, and maybe I'll tell you one day, in 10 or 15 years, because now I don't have to say anything.
"Neymar doesn't play to be the best in the world, he plays for Brazil because he wishes to be the world champion."
Thiago Silva, the defender whose importance to the Selecao is probably only secondary to that of Neymar, was a little more effusive.
"Neymar is growing to a crescendo which is very good and depending on where we are placed at the end of the World Cup, he will be considered one of the best or the best player in the world," the captain said when also asked to make the Messi comparison. "He's very much at ease technically, but Messi is undoubtedly one of the best of all -- but I'm sure Neymar will get to that level.
"I think day to day, he's a very easygoing kid, I know him off the pitch and he's very much at ease and focused," Silva added.
When speaking later on Friday, Chile coach Jorge Sampaoli was asked to reveal his game plan for Brazil's clear danger man.
"We have trained with our system and will be very close to Neymar every time he gets the ball," the Argentinian said. "It's not that we'll follow him, we won't just have one player, but we'll have many marking him because he is so good and can make a difference."
Having ended Spain's tournament in Group B, Chile have a chance to kill off another favourite, a possibility that is a growing fear in the host nation and almost certainly a concern for the tournament's organisers.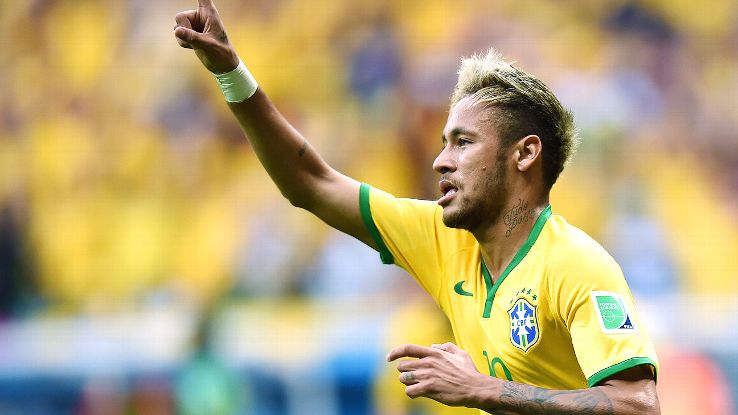 Playing with the pressure and expectation of nearly 200 million people's desire for victory has potential to make or break Brazil, but for now it is being embraced as a positive.
"Playing at home pushes you forward much more," Silva said. "On the bus on the streets there are thousands waving. In the car coming here, there was a car that came beside us and asked us to stop for autographs. Obviously we didn't stop, but those situations that take place show how much they love their Selecao. If we lose, we'll be frustrated, but life goes on. But football is something you love because of the unpredictability."
Scolari, who refused to reveal his team on the grounds that "problems happen," was wary yet bullish.
"For us, obviously, we would not be at all happy or satisfied if we don't go to next stage," he said. "We are doing our work with a lot of dedication, happiness, love, we like what we do. But on the other side is an opponent that is doing the same."