Hodgson holds court as England count down to kickoff
RIO DE JANEIRO -- Rio has a definite unfinished feel. The sound of masonry being bashed and roads being dug is constantly audible. On the beach at Copacabana, the finishing touches of the FIFA Fan Park looked a long way off being neared on the rainy Tuesday morning preceding Thursday's big kick off.
Team England, though, are ensconced in the plush surroundings of the Urca military camp, at the foot of Sugarloaf Mountain. Their preparations seem positively slick. Visitors to the facilities are ushered in by young local soldiers but emblazoned with sponsors' names and with a popular satellite sports news service blaring on a big screen, it feels like a typical home to modern, corporate English football.
Roy Hodgson's daily dealing with the media during pre-tournament in Miami had an adversarial feel. He and his advisers spent perhaps too much time trying to head off headlines, and ended up writing the wrong ones. The unnecessary dissection of Ross Barkley's defensive qualities after the Everton tyro's barnstormer against Ecuador was a leading case of Hodgson's ability to cause trouble for himself when trying not to say too much and then talking too freely.
- Hodgson calms Gerrard injury fears
- World Cup updates for Tube passengers
- Mourinho came close to England job
- Cross: Quarterfinals the limit for England
Such are the pitfalls of the phony war that almost always takes place before tournaments. Hodgson and those who have followed him and his squad to Portugal, back to Wembley, on to Florida and then to Rio, are almost certainly sick of the sight of each other. However, all share one common thought: please, let's get on with the football. Without it, they are running out of things to talk about.
After the trip to the Sunshine State did not go as smoothly as it might have, a change of scenery does seem to have relaxed the England coach. "I think it's fair to say anything that people want to say, I have no problem with that," he said, liberally embracing the idea of free speech before soon closing the door on revealing his team to face Italy on Saturday. "I don't intend on giving too much away, other than what I've said on that -- that it's good to have options and choices."
Steven Gerrard's reportedly tight groin is not expected to provide an impediment to his wearing of the captain's armband in the Amazon basin. Sources in the camp had suggested that there may have been a fleeting worry. Gerrard's reversion to the base of midfield has made him even more important to the team; there is no natural replacement and the skipper's absence might displace Jordan Henderson. Hodgson, though, smashed such talk to smithereens.
"There's absolutely nothing wrong with him, so I don't understand that story at all," Hodgson said, before delivering promising news on Alex Oxlade-Chamberlain's knee problems. "He's done very well and will work on his training programme during the course of the week. There's no guarantee. The medics are hoping by the second game he will be fit." This being the English, the topic of the weather can never be far from the surface. The national fear is that the team will wilt in the tropical heat of Manaus but Hodgson was keen to play down the climatic questioning.
"I don't think you will see an enormous difference in the play because of the conservation of energy," Hodgson said. "In all football you are seeing a much more sensible approach to pressurising. What we are going to have to do is play our football with the 14 players at our disposition."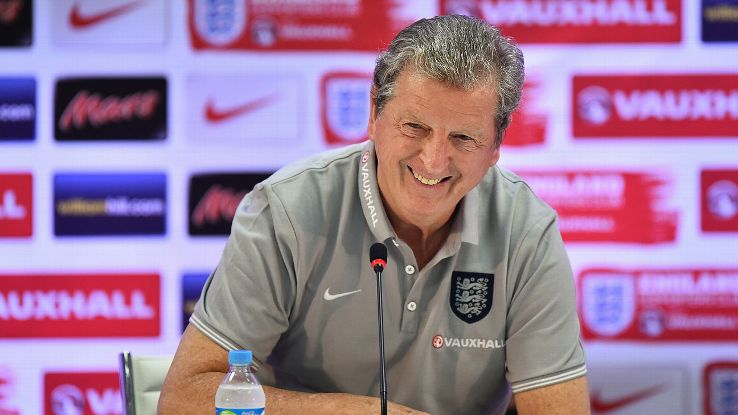 "We are expecting our players to run around a lot. We are going to wait and see what Manaus brings," he continued, before then dismissing a Brazilian reporter's suggestion of the English contingent's reported dismay with being forced to play in the jungle city.
"It's not true that we complained about Manaus or Brazil," he railed. "That nonsense should be put to bed straight away."
English hopes lie in the fresh and brash group of young players that Hodgson has at his disposal. It certainly looks a far more mobile group than that he took to Euro 2012 as an 11th-hour replacement for Fabio Capello. The likes of Barkley, Daniel Sturridge, Adam Lallana, Luke Shaw and Raheem Sterling add new dimensions to a group that looked predictable in exiting the Euros at the hands of Saturday opponents Italy.
"We have been working for two years and we understand each other a little better. I think it's very exciting," said the coach. "We have a lot of potential; we have a lot of belief in the potential but I would advise caution," he concluded rather typically.
"Before we build people up too much, let's calm ourselves down before we say we have world beaters in the squad. I am not trying to play down the fact that future looks bright but what I'm saying is we are also going to need our experienced players.'"
England's players are set to undergo two days of intensive training at Urca before a "ratchet down," a four-hour flight to Manaus, and the moment the talk can stop and football can finally prevail.