Pellegrini, Mourinho 'spar' after draw; Real's misleading win; Milan's spirit
We knew that Jose Mourinho and Manuel Pellegrini didn't like each other very much, so it's not a surprise that they wouldn't waste the opportunity to needle each other after Sunday's 1-1 draw between Chelsea and Manchester City.
That's what happens when you share the spoils. You can't gloat too much, so you turn the outcome to your advantage, whether in the eyes of the media, the fans or your own players.
Pellegrini said that his City side played against "a small team trying to defend, trying to keep 10 players in front of their goal, and [City were] a team that wanted to win from the beginning." He then compared Chelsea's approach to that displayed by Stoke City when they visited the Etihad and came away with all three points.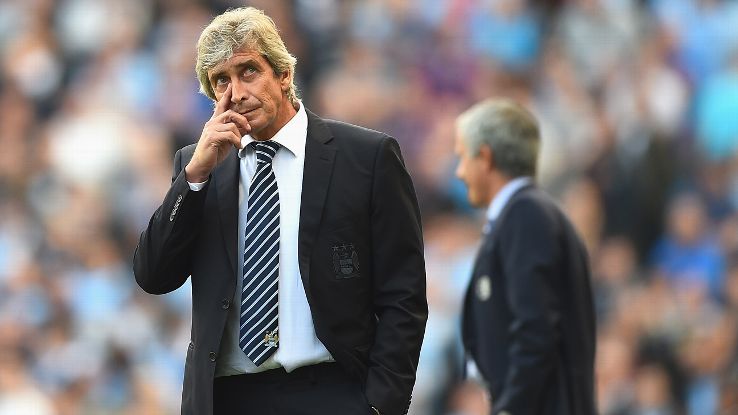 It's one of the oldest debates in the game. To what degree do you have a duty to try to take the game to the opposition? When is it OK to sit back, defend and try to play on the counter?
Dating back to his time at Villarreal, Pellegrini has a reputation as an attacking manager. Mourinho -- fairly or unfairly -- is seen more as a results-oriented boss. By moving the postgame discourse into that territory, Pellegrini was playing a game he thought he could win.
The problem is that it's something of a cheap gibe. Sure, you can make the case that given Chelsea's wage bill, transfer spending and the huge resources available to Mourinho, he has an obligation to play more entertaining football. And, indeed, many have criticized him precisely for not doing that.
But Mourinho's job -- fundamentally -- is to do what his employer, Roman Abramovich, asks him to do. If Abramovich wants to be entertained and see spectacular, open, free-flowing football, and he feels Mourinho isn't providing it, he'll take the appropriate steps. (And, to be fair, there have been times in the Abramovich era when managers have been replaced because they weren't quite as attacking as the owner would have liked.)
Yes -- Chelsea defended narrowly and in numbers and made their physical advantage count. This is what Mourinho generally does when facing other big clubs away from home. I doubt it's a surprise to Abramovich, and it shouldn't be to Pellegrini either.
Such a salvo from Pellegrini was bound to provoke a reaction from Mourinho. And it came in a rather childish way, with the Chelsea boss deciding to call him "Mister Pellegrino" -- was it some kind of reference to sparkling water? We may never know -- more than once.
Again, we've seen this before from the Special One: getting people's names wrong (seemingly deliberately) when he's fallen out with them. It happened with Mario Beretta and Pietro Lo Monaco during Mourinho's time at Inter and, famously, with the late Tito Vilanova when Mourinho was at Real Madrid.
Some get into a huff and call this sort of stuff "unedifying" for both managers. And in many ways it is. Personally, I have no problem with it. It's harmless and mildly entertaining in a juvenile sort of way -- a bit like WWE wrestlers cutting promos for upcoming events.
The game itself went as expected. City pushed, poked, prodded and created chances, but keeper Thibaut Courtois and the Chelsea back four held their own. And when the visitors broke late in the game, they did it with a perfectly timed counterattack, finished off by Andre Schurrle. Textbook stuff.
Schurrle went from hero to villain when he lost James Milner, who set up Frank Lampard for City's equalizer. Yes, it feels weird writing that. Lampard didn't celebrate against his old club and was clapped off by both sets of fans, which was a nice touch.
Chelsea are now three points clear at the top, with a four-point gap over Arsenal, and City five lengths away. That's not a bad place to be after just five matches. As for City, there are positives to be taken from this, but this group isn't yet firing the way Pellegrini wants it to.
Get Yaya Toure and Sergio Aguero back to the their natural level, and they'll be fine. Whether it will be enough to catch Chelsea will likely determine who wins the 2014-15 Premier League.
Real Madrid enjoy a misleading victory
The worst thing that can happen -- and, yes, it feels weird suggesting that something bad can come from Real Madrid's 8-2 away win -- is that Real president Florentino Perez looks at his club's performance at the Riazor and concludes that he was right all along.
He might say, See? What's all the fuss about? Why do we need that no-name [Angel] Di Maria when we have James [Rodriguez], who is more talented, younger, more handsome and more of a superstar? And, come on, Xabi Alonso? Sure, nice player and all, but did you see Toni Kroos? He's a reigning world champion, not a guy running on fumes.
There is no evidence that these are, indeed, the thoughts bouncing around in Florentino's head. (Then again, there is no proof that this is not what he's thinking.)
But if you care about Madrid, you hope that you can enjoy the positives from the pummeling inflicted on Deportivo La Coruna -- not to mention the sheer beauty of the goals, from Cristiano Ronaldo's header to James' drive to Chicharito's finish -- without getting carried away and thinking everything is fine.
Thirteen goals (counting the midweek shellacking of Basel) are gaudy, but all they prove is that when Real pull ahead and can play facing wide-open spaces, they can rip anyone to shreds. The problems occur when they're on the back foot.
If there are positives to be taken, you'll find them in Karim Benzema and the man who replaced him, Asier Illarramendi. Benzema looked lively and intelligent in his movement up front. And after he came on, Illarramendi slotted into a holding midfield position, with Luka Modric shading wide and Gareth Bale (later, Javier Hernandez) joining Ronaldo up front. It was functional; Illarramendi looked competent and Real looked scary on the counter.
The fact is, manager Carlo Ancelotti needs a productive Illarramendi in those half-dozen games that will determine Real's season. And as long as Benzema remains Florentino's pet project (and, more importantly, the only viable starting center-forward on this team), Ancelotti needs a productive Benzema, too.
Is Van Gaal the only one who can fix Man United?
Robin van Persie was the only Manchester United starter alive the last time they let a two-goal lead slip away to lose a domestic league game. The year was 1984.
That's perhaps the most startling takeaway from Leicester's stunning 5-3 comeback victory against United on Sunday. Big clubs with experienced players simply don't let two-goal leads turn into defeats very often. Not if they keep their calm and execute what they've been trained to do.
"A lot of players lost their heads," United boss Louis Van Gaal remarked after the game. "We gave it away. They didn't have to create a lot of chances. We were two goals ahead. You need to kill the game and we didn't do that."
Who is to blame?
Tyler Blackett and Chris Smalling are low-hanging fruit. Both made mistakes, sure, but if you keep the ball and provide them enough cover, you'll minimize the chances of them being in situations where they might make costly errors.
Goodness knows what referee Mark Clattenburg was thinking just before Rafael brought down Jamie Vardy, either. Not so much because it was a soft penalty (it was), but because of the huge shove Vardy delivered on Rafael immediately before that. Anywhere other than "Clattsworld" and that's a foul.
But that didn't cost United the game. Did it affect the momentum? Sure. Yet they were still 3-2 up at that stage. They had the better players. They had the pedigree. They had the experience.
As a necessity, some of this is on Van Gaal. He seemed to assume that the players he had out there would know how to control the game without the need to stack the lineup with a phalanx of holding midfielders -- indeed, Radamel Falcao and Angel Di Maria were replaced by Adnan Januzaj and Juan Mata, hardly a "protect-the-lead" type switch. In this case, Van Gaal's judgment was wrong. Maybe his crew really did need the help that a Darren Fletcher could have provided.
You can question Manchester United chief executive Ed Woodward's transfer choices as much as you like, but there won't be any further signings until January at the earliest. That means the onus here is on Van Gaal to sort it out. That means realizing what this group of players can and cannot do, and finding an approach that gets the best out of them.
If this continues, the comparisons with David Moyes will be inevitable. Already we were told that Van Gaal has two fewer points than his predecessor did at the same stage last year. And note that Moyes faced far tougher opposition -- Chelsea at home, Liverpool and Manchester City away -- whereas Van Gaal has been tested by three promoted sides, Swansea and Sunderland.
Van Gaal didn't get United into this mess. But, increasingly, it appears he's the only guy who can get them out of it.
A toast for Paderborn
OK, so it was scored on an empty net. It was the equivalent of an NHL slap shot against a team that pulled its goalie. So what?
Moritz Stoppelkamp will be able to tell his grandchildren that he scored from 83 meters -- 91 yards -- out. Seeing is believing.
Paderborn's 2-0 win over Hannover means the newly promoted, all-German side sit atop the Bundesliga. Maybe it's only until Tuesday, when they visit Bayern Munich. But, for now, it's oh, so sweet.
Milan show spirit in creditable defeat vs. Juventus
Maybe Milan got a little too excited at the prospect of knocking off Juventus. The setting was all there: a packed San Siro, tremendous "tifo" from the home supporters, Pippo Inzaghi ready to deliver the lethal blow. Except, of course, he's no longer trying to spring offside traps; he's now coaching, which means his intensity needs to be channeled, if not bottled and doled out to his team.
Juventus' 1-0 win reinforced what we already know. The bianconeri are well ahead; they're more of a unit, which is understandable given that 10 of their 11 starters were around last season and that manager Max Allegri has, thus far, changed almost nothing in Conte's approach.
Milan, on the other hand, are a work in progress, particularly up front. Jeremy Menez is new and playing a new position, his own take on the false 9. Keisuke Honda arrived in January and found an imploding team. Stephan El Shaarawy has been around a while, but he managed just one Serie A start last season. With a blue-collar midfield behind them (Riccardo Montolivo is still sidelined) and full-backs too often pinned back by Juve's wingbacks, Milan's front three had to work hard and often fruitlessly.
Fernando Torres came on and, except for one brilliant turn, looked like the Torres of 2013 rather than the Torres of 2009, which isn't a good thing. The main question mark is how Inzaghi's three center-forward options -- Menez, Torres and Giampaolo Pazzini -- fit into what he wants to do, given that they're so different.
All that said, though, Milan showed spirit despite being outmatched. And the buzz at the San Siro was something we hadn't seen in years. There's work to be done (just as, to be fair, there was for his predecessors) and Inzaghi will need his hard hat. But for now, it seems that everyone is pulling in the same direction. Which is a start.
Rotation proves somewhat costly for Bayern
When you're Bayern Munich and you draw away against a side that has yet to score in 360 Bundesliga minutes, it's two points dropped. No question about it. The scoreless draw at Hamburg doesn't necessarily warrant "code red" but it's a good opportunity to reflect on where this team is going wrong because, truth be told, Hamburg could have nicked it.
Pep Guardiola mixed things up and rotated his squad after the midweek Champions League win over Manchester City. Xherdan Shaqiri, Rafinha, Pierre Hojbjerg and Claudio Pizarro all started. The first three hadn't played since August, while Pizarro had 46 minutes of football under his belt all season long.
When that happens, you inevitably lose chemistry, which is especially important for a team based on possession and movement. Furthermore, you got the sense that Bayern were also pushed around physically. By the 66th minute, Pep had chucked on his big guns -- Xabi Alonso, Mario Goetze and Robert Lewandowski -- but it was too little, too late.
Squad rotation is fine. Some would say it's a necessity in the modern game. But when you're preaching a different brand of football and trying to integrate newcomers while missing a host of key veterans (Franck Ribery, Arjen Robben, Bastian Schweinsteiger, Thiago Alcantara, Javi Martinez) maybe it's not the best time to do it.
Jimenez struggling for Atletico
The joke was that Diego Costa loomed so large in Atletico Madrid's fortunes last season that it took two guys to replace him: Mario Mandzukic and Raul Jimenez. In fact, neither one can do what Diego Costa did. But at least with Mandzukic up top, Atleti have some of the aggression and physicality they had last season, if not the technique.
Jimenez, on the other hand, has really struggled. It was evident once more against Celta on Saturday. Nothing much was working for Atleti, so they resorted to the old mainstays: crosses, set pieces and intensity. And that's where you really noticed that not only is Jimenez not Diego Costa, but he isn't Mandzukic, either. Jimenez looked second to every ball, and when he did get service, he was hurried and imprecise. He appeared to be the smallest, meekest, 6-foot-4 target man you're likely to see this season.
On some teams, the finesse big guy can be a plus. Not on manager Diego Simeone's Atleti. Jimenez needs to find his physical edge and make his size and strength count. Otherwise, he'll spend a lot of time watching Mandzukic play ahead of him.
Benitez in trouble at Napoli?
Back-to-back Serie A defeats -- at home to Chievo last week and away to Udinese on Sunday -- and elimination from the Champions League preliminary round mean Rafa Benitez is on the hot-seat at Napoli.
Results are at the heart of it -- they always are -- but in fact Napoli haven't played that badly. What's annoying some fans (and, reportedly, owner Aurelio De Laurentiis) are Benitez' personnel decisions. Against Udinese, he sat Gokhan Inler, Marek Hamsik, Jose Callejon and Dries Mertens, all of whom played Thursday in the Europa League.
You can see why the manager might have done it, particularly with a midweek tie against Palermo coming up Wednesday. But to his critics, he's committing the cardinal sin: He's prioritizing the Europa League over Serie A. And he's doing it for his own ends.
As accusations go, it's a bit far-fetched. You'd think Napoli would have a greater chance of qualifying for next season's Champions League via the league, than by winning UEFA's junior trophy. While you might rationalize rotating heavily down the stretch and saving yourself for a certain competition you think you can win (indeed, Benitez has done just that in the past) you're not going to start doing it in September.
Still, the mood has changed. Benitez needs to get results and push the right buttons with his fan base. When you're not getting done, just about anything can be used against you.
PSG continue to misfire
Paris St. Germain aren't just France's wealthiest club, they're also the biggest goldfish bowl. And so it was inevitable that after back-to-back draws (and rather ho-hum performances) against Rennes and Ajax, the media would turn the screws.
One national newspaper devoted no fewer than three broadsheet pages to analyze PSG's "malaise," concluding that manager Laurent Blanc was playing favorites and that certain players felt excluded. Maybe it's just a coincidence, but he responded Sunday by restoring Yohan Cabaye and Blaise Matuidi -- two of those reportedly "slighted" by Blanc -- to the starting lineup.
Guess what? Not much changed. PSG still threw away a one-nil lead at home against Lyon before drawing 1-1 (and, in fact, nearly conceded a second in the dying minutes).
Memo to Blanc: Your issues run deeper. And it's never a good idea to appear to let the media dictate your starting XI.
Gabriele Marcotti is a senior writer for ESPN FC. Follow him on Twitter @Marcotti.