The logical candidates
BUENOS AIRES -- A few days ago, before the round of 16, I started to write a column saying that the logical semifinals would be Germany-Brazil and Argentina-Holland. But I thought it was very probable that there would be surprises, given that there was not a huge difference between those four teams and those they were up against.
In the end there were no surprises, although a few teams came close: Switzerland took Argentina all the way, Brazil had to wait for penalties to knock Chile out, and Holland did the same against Costa Rica. There were several moments in those games where one small incident (the goalpost, a poor finish, a refereeing mistake) was the difference between the winner and the loser.
That does not mean that the four semifinalists are not there on merit. Theu were, no doubt, the ones who had the upper hand and always offered more than their opponents. It is no coincidence that they have history and are used to these situations, and in the long run they made that experience count.
It is true, though, that not one of the four looked comfortable. They were never far ahead, either on the scoreboard or on the field. Everyone knows that they were better and they deserve to be where they are, but at the same time everyone knows they are in debt.
Indeed, that explains why all four are practically equal candidates: They each have something that makes them dare to dream of winning the Cup, but at the same time they also have some problem that might leave them by the wayside.
Germany-Brazil
Of the four left standing, Germany is the only team that has not had to withstand so much pressure. It also seems to be the only one that has its whole squad fit without any significant absentee. The injuries to Neymar, Angel Di María and Nigel De Jong will certainly have an impact on how the Brazilian, Argentine and Dutch teams respectively perform.
Germany lost only Reuss before the tournament, but today it has all its players fit, or at least so it appears. We will soon see if, at some point, they will pay the physical price of having paid so many midday games (three of five) in hot places, as well as the tiring journeys over practically the whole country (Manaus, Salvador, Recife, Porto Alegre and Río de Janeiro, as well as Belo Horizonte on Tuesday).
With not many natural forwards, the Germans have found a way to create enough chances anyway. Against France, if they had been more clinical in the final third, the difference would have been bigger. For now, Germany's buildup play is far better than their finishing.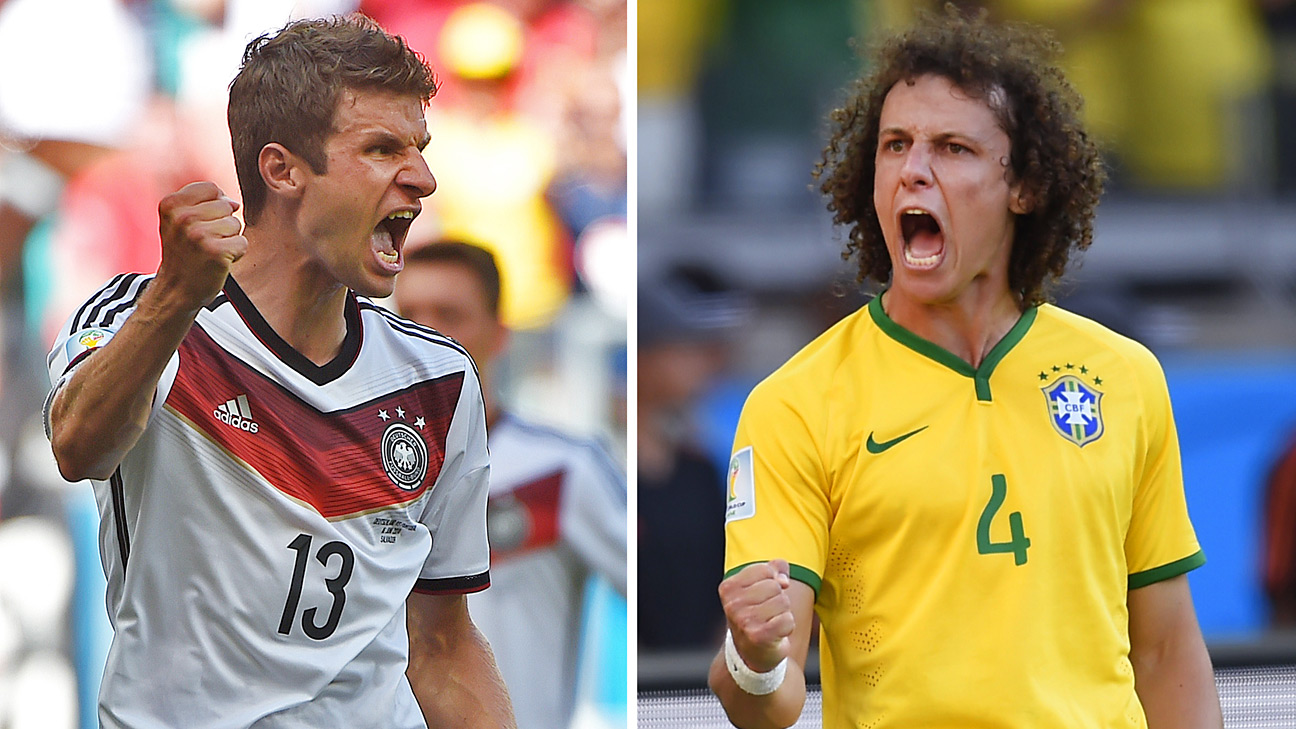 Brazil's defense, which will also be missing their captain Thiago Silva, suspended after another yellow card, doesn't look the best prepared to stop that superpopulated midfield, which can get through on goal anywhere in different ways. If Germany improves its finishing, it has a big chance of getting through to the final in the Maracanã.
Germany has, as I see it, two problems: The first is that its defense doesn't instil confidence. Ghana exposed it, and France could have if they had gone for it instead of choosing to lose with dignity.
But the big problem for the Germans is that they are playing against the hosts. We still don't know how much that support will add to a Brazil team that is not overendowed in any department and is missing its captain and its star, but there is no doubt that Felipe Scolari's men will take the field with the desire to beat the Europeans just as they did the Colombians.
In general, Brazil's first-half performances have been good, with a lot of energy, but as the time has passed that intensity has decreased. David Luiz has been, up to now, the standard-bearer with his displays and his aggressiveness, and the fans applaud that as if they were also aware of the limitations of a team that is not at the level required by its tradition, at least when it comes to playing good football.
Indeed, what is missing from Brazil is football: They do not have creativity in midfield or up front, Hulk gives everything but he is a goal-scorer by trade and Fred so far has not justified his inclusion. Now without Neymar, it is difficult to see who will supply the goals the Barcelona player did and how.
We will see how they set up for the game on Tuesday. It will be interesting to see what happens after the first goal, particularly if that goal is scored by Germany and the hosts have to come out and chase the game.
Argentina-Netherlands
Paradoxically, Holland was the team that created the most chances against their opponents in the 90 minutes, but the only team taken to extra time and penalties. Between the woodwork and Keylor Navas, Costa Rica survived 120 minutes before falling in the penalties.
Arjen Robben still makes the difference, but Robin van Persie missed chances, and so the game got more difficult for the Netherlands. Without De Jong, we will have to see how they set up to defend against a team like Argentina, which asks more questions of them both through their attitude and individual abilities.
We will have to wait as well to see how much more attacking Argentina will do, knowing that they don't want to be left at the mercy of a team set up for the counterattack like Louis van Gaal's Holland.
Against Belgium, the match was opened up very early for Alejandro Sabella's men, thanks to Gonzalo Higuain's excellent technique that resulted in a goal. But against the Netherlands, if the match remains scoreless, it is much more likely that the teams will study each other and, returning to boxing metaphors, neither one will be looking to land the knockout blow knowing it might leave them open to being knocked down themselves.
Argentina also looked more defensively solid in the round of 16. It is strange to think they might turn their back on what was so difficult to achieve in search of a more attacking formation that would leave them exposed against the speed of Robben and co.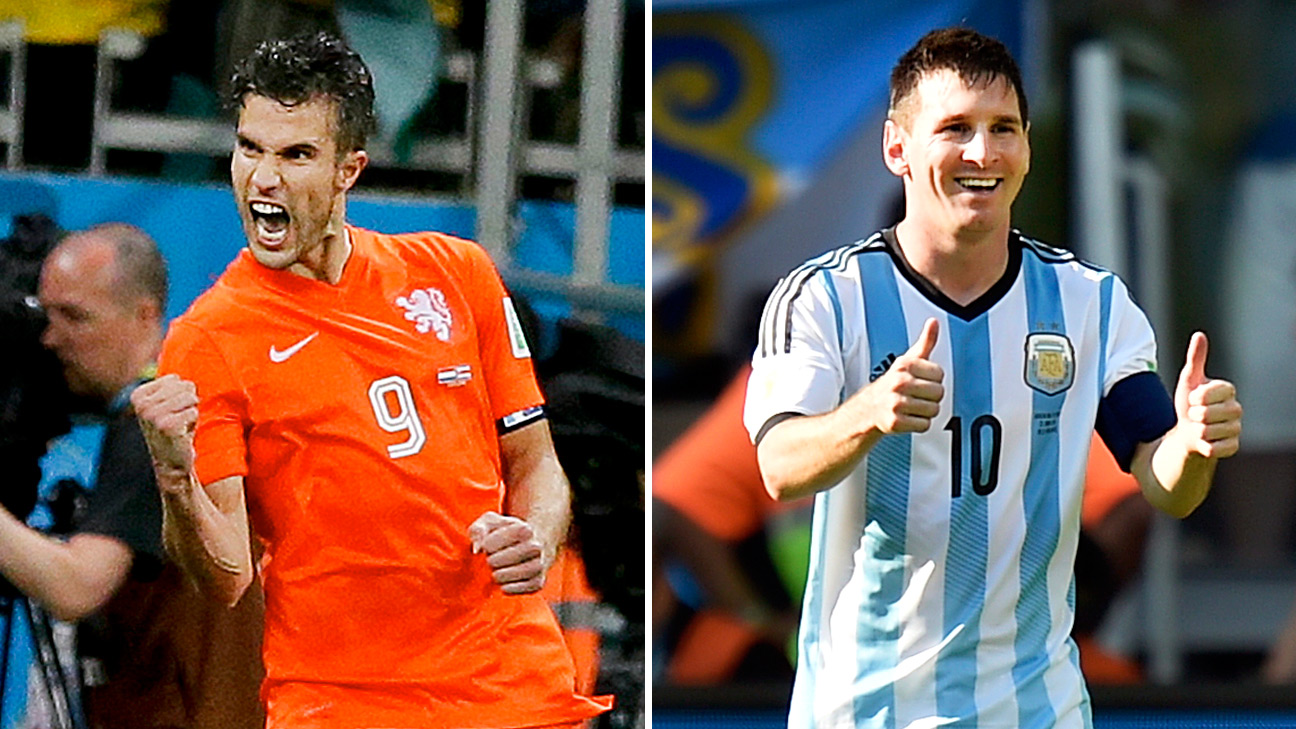 Anyhow, I still think that Argentina is, within the existing parity, the team with the biggest advantage, the best forwards. It is true that they have lost Di Maria, who today is the player who makes the biggest difference after Lionel Messi. It is also true that Sergio Aguero is not 100 percent fit and that Higuain only made his appearance in the fifth game.
But in spite of all that, they still have strength in depth and attacking options. As well as having a certain Messi, of course. In such closed games, I repeat that it is those players who have the goal etched between their eyes who should make those small but decisive differences.
Finally, I was surprised that Belgium manager Marc Wilmots said that Argentina had not impressed him and that they are a run-of-the-mill team. It would be good to know what his team did to make a better impression in the 82 minutes they had to turn the game around. Just like France, they gave the feeling that they settled for losing by a small margin, when at this stage of the tournament, it is better to take a risk and go all-in, since any defeat is simply that -- a farewell.
It's anybody's tournament
In short, all four semifinalists could be champions. Not one has clearly dominated, all have won by the smallest margin. Those players who have made a difference, not by coincidence are the tournament's top scorers, yet have left their mark with fleeting appearances, like Messi, Muller, Neymar or even Robben.
It is a shame that a World Cup that started with so much excitement should have gradually been deflating, but it is understandable given the great parity in world football. At this point, when each game is all or nothing, do not expect to see anybody taking too many risks. Much less with the heat and the times of the matches, which oblige teams to ration their energy.
Once more, it is sure to be certain players at specific moments who make the difference.
Carlos Bianchi writes for ESPN FC Argentina and is the former manager of Boca Juniors, Argentina's most popular club. As a manager, he has won the most titles in Argentine football history, with Boca and Velez.