Small margins for Argentina, Netherlands
Memories of 1978's final and Dennis Bergkamp's goal at France 1998 flooded back as soon as Netherlands and Argentina were paired for Sao Paulo's semifinal World Cup match. Both might have a sense of owing the other one.
The Dutch's progress to this stage would seem a shock considering that many thought they would struggle to get out of Group B. But since a 5-1 devastation of Spain, they have held themselves together, and despite slackening off from the fireworks of Salvador have negotiated two troublesome assignments in Mexico and Costa Rica.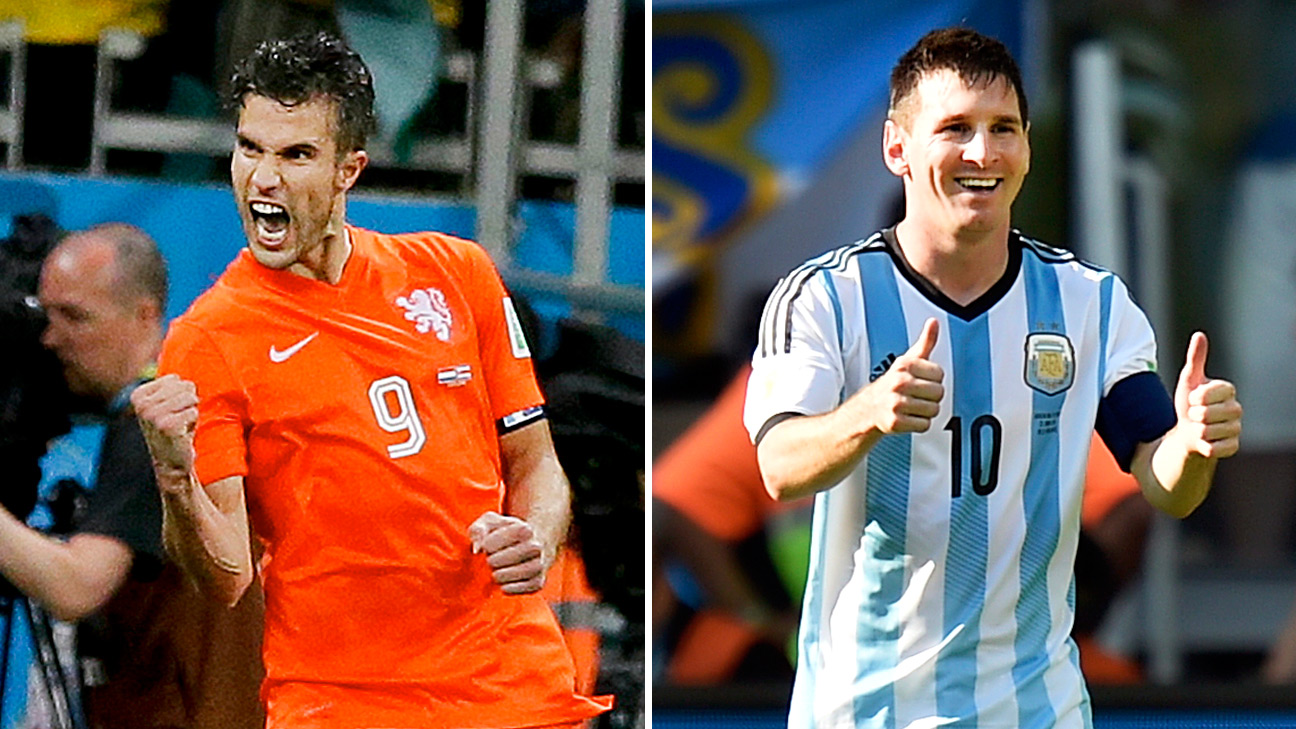 There is, however, the possibility that the Dutch trajectory -- they do seem a little weary -- may be going in the opposite direction to Argentina, whose victory over Belgium was collected with ease. This time Lionel Messi was not the match winner, though -- as expected -- his movements made the whole thing possible.
GOALKEEPER
This has suddenly become an area of increased interest. Jasper Cillessen has done just fine in normal play for the Dutch, only to be replaced by Tim Krul as Louis van Gaal introduced his version of the baseball "closer."
This was Krul's big moment and he grasped it with both hands, going the right way each time a Costa Rican took his kick. The likelihood is that Cillessen will return to his normal job. Or else Van Gaal is even more ruthless than we thought.
Sergio Romero, meanwhile, may well be the lesser goalkeeper left in the tournament, with due nod to Julio Cesar. He has not completely convinced in Brazil, though his showing as Iran piled on the pressure in a group stage match was as much a match winner as Messi proved. Still, he has the full faith of Alejandro Sabella, just as he had when Diego Maradona was coach in 2010.
Edge: Netherlands
DEFENCE
Premier League fans may not be able to believe it, but the injury worry against Ron Vlaar may prove crucial. The Aston Villa stopper has been a relative rock amid a defence that has never looked truly solid.
His experience would be missed in Arena Corinthians as the rest of the bunch are callow and far rawer. As ever with Dutch teams, the players are expected to be versatile, and Van Gaal may either try a four- or three-man defence.
More surprise for Premier League followers: Martin Demichelis' addition made Argentina look more solid than they had for their previous four matches. He is likely to keep his place ahead of Federico Fernandez, while Marcos Rojo, back from suspension, should replace Jose Basanta, who did well enough in Brasilia. Much still depends on the leadership of Ezequiel Garay, and the dedication of Pablo Zabaleta.
Edge: Argentina
MIDFIELDERS
The Dutch midfield is all about providing a platform for the three main men to perform, which is not too different from Argentina's approach. Daley Blind, versatile enough to play both defence and midfield, plays as the holder in the absence of Nigel de Jong, and he, Georginio Wijnaldum and the redoubtable Dirk Kuyt -- who played at left-back against Chile -- do the work for Wesley Sneijder to try and create.
The absence of Angel Di Maria would clearly be a hindrance to Argentina. It is the Real Madrid speedster's running that has been the best counterpoint to Messi. Without him, Argentina's midfield looks like a collection of holders, and without pace. Enzo Perez did fine against the Belgians but the Dutch may increase the need for a greater dynamism.
Edge: Netherlands
FORWARDS
Robin van Persie has slowed down from the brilliance of his performance on the first Friday of the tournament. A series of tough visits to some hot locations around Brazil has not helped him return to the sharpness he showed back then. It has left a considerable burden on Arjen Robben, a leading contender for player of the tournament, but under which this flying Dutchman has flourished. He is certain to be key in Sao Paulo.
Lionel Messi, then. We know all about him, but can he be stopped? It may end up being the leading question of World Cup 2014. The Dutch cause may not have been helped by Gonzalo Higuain finally locating his scoring touch in Brasilia, though a loose second-half finish suggested that he is not yet totally deadly. Sergio Aguero is likely to come from the bench, though Sabella suggested on Sunday he has made an "excellent" recovery from his latest muscle problem.
Edge: Argentina
RESERVES
Van Gaal is not blessed with riches beyond his first-team selections, though he has made use of most of his squad -- even the reserve goalie, of course. He has been well served by his subs so far, in fact, with Klaas-Jan Huntelaar scoring the match-winning penalty against Mexico after replacing Van Persie.
Aguero might prove to be a high-grade super-sub for Sabella in Sao Paulo. Sabella has options in attack and midfield with the likes of Rodrigo Palacio, Maxi Rodriguez and Ricky Alvarez. Few of them provide a true variation from what Sabella chooses to start with, though Palacio's switch to midfield against Switzerland did produce Di Maria's winning goal.
Edge: Argentina
COACHES
Van Gaal is happy to assume credit for his team's successes so far, but then again he probably deserves it, too. No coach in the tournament has shown off such a varied set of formations and tactics, and few are willing to take on such tough calls like those Huntelaar and Krul introductions.
Sabella is a strange cove given to talking deep philosophical doggerel in his news conferences. He clearly feels the deep pressure that an expectant nation places on him. Last week he complained that too many back home think his team should win.
His furrowed brow is usually on show, as it was when he performed that falling-back exasperation at a Higuain miss that became an instant Vine hit. He has done well in getting Argentina to the semis for the first time since 1990, but looks as if he needs a long holiday.
Edge: Netherlands
INTANGIBLES
Both these countries have had, over the years, the ability to come apart at the seams at the wrong time. Sao Paulo may see one of them -- or possibly both -- do just that.
There is a sense that the Dutch have hit their target, while Argentina, and Messi in particular, think the World Cup is on. A blue and white backing to the tune of Creedence Clearwater Revival is sure to be heard as the noisy neighbours descend on Brazil's biggest city.
PREDICTION
Argentina victory, with Messi at the centre. A predictable prediction, perhaps.
John Brewin is a staff writer for ESPN FC. Follow him on Twitter @JohnBrewinESPN.