Imbalance may be Germany's downfall
Even Thomas Muller's own manager admits it is impossible to categorise him. "He is," Joachim Low said after his hat trick had taken Germany past Portugal in the easy, lazy days at the start of the World Cup, "very difficult to predict, for his coach, and for opponents. That is what makes him dangerous."
- Honigstein: Low's leadership dilemma
- Jones: Germany-France, too close to call
Muller's record, of course, suggests that Low is right. He now has nine goals in the World Cup. The record -- held jointly by his evergreen teammate Miroslav Klose and former Brazil international Ronaldo -- is 15. Thomas Muller is 24 years old. He has played in one and a half tournaments. Only two summers, four years apart, spoiled by serious injury would deny him the chance to overtake both.
There are two curiosities about Muller. One -- and it is an argument that should be credited to ESPN writer Michael Cox -- is that he is a sort of anti-Zlatan Ibrahimovic: not only does he turn it on in World Cups, when the eyes of the world are watching him, but he has an uncanny knack of playing out of his skin against English teams, either at club or international level.
The English media, being in possession of an opinion-forming power I and my colleagues perhaps do quite not deserve, has therefore elevated him to a position of greatness that his overall record does not necessarily warrant. He scores a dozen goals or so, give or take, for Bayern Munich in the Bundesliga every season; a fine tally, but not one that suggests he is one of his generation's great forwards.
The other oddity with Muller is that he is not a striker. Not really. He is a midfielder who can play up front -- or out wide, for that matter, or roaming behind a front man -- who happens to have a remarkable poacher's instinct. As Low says, "he has an instinct for creating danger." Following that instinct takes him all over the pitch, well away from goal. The Germans call him a raumdeuter, a space investigator. That is what he does. He roams wherever his nose takes him.

France
Germany
Game Details
None of this is to say that Muller is a bad player, or that he is overrated, or anything like that. Muller is an excellent player -- you do not have his CV if you are not, though at club level it is eerily similar to Daniel van Buyten's -- but he is also indicative of the great flaw in Germany's golden generation: for all the praise lavished upon the country's youth system in recent years, they only seem to produce two kinds of players.
One is central defenders. Germany have more central defenders than there are people in Oklahoma. Low will most likely name four in his side to face the French in the World Cup quarterfinal on Friday, only two of whom will actually play as central defenders. Benedikt Howedes and Jerome Boateng will be asked to play as full-backs, a role to which neither, if we are all completely honest, is suited.
Germany, of course, do have a full-back, and the world's best, too: Philipp Lahm. The country's captain, though, now plays as a central midfielder. This is odd, because the other thing Germany have a lot of is central midfielders. Germany have so many midfielders that one of them -- Muller, no less -- has to play up front. What they do not have is strikers, or natural wingers or -- apart from Lahm -- full-backs. There is a staggering dearth, in fact, of anyone who is not a central defender or a midfielder.
There is a degree of exaggeration here. Marcel Schmelzer and Oliver Sorg, to name but two, are full-backs, but they are not in the squad. Andre Schurrle -- even if he does not like to admit it -- is a winger, and he may well face the French in Rio de Janeiro. Mario Gomez, as pure a striker as you could hope to find, is only absent through injury; Stefan Kiessling is not here because he and Low do not see eye to eye. What cannot be disputed is that Germany's current crop is an uneven one; heavy in some places, light in others. There is a surfeit of midfielders and playmakers and an obvious, undeniable dearth of forwards and wide players.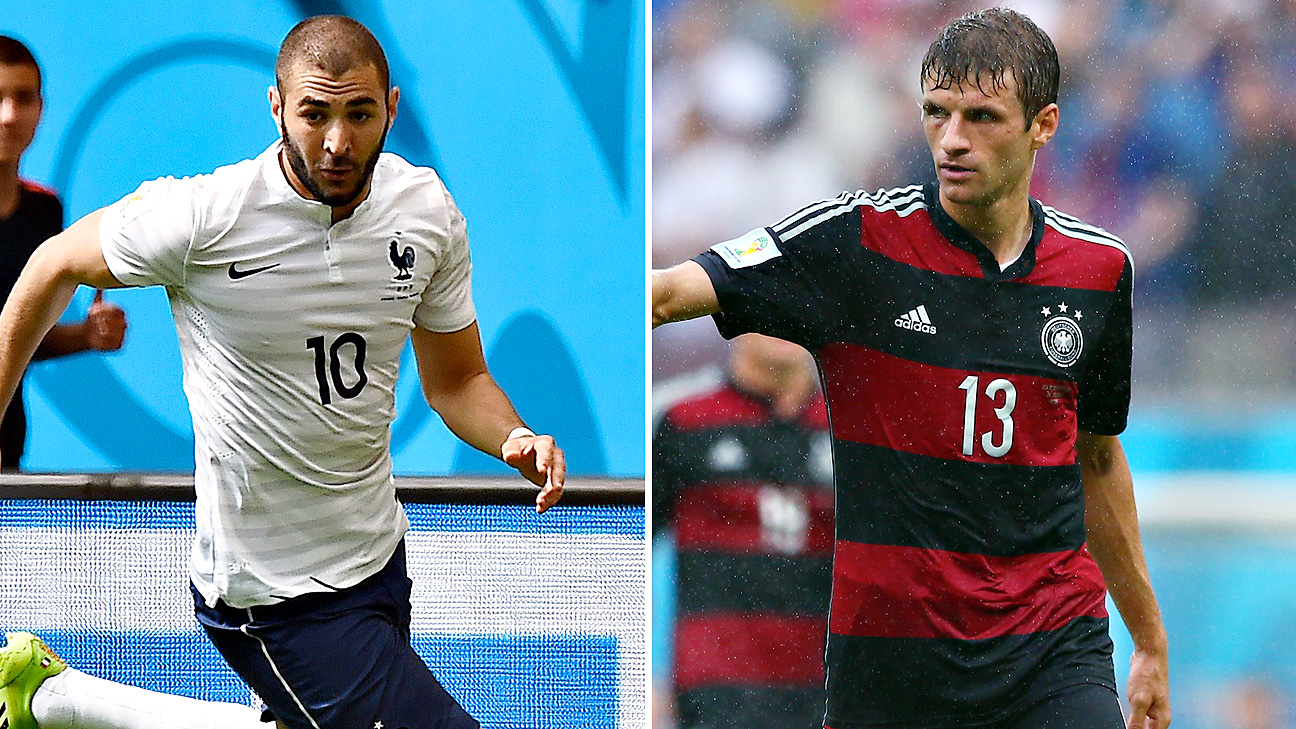 Muller is a unique sort of asset, one that covers a multitude of sins by his sheer unorthodoxy. If he was not here -- and if Klose was not immortal -- it is not immediately clear who would score Germany's goals. Low's squad is a richly talented, enormously successful one, and they are capable of beating the French and winning this World Cup. It is hard to escape the suspicion, though, that this lack of balance in the squad may ultimately prove their downfall.
Why this should be is difficult to explain -- sheer luck may do it, of course -- but there is one more intriguing possibility. The success of Germany's youth system is that it was all a centralised plan, concocted in tandem by the Football Association and the league -- the DFB and the DFL -- to bring through a new type of German player. The emphasis was on technical ability, on vision, on implementing a slick, passing style, not the brutalism of stereotype.
It is this philosophy that produced Mesut Ozil at Werder Bremen, Mario Gotze at Borussia Dortmund and Muller and Lahm and the rest at Bayern Munich. It is this philosophy that has brought Germany back to the pinnacle of the global game; which has made the team that everybody used to hate for their remorseless pursuit of victory admired for their style and their panache; which has helped Dortmund and Bayern rise to the very top of the European club game. It has been, without question, a good thing.
The problem with centralised planning, though, is that it tends to lead to uniformity. There is a lingering concern that this, perhaps, is true of Germany too: that all of the clubs are producing the same type of players, that the country's academies have become almost too automatised. They are all creating technically proficient, intelligent, composed midfielders, churning them out one after the other.
"Suddenly, despite his abundant riches, he finds himself trying to shoehorn players into roles that do not suit them."
This can become a vicious cycle, where anyone who shows any talent in another position is recast as a central midfielder, partly because they are often the most valuable cog in a team's wheel and partly because that is what the academies are good at. The consequence is the situation Low finds himself in: with a team rich in quality but where all of that talent is piled up in one position. Suddenly, despite his abundant riches, he finds himself trying to shoehorn players into roles that do not suit them.
Germany have had a strange tournament. They were enormously impressive against Portugal, uncharacteristically lacklustre against Ghana and then strangely subdued for much of their game against the United States. Algeria did not just give them a scare in extra-time in the round of 16; they might twice have taken the lead in the opening 20 minutes.
Whenever Germany have struggled, their central defence -- full of nice ballplayers, but lacking in pace -- has been exposed as ponderous, and because they have found the central areas, as they go forward, clogged by opponents. They have no natural width, and they have no natural outlet ball to allow them to bypass the midfield. They are wonderful to watch, but the suspicion is that, perhaps, they lack a little variety, that they are a factory team, the same player produced again and again with only marginal differences. And that, in the final reckoning, may just blunt them.
Rory Smith is a columnist for ESPN FC and The Times. Follow him on Twitter @RorySmithTimes.