Even matchups expected for rest of World Cup
BUENOS AIRES -- Logic won out in the World Cup round of 16. The eight teams that advanced were the same teams to top their respective groups. They were also the teams that started the tournament as contenders.
But what happened was something we had already predicted the week before. None of the teams who qualified for the quarterfinals had anything extra. The eight matches were very even, but the difference was in the details, in the key plays. This far into the World Cup, when only the best are left, the differences are minimal, and they can only get smaller from here on out.
It's a scenario in which teams are hungry, no matter how badly the match goes or how close to elimination they find themselves at times. There are reasons the expected teams prevailed during the eight matches: history, experience, the weight of star players and other factors that give an edge and tip the balance in their favor. The small advantages the big teams have become decisive, both in terms of team hierarchy as well as team play.
Sometimes it's flashes of brilliance from big stars that define a match, such as the Lionel Messi and Angel di Maria combo that saved Argentina, who was unable to solve the Swiss defense. Or it can be a play that changes the course of the game, opening it up, like James Rodríguez's massive goal against a Uruguayan team that had held Colombia in check. Or it can be sheer personality, like Neymar when he took the fifth penalty kick for Brazil against Chile.
It can also be what a team generates as a whole and as a system. Despite playing in overtime, both Germany and Belgium were superior to Algeria and the United States, respectively. And the confidence of the players themselves is key, as happened in the Netherlands-Mexico match. Netherlands never gave up, and two minutes from the end, and then in stoppage time, they earned the prize they deserved.
Going into the quarterfinals, there is only one match that poses a large disparity: Netherlands-Costa Rica. The other three games appear very even, at least based on what the teams have shown so far.
Once again, logic dictates that the semifinals should be Brazil-Germany and Netherlands-Argentina. But until then, there's a long road to travel.
France-Germany
Looking at how both teams have played, the level of equality is enormous. They both won two matches and drew once in the group stage, where they were clear leaders. And they struggled more than they should have against African opponents who, based on the heroic efforts of their goalkeepers, kept the score at zero until the end of the match or even into overtime. Both sides have skilled players with goal scoring potential. France has Karim Benzema, Olivier Giroud, Paul Pogba and Antoine Griezmann. Germany has Mario Gotze, Thomas Muller, Mesut Ozil, Toni Kroos, Bastian Schweinsteiger ... there's not enough room to name all the players who can generate play and also get into position to score. Good soccer won't be in short supply, that's for sure.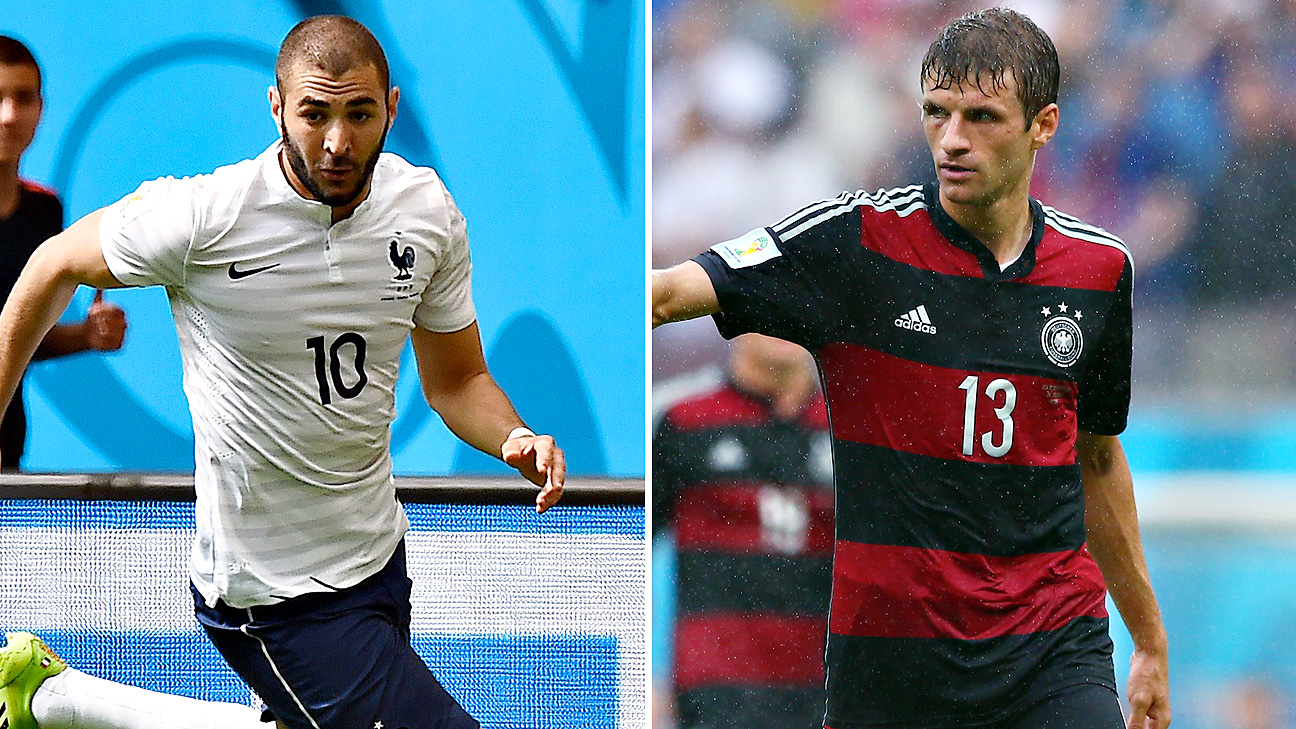 Regardless, I see Germany as slight favorites for two reasons. First, the experience: this generation has been playing together longer, and you get the sense that this is "their" World Cup. They are coming off two consecutive third-place finishes, and moreover, the emphasis on ball movement is taking better shape with each passing match. Without Marco Reus they have less speed in attack, but even so they have many players capable of both assisting and finishing.
France, on the other hand, in spite how well they have played still look like a team with a lot of room for improvement and will probably break through during the next World Cup cycle.
History is another factor. France has a complex when facing the Germans, who become twice as hard to beat in decisive moments. It is true, however, that all streaks come to an end, and the French -- part of my heart after working and living for so many years in France -- have me hoping that they leave this part of history behind for good on Friday.
Brazil-Colombia
This match analysis picks up where the other match left off: history. If this were the only factor, Brazil would clearly be the favorites here. They have previous World Cup success, first of all, and they're playing in front of their own people, and much more.
The trouble for Brazil is that come game time, there isn't much more than that, and perhaps there has been much less. If we set aside history, right now the factors in favor of Colombia are better and greater in number.
Colombia looked solid as a team and have compensated for the absence of their star player (Radamel Falcao), as others (Juan Guillermo Cuadrado and James Rodríguez) have stepped up. Moreover, they're getting great individual play on every line, and the team is in sync in defense and attack.
Brazil, on the contrary, have lost the defensive organization that Luiz Felipe Scolari built the team on. The midfield is questionable in terms of containment, and it fails to provide the necessary timing to create anything more than chaos up front. And despite the fact that Neymar has stepped up during key moments, others such as Oscar, Jo, Fred and Hulk should be taking a greater responsibility in attack.
Brazil is clearly lacking both a stopper and a playmaker. The Fernandinho-Paulinho connection, the duo that will surely play given the absence of Luiz Gustavo, will not likely solve the first problem. David Luiz could play this position, but it would deprive the defense of the man who has been the most dependable player up till now.
Regarding the hurried transition, it most likely will continue, as there is no one to fill the role of playmaker (Diego could have been ideal). Thus far, the right- and left-backs have offered no surprises, and in fact they have raised serious doubts when making runs upfield, leaving their backs exposed.
Right now Colombia has more play depth and have suffered less physical and emotional strain. Don't forget that Brazil, in addition to overtime and penalty kicks against Chile, was unable to solve Mexico's defense and also struggled at times against Croatia and Cameroon. All this weight has been building up throughout the tournament, even though survival can also give a team the added effect of never giving in.
I certainly expect a big match between two teams who know how to move the ball and who look to attack more than defend. How the match unfolds will be key, since an early goal ought to open the match up and cause the teams to attack back and forth, whereas a scoreless draw will only put more pressure on the home team.
One thing is clear, however: Brazil will have to bring its level of play up a notch if they want to make it to the final week as participants and not spectators.
Argentina-Belgium
Argentina are in the same boat as Brazil: history is on their side; the present evens the balance. And they will definitely have to give more than they have thus far if they want to confirm their status as favorites. Argentina has had trouble solving their opponents, and Belgium will be no exception. The Belgian players move the ball well, but they are also very practical when level-headedness is needed more than creativity. And they demonstrated they have more than enough speed to exploit open spaces left by opponents eager to attack. They have a lot of experience in the back line and a goalkeeper in Thibaut Courtois who is, without a doubt, one of the best in the world.
Argentina's margin of error is less and less with each game. Switzerland lacked the focus needed to finish a couple of plays that could have changed history. Belgium, it would seem, is not as forgiving.
In any event, Argentina have attacked and played to win in all of their matches, and they got the job done each time. Messi and di Maria are always a force to be reckoned with. If they manage to improve their individual play, the team play will follow, and Argentina should see logic rule the day.
Netherlands-Costa Rica
The final quarterfinal match is, at first blush, the most uneven. Not only does the Netherlands have more history, they also have more at present, regardless of the fact that Costa Rica left behind three World Cup champions in the group stage. But the effort seems to have left a mark, and against Greece the Ticos finished with just enough, their effort hindered by playing a man down for a much of the time.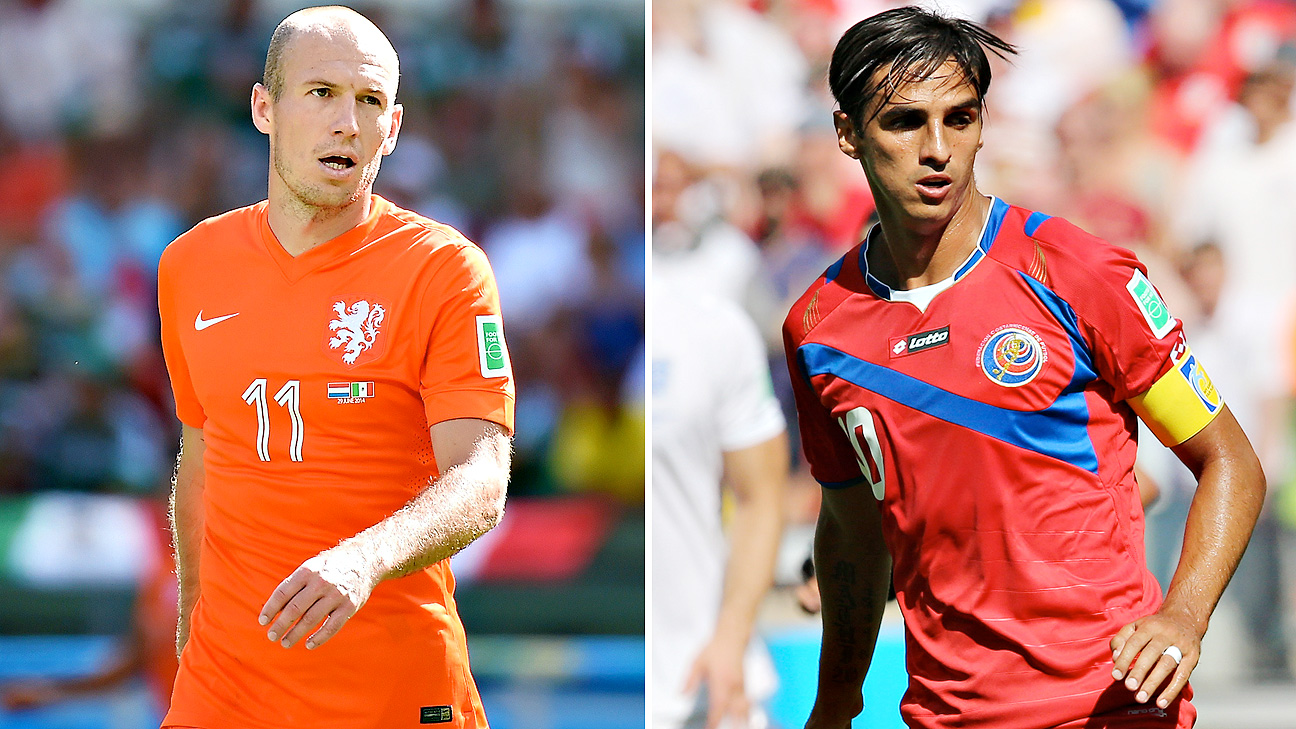 It's true that up front Costa Rica has the speed necessary to exploit the lack of organization in the Netherlands' back line, which will also feel the absence of Nigel de Jong, who generally draws the line of battle. All the same though, it doesn't seem enough to dominate a team with such impressive attacking power.
Not only did Netherlands suffer less strain, they also came out on top with a psychological edge after their incredible comeback against Mexico. Yet here the point is that it wasn't the Netherlands' doing, rather the undoing of Mexico, who are unable to break the curse of the round of 16. "Are we there yet?" seems to have prevailed again over "Yes we can," because El Tri were only two minutes from making history.
It's hard for me to understand what goes on in the minds of the Mexican players that keeps them from advancing. I'll say it time and again: they already have everything they need to make it happen. A great soccer country deserves a fifth game.
Carlos Bianchi writes for ESPN FC Argentina and is the former manager of Boca Juniors, Argentina's most popular club. As a manager, he has won the most titles in Argentine football history, with Boca and Velez.