Ronaldo should be revered, not feared
SALVADOR, Brazil -- There were about five minutes gone when Philipp Lahm, usually the most composed footballer on the planet, seemed to lose his concentration. Only for a second, but at this level, that is enough. Midway inside his own half, the Germany captain paused, as if caught in two minds about what to do. Miguel Veloso, Portugal's tenacious defensive shield, raced toward him. Lahm stumbled. Veloso nicked the ball away.
Suddenly, Portugal had a three-on-two, with Germany's central defenders wheeling back toward their own goal. Nani tore down the right wing. Veloso advanced down the centre. But the pass was always going to his left. That was where Cristiano Ronaldo was, after all.
From high in the stands at the Arena Fonte Nova, you could almost see the thoughts running through Veloso's mind: "OK, Miguel, this is your big chance. Here it is. The perfect pass, that's what you need. Straight into his path. Then he'll come and give you a hug, and tell you how great you are. This has to be just right."
It wasn't, of course. Veloso, too keen to impress, hurried the ball. It was not quite into Ronaldo's path. He had to adjust his stride, just a little, to collect it. The dominoes fell. That interruption meant he could not quite burn off his marker. He had to take an extra touch in the box to make room for the shot. By the time he could release, the angle was too narrow; the hulking figure of Manuel Neuer stood in his way. Portugal won a corner. Ronaldo did not acknowledge Veloso's contribution. There was no hug.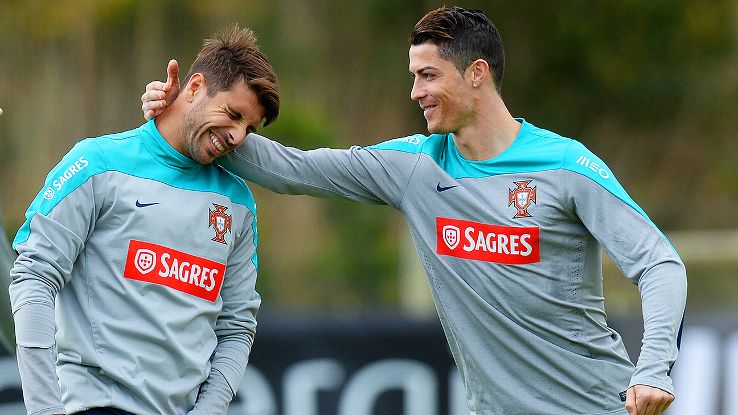 Still, at least Veloso did better than Hugo Almeida, the elaborately mustachioed striker, and Nani, the extraordinarily frustrating winger. Barely 18 minutes had elapsed before both had invoked Ronaldo's wrath, the former not even trying to find the Real Madrid player when he was in space, the latter failing to do so when he attempted to. Both were greeted with arms being flailed, with shouts of despair and anger and glares pregnant with disappointment.
In those three incidents, though, what became clear was just how deep this Portugal team is in Ronaldo's shadow. As I wrote on the eve of the game, it is entirely right that Paulo Bento has constructed his side to get the best out of Ronaldo. He is a once-in-a-lifetime talent, a one-man attack, a genuine superstar for the ages. When you have something that special, you are honour-bound to seek to provide a stage for it to excel.
But, as with so many things in this most finely balanced of games, there is an equilibrium to be found. Yes, the rest of Portugal's collection of gifted individuals -- Joao Moutinho, Nani, Veloso, Joao Pereira, Fabio Coentrao, all fine players in their own right -- must do all they can to provide Ronaldo with the service he needs. But they cannot allow themselves to be so in his thrall that they become overanxious to please him. At times, as Germany swept past Bento's team with contemptuous ease, it looked precisely like that was the case.
- Coentrao's World Cup over
- Mourinho blasts Pepe for red card
- Brassell: Portugal must regroup, not panic
Take that Veloso incident. Forget the fact the pass was not quite right, that it was a little over-eager, that Ronaldo had to break his stride. Part of the reason that Veloso misjudged the ball is that it was not the right ball in the first place. Nani was far better positioned, running down the inside-right channel, the goal at his mercy.

But Veloso knew that would be considered the wrong pass, that if Nani did not score, Ronaldo would rebuke him. Imagine that: being ticked off by your coolest friend in front of 60,000 people. He dare not contemplate it. So he did what he felt pressured to do. He gave the ball to Ronaldo.
It was impossible to avoid drawing a comparison with the Germans. Joachim Loew's side are precisely the opposite of Portugal. They have a host of richly gifted players, too, but all of them know they are there in service of the system. Mesut Ozil played on either flank; so did Mario Goetze. Toni Kroos found himself playing a little deeper than he might like -- although admittedly he does it often enough for Bayern Munich -- to cover for Sami Khedira's raids forward. The structure, the collective comes first. With Portugal, it is one individual.
Even the way Ronaldo's teammates discuss him seems somehow, well, unhealthy. "The fact we have the best player in the world does not force us to be world champions," according to Bento. "He is the best in the world," said Coentrao, his teammate for club and country. To Bruno Alves, the bruising defender, "The best player in the world had to be here, at the World Cup. We count on our captain, as always."
Eduardo, the reserve goalkeeper, believes the 29-year-old "deserves to be recognised everywhere in the world, [because] we are talking about the best player in the world, an example as a person and a professional." William Carvalho, the young Sporting Lisbon midfield player, finds having "the best player in the world is an inspiration."
Silvestre Varela, the FC Porto winger, is the only one of his teammates prepared to freestyle a bit, and even he does not deviate from the party line. "A World Cup without Cristiano," he said this week, "is not a World Cup."
It is understandable that Portugal are grateful to be able to call Ronaldo a teammate. It is understandable -- important, even -- that Bento's plan is essentially to use the rest of the side to get the ball to Ronaldo and then let him work his magic, even if the player himself is diplomatically sticking to the line that he is "only here to help" and that he cannot "carry the team on his own."
That has to be his public stance, of course. But you sense that perhaps he needs to get his teammates to believe it. A one-man team cannot always be stopped -- as Diego Maradona, in a side of similar quality, proved in 1986 and, in a far worse outfit, almost managed in 1990 -- but it is fundamentally undermined if the rest of the side feels inhibited around that player, if his presence becomes a burden, not a blessing.
Rory Smith is a columnist for ESPN FC and The Times. Follow him on Twitter @RorySmithTimes.