Arjen Robben earns redemption
SALVADOR, Brazil -- "We didn't expect that," Louis van Gaal said after a performance against the world champions that not even the most orange of supporters had dared to dream about. But for one of Friday night's heroes, the script had already been written -- you only needed to know where to look for it. In "Arjen Robben en het Magische Schot in Rio" (Arjen Robben and the magic shot in Rio), a recently published children's book by the Netherlands forward, "you can read all about the spectacular adventures of Arjen during the World Cup in Brazil, about the exciting events, the fun trips of the Dutch team and of course his magical shot in the final," as the PR blurb would have it. The story was written with the help of 8-year-olds from Togtemaarschool, Robben's old primary school in his home town of Bedum, and the 5-1 win over Spain felt like it belonged in those pages. It had that sheen of little-boy (or -girl) football fantasy. "You have to enjoy, enjoy, enjoy," Robben said after the final whistle, "that's what you play football for."
The 30-year-old's goal eight minutes into the second half, a balletic turn followed by his customary drop of the shoulder and shot with his left foot, set up the Spanish demolition. Statistically, it was a reassuring strike: the Netherlands have never lost any of the 21 games in which Robben has found the net. But until Friday night, that record had come with a very uncomfortable subtext. The Elftal did not win one very important game -- because Robben didn't score. He failed to convert the best opportunity, one-on-one with Iker Casillas in the 2010 World Cup final in Spain.
In Salvador, his shot deflected off Sergio Ramos past his goalkeeping nemesis, and Robben added a second strike, sprinting past both Spanish centre-backs and Casillas, who was literally left floored by the experience.
Revenge? No, Robben said: "It was only a group game, not the final."
Redemption? Closer to the mark. The winger had successfully resurrected his career at Bayern after his enforced departure from Real Madrid in 2009 -- Real president Florentino Perez got rid of most of the signings of his predecessor, Ramon Calderon -- but two more high-profile (penalty) misses against Dortmund in the Bundesliga and against Chelsea in the 2012 Champions League final saw many question Robben's mental fortitude to deliver on the big stage. Robben always denied that he was haunted by those failures, but he was beginning to see his footballing epitaph being carved into stone: He was "de man van de gemiste kansen," as the Dutch had it, the man of missed chances. Gazzetta dello Sport called Robben a "coniglio bagnato," a wet rabbit. (The term was coined by Juventus boss Gianni Agnelli to describe Roberto Baggio's limp performances in the early games of the 1994 World Cup.) An unfortunate habit of choking in front of goal was not the only accusation leveled at Robben, however. In Munich, there were complaints about his selfishness. The newspapers dubbed him an "ego-shooter." One prominent expert on German football privately opined that Robben was in fact "uncoachable," impossible to be integrated into a functioning collective.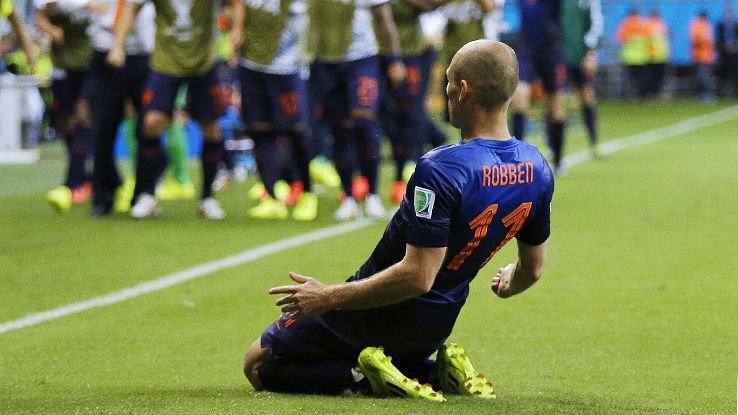 The backlash in Bavaria after 2012 was bigger than Robben had faced in the Netherlands two years prior. The crowd in the Allianz Arena booed him during a friendly he played with the national team against Bayern a couple of days after the traumatic Chelsea defeat. The club stood by him, however, convinced that his flaws had been much exaggerated. Coach Jupp Heynckes believed that Robben could be a team player, and his trust was vindicated in the last few weeks of the 2012-13 season. The Dutchman helped out so much in defence that he almost played like an auxiliary full-back in the 4-0 defeat of Barcelona in the Champions League final in Munich, and he won Bayern the trophy with his 89th-minute goal in Wembley against Borussia Dortmund not long after.
That goal foreshadowed his performance as an out-and-out striker against Spain on Friday. Robben, who had spent a lot of time playing a more central striking role in the final, latched onto a long ball from Dante (flicked on by Franck Ribery) and he kept his cool to round Roman Weidenfeller and stroke the ball into the net with the deftest of touches.
The goal and the first big international trophy that came as its reward took a weight off his shoulders. "I can play freely now, without pressure," Robben said a few months ago. Contrary to much speculation, new Bayern coach Pep Guardiola made him a mainstay of his side; the player was the first one to understand the Catalan's tactical demands. Bayern ultimately faltered in their quest to defend the European Cup, but Robben was once again the outstanding performer for them in the Champions League, no doubt aided by his excellent physical shape. He used to be very injury-prone but has learned to take things a little easier in training to protect his body. In March, Bayern extended his contract until 2017. He's never felt more settled at any club before.
Robben has compared Guardiola's attention to detail ("he always tells you where to run, where the spaces are") to that of Van Gaal, who was, of course, Pep's mentor, so maybe we shouldn't have been surprised that he would carry on with Oranje where he had left off with the Bavarians.
"One goal was more beautiful than the other," he beamed in Salvador. But even in his moment of personal triumph over Casillas and the naysayers, Robben thought of others, not himself. He remembered to his unsung teammates in defence, who had made the fantasy possible. "I am so proud of all the young boys at the back," he said. "It was their first game in a big tournament, and they kept together tremendously well." He also warned that "we are not world champions already," that two defeats in the next two games would see them "on the plane home." The young readers of his book will struggle to contain their expectations, however, especially if they read the first installment, published in January 2013. It's about a fairy tale that became a true story: his winning goal in a Champions League final.