Despite exit, U.S. has bright future
RIO DE JANEIRO -- America wakes up bleary-eyed, battered and bruised, feeling sadder than Bruce Springsteen's "Nebraska" album. Somehow, I am simultaneously both tingling and numb. The nation's 2014 World Cup campaign is over after a giddy, captivating 16-day run in which the United States has unashamedly fallen full-throatedly in love with its football team.
The country has shared collective moments bordering on magical realism. The shock and awe of Clint Dempsey's 30-second wonder strike and John Brooks' late "kidney punch" of a header versus Ghana feel as if they occurred months ago. New footballing heroes have been forged since. There is already a petition to rename Ronald Reagan Washington National Airport after Tim Howard.
Yet, once again, the U.S. was dumped out of the tournament in the round of 16.
As the smoke clears and we stagger back to work with memories to savor and stories to share, a single question is inescapable: Was this simply a cheerier, more scenic route taken, only to end up at the same destination?
In the spirit of novelist Sinclair Lewis' admission -- "Intellectually I know that America is no better than any other country; emotionally I know she is better than every other country" -- there are two responses to that question: the emotional and the rational.
There is much of which to be proud about the squad Jurgen Klinsmann assembled. The German coach took risks, purpose-building his 23 to be young, athletic and undaunted. So many of those decisions were validated. Long-misunderstood "Klinsmann favorite" Jermaine Jones was America's outfield player of the tournament. The German-American contingent thrived in Brazil, putting paid to any doubts over their commitment, and scored three of the United States' five goals. Meanwhile, in DeAndre Yedlin, Fabian Johnson, Matt Besler, Brooks, and tantalizingly, even Julian Green, a solid foundation has been set for the future.
Make no mistake, to emerge from a physically and mentally draining opening group that included bogey team Ghana, an admittedly flaccid Portugal and pragmatic power Germany, is a sporting feat worth celebrating. The Belgian roster is the World Cup's third-most expensive, player for player. That this exhausted, patched-up team, featuring seven MLS players, stood up to a veritable Premier League all-star squad and forced them into extra time (in a fight that at times admittedly was akin to watching George McFly battle Biff in "Back to the Future") is an achievement to be savored.
A realist would look at the record the team takes home from Brazil -- one win, one draw and two losses -- and then watch film of the Belgium game and know the United States could have easily leaked eight or nine goals if Howard had not entered a trance-like state to make a World Cup single-game record 16 saves. (I spoke to him Wednesday morning and he described the experience thus: "I looked at the game clock every 10 minutes but after a while it began to feel like the clock was broken.")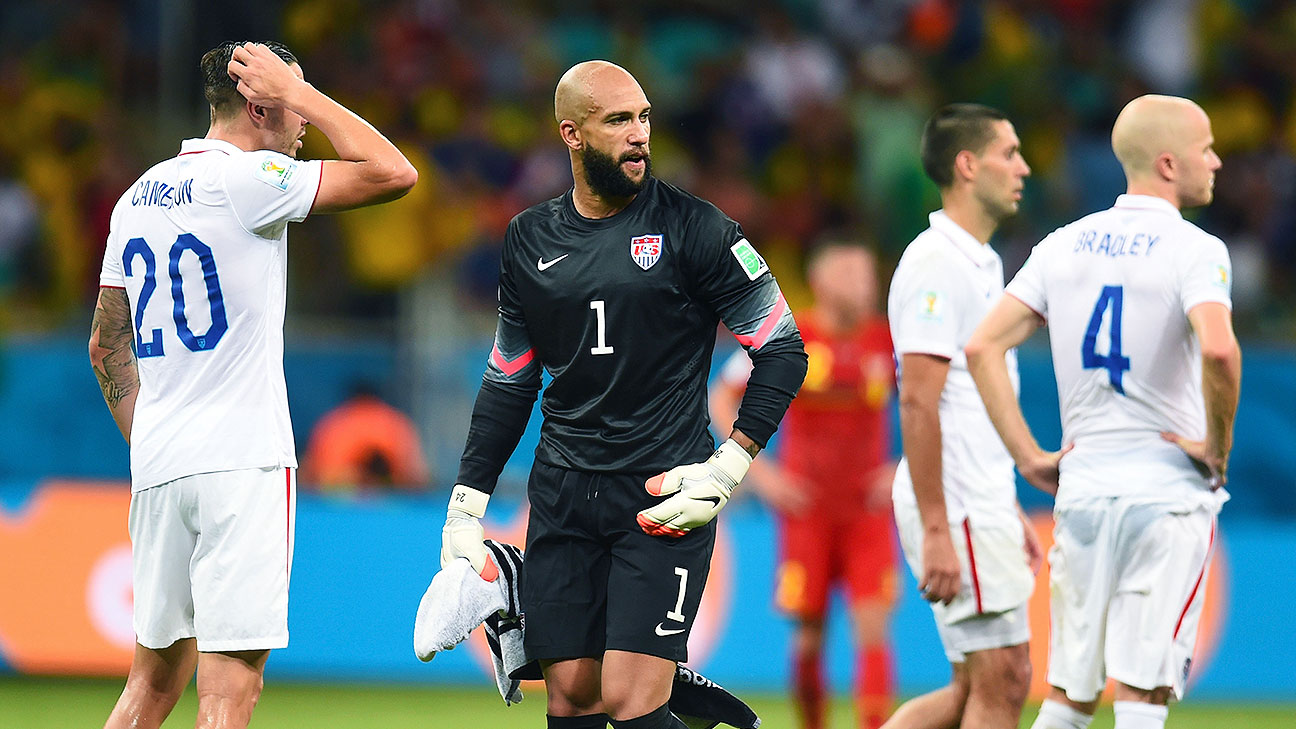 Harder questions will be asked. This was a U.S. team in which heart, tenacity and athletic conditioning still compensated for a lack of skill and tactical decision-making. As the clock ticked down in Salvador, Klinsmann looked like a man aware that his best chance of getting back into the game would be to substitute himself onto the field.
How many of these players have the first touch and the speed to thrive in the modern pressing game? Where is our talent pipeline that will develop American Eden Hazards and Romelu Lukakus? Do I have to launch a reality show -- "America's Next Top Striker" -- to answer that question? Further, in the short term, is the most critical American soccer question what Arsenal's young star Gedion Zelalem thought about while watching the United States last night?
Many of these infrastructural long-term questions will be answered by Klinsmann. The German has a dual capacity at U.S. Soccer, where he is technical director as well as coach, and the challenge of overhauling the jerry-rigged system to affect cultural change is one that appears to excite him most. When asked, Klinsmann says that task will take between 10 and 20 years.
Can you wait that long, America? The Ridley Scott-esque scenes of fans living and dying along with their team, culminating in thousands crowding into Soldier Field in Chicago and AT&T Stadium in Arlington, Texas, were so epic that, from Rio, I found it almost hard to believe they were not generated by a computer. This has been a summer of magic for United States soccer, in which ratings, passion, and perhaps most crucially in the long term, advertising dollars, have flooded toward the game.
As they do so, know three things, America:
1. You could feel worse. You could be English.
2. The wound you suffer this morning will heal and be reborn as the truest love and unbridled passion for the game. A gift from which you will always benefit. It has enabled me to experience myriad emotions and feelings -- like joy, pathos, triumph and doom -- I am meant to experience in real life but am sadly numb to.
3. There are just 1,437 days until the 2018 World Cup kicks off in Russia. Go! Go! Go! USA!
Roger Bennett is a columnist for ESPN FC and, with Michael Davies, is one of Grantland's "Men In Blazers." Follow him on Twitter @rogbennett.