Louis van Gaal and Manchester United: What can you believe?
The fact that it's been a long time since football clubs stopped being just that -- actual clubs where folks would band together to play football -- is ancient news.
Yet recent events at Manchester United bring into focus just what they've become.
Part retailer and part entertainment company.
Part publicity vehicle and part faith.
Part TV programming provider and part tribe.
Part click-bait and part telenovela.
Part billboard for advertisers and sponsors.
Part vehicle for buying and selling the services of footballers in that parallel universe we call the transfer market.
Oh, and there's also 11 guys who go out most weekends and try to score goals in front of 70,000-plus fans.
It's a common thread uniting the world's superclubs. The obvious differences are perhaps ones of scale -- few come close to generating the interest that United does -- and direction, because rarely has a juggernaut club felt as adrift as in the past few weeks.
That word "felt" matters. Because our opinion, whether we are Manchester United fans or not, isn't just a function of results and what we see unfold on the pitch. (Which, by the way, is hardly unmediated but often shaped by external factors, such as crowd reaction if we're at games or commentary if we're watching on TV.)
Nope, our views are shaped by the narrative around the club. And that is formed by communication and the media, for better or worse. That's why clubs are so obsessed with things like branding, style and communication.
Crazy, but true: Until the late 1990s there were plenty of Premier League clubs that didn't have a single media officer. Today they have entire communications departments, in-house media, external PR flaks and brand consultants. Plus they send their employees to media training.
You can't blame them, because perception matters.
Remember last season when Louis van Gaal got angry and complained that what the media was calling "long balls" -- a negative -- was actually a case of "long passes" -- a positive? Or the absurd lengths to which United went to convince the world that Angel Di Maria was a "Galactico" when they signed him in 2014? Or, indeed, this speech by Van Gaal, which was equal parts humourous, sweet and full of spin?
The only time perception doesn't matter -- or matters substantially less anyway -- is when you're getting results. That's what separates sport from art, because here's an alternative, measurable and indisputable vantage point: results.
Andrea Bocelli can sell a fraction of what One Direction sells and call himself a better musical artist. So too, in writing, can Alice Munro vis-à-vis Dan Brown. But in football, you can't credibly claim the "better" tag if you routinely finish behind the others.
And so, if you don't finish first, you have to show something. That's where it becomes about controlling communication and perception. And that's where, if you're United, everything gets magnified and scrutinized and where things spin out of control.
Take the business with Van Gaal and whether he should stay on as manager. It's a subject that has generated endless speculation, most of which probably doesn't help the club.
It used to be pretty simple. Van Gaal's boss -- whether executive vice chairman Ed Woodward or the club owners, the Glazers -- would face the cameras and either say: "We have total faith that this is just a blip and Van Gaal definitely won't be fired" or, "We think he's losing it and there might be a better option out there, so if things don't improve in double-quick time, we'll get somebody we think is better."
After all, it's safe to say Woodward and the Glazers are thinking one of those two things, right?
The problem is, because we're not particularly grown up about it, neither path is viable. Saying he "might" be sacked would be seen as undermining him. And that's something that terrifies employers -- not just in football -- because nobody wants to be seen as the general who throws his lieutenants under the bus in public.
Conversely, saying you have complete faith in someone is also not viable. It has come to be known in fact as the "dreaded vote of confidence" and has the opposite effect. That term has become a buzzword for an imminent sacking, which is the opposite of its stated intent.
You can blame the media for this to some degree -- though, in fact, clubs must also shoulder a lot of the blame. They routinely pinky-promise that so-and-so's job is safe and then give him the boot a few days later. (Real Madrid might well be the worst offenders in this department.)
That's why Woodward, and United in general, have preferred to communicate via "briefings," which are essentially background chats without quotes and without attribution beyond phrases like "sources" or "it is understood that" or "people close to."
Done properly, this approach can be very effective. And you can argue that it has been. After all, Manchester United finished fourth last season and were still able to sell the idea in some quarters that they were on the right track, that they had done a great job in getting rid of "dead wood," that Anthony Martial was a stroke of genius and a value signing and that the David De Gea transfer mix-up was entirely Real Madrid's fault, etc.
The problem with the "briefing" strategy is that the audience can get confused when there is no name attached to the message. If, say, Sir Alex Ferguson speaks to somebody on background, you can still call him an "Old Trafford insider." And, unless the message is about Woodward, you're left with the doubt of who is talking. Why does it matter? Because Woodard has an actual say on day-to-day decisions at United, whereas Ferguson does not.
There are also stories like this one, in which it's reported that Van Gaal has told "close friends" that he has "no intention of quitting."
When you see that it can mean one of several things. Sometimes it's Van Gaal himself talking to the reporter. Sometimes it's an associate who has been instructed by Van Gaal to send a message. Sometimes it's an associate who is simply relaying what he heard. Sometimes it's an associate who has no idea but is speculating or making things up. And sometimes it's not an associate but a third party -- maybe Manchester United -- relaying information that may or may not be true.
And then there's a whole other layer on top of all this: guys who have insight into Old Trafford, or part of what goes on, but aren't decision-makers. These can include players or players' friends or agents, who talk to their clients all the time and might have 101 reasons to share what they've been told, or club staff or, indeed, ex-players who still speak to folks at the club.
All of these are sources. All of them help shape the image and debate surrounding the club.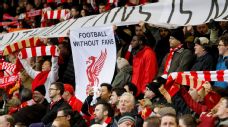 The waters are also muddied by talk that United has "a board" and the "board" makes big decisions, such as whether to keep Van Gaal. This gives off the idea of a council or congress of wise men and women. But the reality is that it's no such thing.
Manchester United has a board of directors made up of 12 people. Three are independent directors who have to be there by law but don't actually make decisions. Of the other nine, six are Glazers (Joel, Avram, Bryan, Kevin, Darcie and Edward). Then there's Woodward, his sidekick Richard Arnold and a guy named Jamieson Reigle, who does commercial stuff. The management board is even smaller: two Glazers, Woodward, Arnold and Reigie.
A big deal is made about how Ferguson, Sir Bobby Charlton and the former chief executive, David Gill, are involved at the club. But as Gill said over the weekend, he's a "nonexecutive" director who is not privy to discussions about Van Gaal's future. That's all down to Woodward and the Glazers.
All this adds up to a lot of people -- many of them emotionally invested in United, many of them not -- talking to a whole lot of other people trying to divine what Woodward (who also does a lot of talking), Van Gaal (who talks a bit but mostly on background) and the Glazers (who are almost entirely mute) are going to do.
I don't know whether there is a better way to handle communications on United's part. The genie is out of the bag; the days when supporters would troop along silently and accept whatever the club said as gospel are long gone.
United's strength, which is being a brand that resonates with so many people and that so many feel a part of, right now is also a weakness. There are so many people -- virtually all of whom are out of the decision-making loop -- who care about the club and, mostly in good faith, pull in different directions. And there are so many of us in the media who are charged with chronicling this great football institution and end up adding to the noise.
The best you can do is take a step back, accept all this, figure out whose judgment and whose opinions matter and make your decisions accordingly. United fans especially must hope that Woodward and the Glazers are doing just that.
Gabriele Marcotti is a senior writer for ESPN FC. Follow him on Twitter @Marcotti.