Jurgen Klopp needs to rule with his head and focus on the Premier League, not Bayern
The trick is getting head and heart to coexist in the right proportion, at the right time, and a great manager knows when to turn the dial toward the "heart" end.
It's how Liverpool came back from 3-0 down in a Champions League final, remember? You loosen the reins, go for it and believe in the improbable. To paraphrase "Risky Business," it gives you freedom, freedom brings opportunity, opportunity makes your future...
But there are times when you need it turned back toward the "head" end. Knockout European football is jiu-jitsu as much as anything else and Jurgen Klopp, who has won 12 of 15 two-legged knockouts, knows this as well as anyone.
He won't admit it in so many words -- managers are specifically conditioned not to do this -- but there's a bigger picture to consider as Liverpool host Bayern Munich in the first leg of their round-of-16 clash.
As important as the Champions League may be, both financially and in terms of prestige, his club are poised to do something they haven't managed to do in 29 years: become English champions. As droughts go, this one is particularly stinging because when Liverpool last won it back in 1989-90, no English club had won it more times. Since then, Manchester United have passed their 18 league titles -- or, as Sir Alex Ferguson famously said, "knocked them off their f-----g perch" -- and no club in a major European league, among those who have won more than 10 championships, has gone as long between titles.
In that sense, Klopp's head has a very clear message and one that his heart doesn't like very much: the Premier League must come first.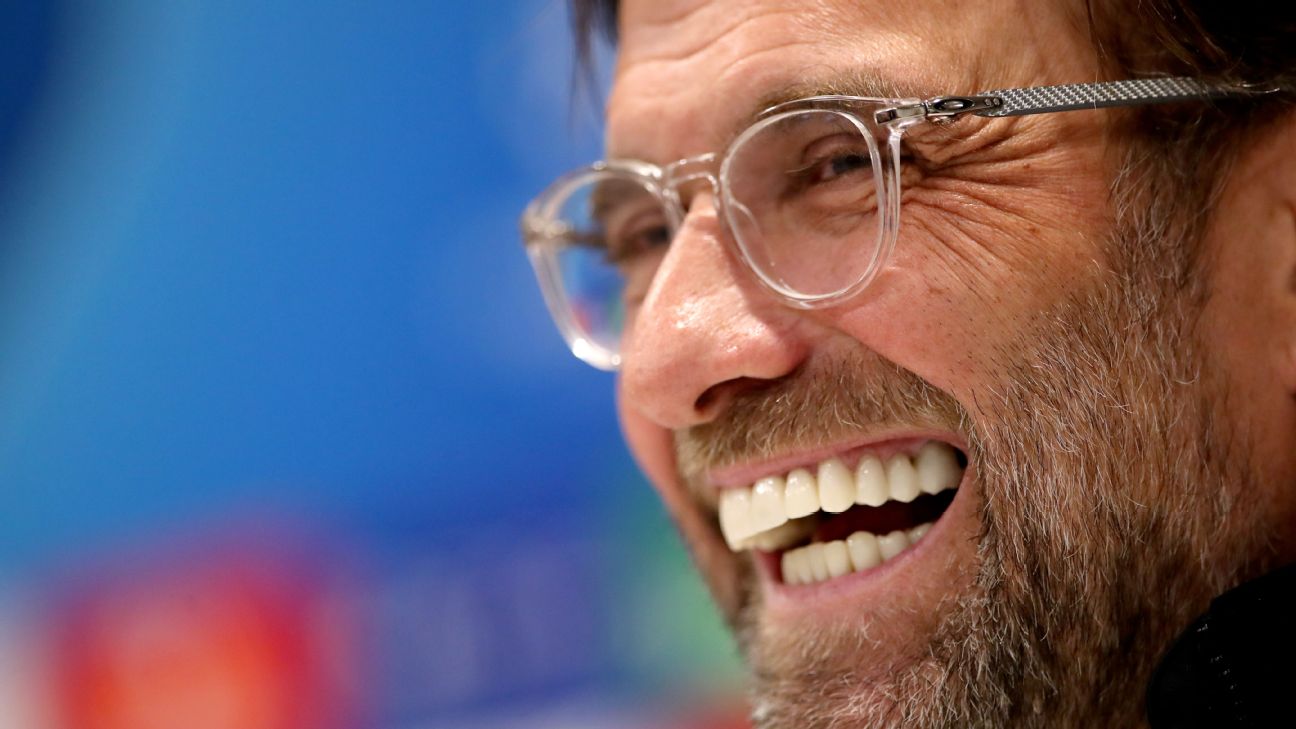 You can imagine heart and head duking it out over the past 10 days during the club's warm-weather training in Marbella. The logic speaks volumes. Next Sunday, Liverpool travel to Old Trafford to face Manchester United. If they can escape unscathed, they will nose in front of Manchester City (who have played one more match) by either a point or three points. Do that and you control your destiny because the fixture list is kind. Every single away game after that is against a side from the bottom half of the table, except for Everton. And every single home game, bar Chelsea and Tottenham, is against a team from outside the top six.
It's not a dead cert, by any means -- Liverpool learned the hard way, when Steven Gerrard slipped in 2013-14, that there is no certainty in football -- but at least a chance at controlling your own destiny.
There's another factor pointing you toward the league: Your starting central defence may well be made up of two guys (Joel Matip and Fabinho) who, between them, have played the position less than a dozen times in the past 12 months. Joe Gomez is injured. Virgil Van Dijk is suspended. Dejan Lovren hasn't played in six weeks, missed the training camp and is still nursing his injured hamstring. You don't want to risk his health because you'll need him down the stretch, as Gomez might not be back until April.
Plus, you know Manchester City are in the opposite boat. They have a Carabao Cup final to play, they're through to the quarterfinals of the FA Cup and their Champions League opponents aren't Bayern but Schalke, who sit 14th in the Bundesliga and have won just once in 2019. That's where your head tells you: Let them deal with the fixture congestion of advancing in Europe and two domestic cups.
You can hear your head loud and clear. But thrumming away inside you is your heart, and its message is different. Your heart reminds you that many thought you were doomed against City last year, when you were so depleted that you had to call on somebody named Conor Masterson to sit on the bench just so you could field an 18-man squad. And you won home and away, 5-1 on aggregate.
Plus, this is Bayern. Not that long ago, as coach of Dortmund, you knocked them off their perch and made your name in world football. Like the cool clique in school, they're the guys who take it for granted that everyone in German football wants to hang with them. Not you; you turned them down before and you may be asked to do it again. It was sweet then and it would be sweeter still now.
And then there's maybe the greatest pull of all. Tuesday night, you'll hear them, even from the bowels of Anfield, even before you walk past the "This is Anfield" sign. You'll see the Kop moving as one, the wall of sound will hit you, the faces will, for a moment, become distinct before melting back into the red. They too are balancing their hearts and their heads but in that moment, the former will rule. And you'll be swept up in it. You always are.
Klopp knows his team have lost their last five European games away from Anfield, conceding 12 goals in the process. The question isn't whether to field an under-strength side and save his big hitters for Manchester United -- he won't do that -- but how much mental and emotional energy to expend on this clash.
And so, maybe, you treat this a "free hit." If you get something from it, you can use that momentum and self-belief as fuel against United. If you come up short, it won't derail your season.
On Tuesday night, Klopp should go with the head, tempered by the right amount of heart. The trick for him is getting the balance right while keeping his eyes on the prize: The one that has been missing since before the vast majority of his squad, and many of the fans, were even born.