Why you should care about the FIFA presidential elections
Editors love to remind journalists to make sure to explain to readers why a certain story should matter to them. And rightly so. It's a good exercise.
It's easy for someone like me, who has covered FIFA and football institutions for a long time, to forget why and how the FIFA presidency affects fans. I've met candidates. I've spoken to their handlers, consultants and spin doctors. I've read their manifestos. I've talked to people at FIFA and the various confederations about how their work might be affected by the election of one candidate or another.
It's a cracking yarn, a soap opera of intrigue and colorful characters -- sort of like "House of Cards" meets the presidential primaries. But asking what it means to the core constituents (footballers both recreational and professional and supporters, from casual to hard-core) that FIFA ultimately serves is a different matter. It's also one that requires a bit of thought and maybe leads to an unexpected answer.
Like maybe the fact that while the FIFA presidency has a sizable impact on football associations around the world, the World Cup and its format and regional sporting power relations and some impact on the laws of the game and how it is regulated, in the grand scheme of things its impact is a lot smaller than we are led to believe. At least in terms of how the average football fan or football player goes about his or her daily life.
Simply put, whoever replaces Sepp Blatter will take over an organization that is less "top-down" than at any point in the past 40 years, if the FIFA Congress (the 209 member nations) approves the package of measures drawn up by the reform committee. (And given that the FIFA executive committee approved it unanimously last December, you'd hope they'd get the three-quarters majority needed to pass the bill.)
What this will (hopefully) add up to is a series of checks and balances that will make FIFA a better-run, more transparent organization with fewer power brokers lording over their individual fiefdoms. It also will mean less individual power for the person at the top. Even Blatter, the man who came to epitomize FIFA and power for the past 18 years, was nowhere near as omnipotent as many would have us believe. He kept his position by growing FIFA commercially, keeping the money rolling in, doling it out and perhaps not noticing (some might say "pretending not to notice") when some of his supporters took too many cookies out of the jar.
Equally, he did not get his way on plenty of things, from an expanded FIFA Club World Championship -- remember this? Of course not; it was scrapped after the first edition in Brazil -- to holding the 2022 World Cup in the United States to having women footballers play in "more feminine" (read: skimpy) uniforms.
If Blatter with his fiefdoms, entrenched power and automatic support couldn't get certain things done (thankfully so, in the case of the women's game), what chance do his successors? The fact is that they're going to have to rule by consensus, which is what Blatter had to do in his later years. That doesn't necessarily mean that if the right people are elected they won't be able to effect positive change, just that it will be neither straightforward nor instantaneous.
Will they be able to rid FIFA of the scandals, negative publicity, chicanery, corruption and indictments that have dogged the organization in recent years? You would hope so, but there are two things to consider here.
First, while the U.S. Department of Justice and much of the western media keep calling the indictments of 2015 a "FIFA scandal," that's only partly true. The bulk of those indicted were not FIFA employees. Some may have sat on FIFA committees but only because they were picked to do so by their confederations. These people were sports marketers, FA heads and officials at CONMEBOL and CONCACAF. That's where the vast majority of the alleged crimes took place: in the Americas and in competitions that have nothing to do with FIFA.
The other factor to consider is that when you get down to it, corruption and mismanagement of this nature affects the football fan -- FIFA's ultimate constituent -- only in tangential ways. Whether you're the type of fan who wakes up in the middle of the night in Asia to stream Barcelona games or the supporter who has a season ticket at Old Trafford, the crimes most commonly associated with FIFA don't really affect you.
FIFA ELECTION COVERAGE ON ESPN
- Feb. 22-26, 1:30 p.m. ET (ESPN): Outside the Lines
- Feb. 23-26; 5 p.m. ET (ESPN2): ESPN FC
- Feb. 26, 7 a.m. ET (ESPN2): SportsCenter
- LIVE on ESPN3: Feb. 26, from 2 a.m. ET
This is not to say that they are victimless crimes. But we're talking a teeny, tiny percentage of the total number of football fans worldwide, which incidentally is probably why those who were corrupt believed the party would go on forever: not enough people who mattered cared or were affected enough to care.
Aren't there practical things FIFA can do to affect football fans? Like changing the laws of the game or expanding the World Cup to 128 nations?
Theoretically, yes, which is why you hope that Friday's elections will yield the most honest and competent president possible. But in practice there is only so much they can do, for better or worse.
The laws of the game are governed by IFAB (aka "the international board"), an eight-member body that ratifies changes. For historical reasons, four IFAB seats automatically go to England, Scotland, Wales and Northern Ireland; the other four are appointed by FIFA. You need six of the eight to agree if you want to modify the laws, so in that sense, FIFA's powers are somewhat limited.
As for expanding the World Cup, that's certainly something FIFA can do and the president can exert significant influence. In fact, most of the candidates are in favor of it; whether it's just an election promise or they really believe in it remains to be seen. The same goes for picking the World Cup hosts, though expanding the decision to the entire 209-member FIFA Congress lessens the power of any one president. But neither will significantly impact the experience of the average football fan, watching on TV. Not enough to rise up and make an issue of it, anyway.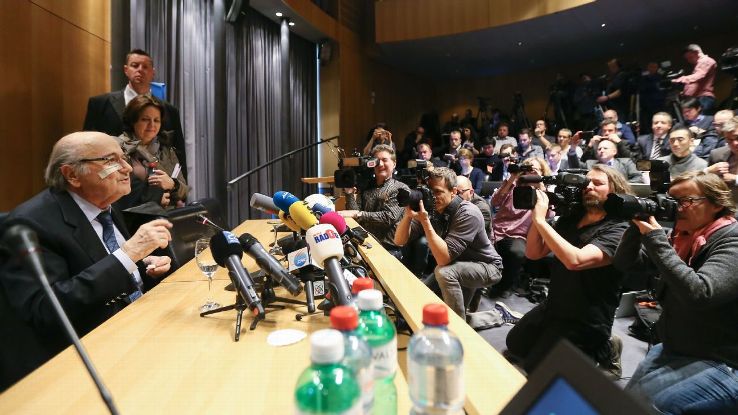 One area where the FIFA presidency has historically wielded power -- and often in a dubious way that supporters noticed -- is over the selection and appointment of World Cup referees. In the past, the referees committee was perhaps the most coveted appointment of all (it then became the finance committee, obviously) and the president could steer his guys onto the committee.
Previously, it was packed with senior regional FIFA power brokers like Ricardo Teixeira of Brazil (who was indicted last year), people who would lobby and horse-trade for officials of their liking. Today, the bulk of the committee is composed of former referees who may not be perfect but at least tend to judge on merit. (Perhaps not coincidentally, with some exceptions, 2014 was arguably the best-officiated World Cup in a long time.) So even that is an area where the president's power is on the wane.
So having read all that, why should you still care?
You should care not because it will affect your life as a fan or player (most likely, it won't) but because football is as close to a lingua franca as we have on this planet we all share. For better or worse and with all its flaws and limited powers, FIFA governs the sport to which we dedicate a significant amount of our leisure time on this Earth.
We're too far gone for it to be loved and in any case, people tend not to be fans of trans-national institutions. (When was the last time you saw a guy wearing a United Nations baseball cap or a Property of the International Monetary Fund sweatshirt?)
But we can desire that it not be run by people who are an embarrassment to the rest of us. That money destined for good causes doesn't get wasted or skimmed by people who are in it just to make a buck. And that if FIFA gets fixed, maybe we'll develop the courage and motivation to fix and improve our other institutions -- from local governments to police forces to education systems -- where we live.
That's why you should care.
Gabriele Marcotti is a senior writer for ESPN FC. Follow him on Twitter @Marcotti.