Leicester keep passing Premier League title race's tests; Barca win ugly
You might recall that Leicester were going to be exposed as frauds with that tough run of games beginning around Thanksgiving. Matches against Everton, Swansea and Liverpool away; Manchester United, Chelsea and Manchester City at home. They went into that cycle top of the Premier League and after three wins, two draws and one defeat, they emerged at the other side still top albeit jointly with Arsenal, who had a slightly better goal difference.
That's when we should have known that no, they're not frauds. Now that they're two-thirds of the way through another supposed "test" -- Liverpool at home, Manchester City and Arsenal away -- and have thus far gained six of six points, we can put that notion to bed. They may not win the title, but this is a really, really good side. And it has been for some time: Since April Fools' Day, they've taken 75 points from 34 games.
Still, that doesn't fully explain the hurt put on Manchester City on Saturday in the 3-1 win at the Etihad. It's definitely a heck of a lot easier to play when you go a goal up after three minutes, but forget that for a minute; it's not as if Leicester were going to go out guns blazing if they hadn't scored early. The plan was to defend tidily, break with focused hunger and precision and take whatever City gave them on set pieces. And they executed it perfectly.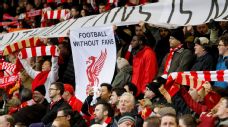 City's short-passing game -- with Kevin De Bruyne absent and Yaya Toure present in body only -- faltered as David Silva found no way through and Raheem Sterling ran into umpteen blind alleys. N'Golo Kante and Danny Drinkwater seemingly busted every attacking ploy, leaving Sergio Aguero starved for service and smothered by Wes Morgan and Robert Huth. Aguero was dangerous whenever he did find daylight, but the simple plan of cutting off the supply worked wonders, mainly because it was so well-executed.
At the other end, City's defense were bamboozled by Leicester's front four. They might not have emerged from their half often (other than Jamie Vardy who did his Energizer bunny routine) but when they did, they were devastating. Martin Demichelis may have had his worst game in a City shirt. Nicolas Otamendi, perhaps overcompensating for his troubled teammate, wasn't much better against the invention of Riyad Mahrez, the intelligence of Shinji Okazaki and the punctuality of Marc Albrighton.
Yep, Leicester are top of the league. And they'll be top next week too, even if they lose 10-0 at Arsenal, the third leg of their "test." That's the luxury of a five-point lead.
(In fact, scary as it may sound, the lead could actually have been nine points if not for the penalties they missed in a 0-0 draw against Bournemouth and away to Aston Villa, a game that finished 1-1.)
Many are talking about pressure and how it could eventually be Leicester's undoing once they realize they're on the verge of winning it. Alan Shearer made that point on the BBC, comparing it to his Blackburn Rovers team that had a big lead in 1994-95 but then limped across the finish line, dropping plenty of points along the way. But that Blackburn side was an expensively assembled juggernaut who were expected to contend. This Leicester side have already "won" their own personal league, far surpassing expectations. They're a team of veterans playing with house money. Nobody came to the King Power Stadium because they were hungry for medals.
If they don't win the Premier League, it won't be due to wilting under pressure. It will be because better sides took points off them or because they were unlucky in the final games.
Man City, Pellegrini deserve better
As for City, I heard several make the following point: "See? It's games like these which are proof that Manuel Pellegrini is unfit for the role."
It's certainly a cruel assessment but perhaps not an entirely unfounded one, either. You can hide behind injuries and poor signings (which aren't down to Pellegrini) all you like, but the last two games (the Leicester defeat and the win over Sunderland) were frankly disconcerting.
Eight of the XI who started for City have been with Pellegrini since his arrival, in the summer of 2013. They've won silverware with him, including the Premier League. Presumably, they were neither shocked nor traumatized by last week's announcement that he'd be moving on in the summer. So how could they put on a performance like this? And how could he be so out-thought tactically and out-fought on the pitch?
A six-point gap with 13 games to go is not insurmountable, and this is still, arguably, the deepest, most talented side in the Premier League. You hope that Pellegrini's final days at the Eithad don't end with whimper. He deserves better. And so do City.
Barca win ugly for Luis Enrique
It's somewhat ironic that on the day that Luis Enrique celebrated his 100th game as Barca boss (with a gaggle of records), his team should turn in one of their worst performances in recent weeks. It finished 2-0 against second-bottom Levante but until Luis Suarez's late goal, it looked as if the home side were more likely to get an equalizer.
Barca lacked the usual sharpness and it was if Levante, who went a goal down after 20 minutes, kicked on to another carefree gear, creating at least three clear-cut chances on the counter. No reason to worry -- Lionel Messi had an early goal disallowed for an imaginary offside and Neymar hit the post -- but it does go to show that even Barca occasionally need a breather. Or, as Javier Mascherano put it: "It used to be that if we didn't play well, we'd struggle to win... now we've learned how to win while playing poorly."
As for Luis Enrique's records, his 80 wins in 100 games eclipse the legendary Helenio Herrera (72) and Pep Guardiola (71). And the 28 games unbeaten equals Guardiola's mark, with struggling Valencia coming up on Wednesday in the Copa del Rey.
Neville situation gets worse in Valencia
Speaking of Valencia, the 1-0 defeat away to Real Betis made it nine Liga games without a win for Gary Neville. They're now in 13th place just four points above the drop zone.
Neville reiterated that his team deserved more and that he was focusing on the positives, which is exactly what you'd expect someone in his position to say. He has a ton of mitigating circumstances to explain the team's drop -- when he took over they were eighth and had just drawn with Barcelona -- but equally, he knows better than most that the buck stops with the manager.
What's most frustrating here is that so many could see just how poor a fit he would be at the Mestalla and just how tricky a job this would be. The danger -- and it's already happening in some quarters -- is that Valencia fans see him as some kind of dilettante, generously allowed to learn on the job by his buddy and business partner, club owner Peter Lim.
There's much more to Neville than that and, no doubt, he'll learn plenty regardless of how the Valencia experiment ends. The problem is that understandably, fans don't like it when they think someone is using their club as an apprenticeship or opportunity for on-the-job training. They like it even less when they have an owner, like Lim, who allows it to happen.
Liverpool fan walk-out gets attention
More than 10,000 Liverpool fans walking out of Anfield during the club's 2-2 draw with Sunderland made quite a statement on Saturday. That's exactly what it was intended to do: They were protesting a suggested rise in ticket prices next season, particularly in light of the new monster Premier League TV deal, which you'd think would diminish the need for a price hike.
Plenty have weighed in on this with their views on clubs' greed, whether fans are merely customers and the gentrification of Premier League crowds, with traditional supporters priced out. I'm going to add three quick points to this debate.
First, despite my best efforts over the past 48 hours, it's been really difficult to judge the exact nature of the price increase and who is most affected by it. It seems as if both sides are pointing to the extreme examples -- a £77 ($111) top price for some games and a £9 ($13) cheapest offer for some games -- when in fact, these concern only a handful of tickets over the course of the season.
Second, the protest stems from the fact that Liverpool's owners invited consultation with a group of elected supporter representatives and that they're the ones who invited the club not to raise prices. Whatever else you think of Fenway Sports Group and their decision to ignore the fans' recommendation, the fact that they even had a forum for them to air their views sets them apart from most Premier League clubs.
Finally (and I appreciate this is purely a cultural thing), I was somewhat disappointed by the scale of the walk-out. Some 10,000 did get up and leave, with the visiting Sunderland fans obviously stayed but applauded their gesture, but what about the rest? Did the other roughly 25,000 Liverpool supporters not agree with the protest? Did they not care? Did they agree somewhat but, as one colleague suggested, see it as their duty to stay and cheer on the team?
I honestly don't know and if they thought the reasons for the walk-out (or the decision to protest by walking out) were wrong, that's their prerogative. But I also wonder how many of them have already been desensitized by what is often a sterile, sanitized "fan experience" at many Premier League grounds, to the point where they don't even realize that they have a voice as both fans and customers.
Business as usual for PSG
For one night only, you thought for a minute that Le Championnat might go off-script and offer up some nice ad-libs. Sure, Paris St. Germain made the trip to the Velodrome with a 32-point gap separating them from Marseille. But this is France's version of El Clasico, a game where anything can happen. And l'OM hadn't lost since early November.
Even after Zlatan Ibrahimovic put the visitors ahead early, Marseille battled on, grabbing an equalizer via Remy Cabella (with a bit of help from Kevin Trapp). There were stretches when OM actually had the upper hand and you wondered if PSG would hit a road bump or some semblance of domestic vulnerability. But no. Angel Di Maria scored the winner thanks to some lax defending and that was that.
The lead over Monaco is still 24 points and PSG have still won every single one of the 31 domestic games they've played this season, bar three.
Are Arsenal turning a corner?
So rumors of Arsenal's demise, as I wrote last week, were distinctly premature. Sunday's 2-0 win at Bournemouth saw them jump back into second place and with Leicester City visiting the Emirates next, they have the opportunity to cut the deficit to two points.
The impressive thing about the Bournemouth performance is that Arsenal did exactly what Wenger's stubbornness supposedly stopped them from doing in the past. He mixed up his starting lineup, his team was more physical and direct and they didn't shun the long ball into space.
This doesn't mean Arsenal are finally going to be champions of course -- as I see it, it's a legitimate four-way race -- but it does mean they and Wenger have moved up the learning curve.
Serie A set up nicely for Juve vs. Napoli
Everything is teeing up nicely for Saturday night's top-of-the-table clash in Serie A. Neither Napoli nor Juventus played particularly well in their respective victories (1-0 at home to Carpi for Maurizio Sarri's crew, 2-0 at Frosinone for the bianconeri) but they showed the resilience necessary to avoid slipping up against relegation-threatened sides. It's now eight wins in a row for Napoli and a whopping 14 on the spin for Juventus -- it means something will necessary give on Saturday.
The sub-text here is the form of the two clubs' Argentine superstars. Gonzalo Higuain is up to 24 goals in 24 Serie A games, the all-time single-season mark is Gunnar Nordahl's 35 (set back in 1949-50) and if it's not in the back of his mind, it's front and center in the media's mind. As for Paulo Dybala, he's on 13 goals (with 8 assists to boot) for Juventus and is enjoying a break-out campaign.
Bayern rotate in dull 0-0 draw
When Pep Guardiola was asked how he'd juggle managing Bayern with preparing for his next job at Manchester City, he joked that "Like a woman, I know how to multi-task." Still, you were curious to see if there were going to be any blips in Bayern's next outing, the tricky trip to Roger Schmidt's Bayer Leverkusen. Instead, we saw what passes for Bayern business as usual of late: experiments and rotation, with a view towards Wednesday night's German Cup game at Bochum, and a 0-0 draw.
Bayern's defence is still decimated and so we witnessed the unusual partnership of Holger Badstuber and Josh Kimmich -- thus far unbeaten since Jerome Boateng's injury -- while Thomas Mueller and Thiago Alcantara were left on the bench. It finished with a somewhat lackluster draw, with Robert Lewandowski missing several good chances.
The result mattered little -- with Borussia Dortmund held 0-0 by Hertha Berlin, the gap is still eight points. More importantly for Guardiola, the defensive scheme held up (again) and he got to tinker with different attacking combinations.
Don't write off Tottenham
I got ridiculed on the FC TV show (mostly by one Ale Moreno) last week for suggesting that Tottenham were in the title race a while back. Six wins on the bounce sees them second and they haven't been this far up the table this late in the season since the days of Bill Nicholson half a century ago.
Against Watford this weekend, they were far more impressive than the 1-0 scoreline suggests and they've managed to keep winning without Jan Vertonghen as well. Those who fretted over Harry Kane regressing to the mean or getting injured have been proven wrong thus far. So too those how thought the team might be a little soft -- yep, that would be me.
We'll get a much better handle on just how Spurs can handle their place in the table next weekend when they travel to Manchester City. The road ahead is far from straight-forward: Between now and the end of the campaign, they host Arsenal in the North London derby as well as Louis Van Gaal's Manchester United. They also have tricky away trips to Liverpool and Chelsea. Right now, though, you write them off at your peril.
Luka Modric saves Zidane, Real Madrid
Zinedine Zidane enjoyed his first away victory as manager of Real Madrid this past weekend, and he owes a big thank you to Luka Modric, whose late wonder-strike gave them a 2-1 win over cellar-dwelling Granada.
Modric sometimes gets lost in Florentino Perez's galaxy but just as the wheels came off following his injury last season, he's proving to be critical this year in giving this team something approaching balance when Zidane decides to wheel out all the big guns in the same team.
It will be interesting to see how Zidane reacts to this performance. Truth be told, Modric's goal papered over a lot of cracks. Madrid simply did not play well against a lively young opponent who seemed to go the length of the field every time they counterattacked. There was little indication that you can carry James Rodriguez and Cristiano Ronaldo (both of whom were disappointing) with Isco as well and nobody to mop up.
It was a problem for Rafa Benitez and Carlo Ancelotti (each tried to solve it in their own way) it looks to be an issue for Zidane as well.
Gabriele Marcotti is a senior writer for ESPN FC. Follow him on Twitter @Marcotti.