Arsene Wenger is not a 'loser' despite the prevailing narrative about Arsenal
"It's always the same with you!" That's what an angry Arsene Wenger shouted at referee Lee Mason after Arsenal's scoreless draw with Southampton.
"And it's always the same with you!" That's what Southampton boss Ronald Koeman, who witnessed the scene, said to Wenger, which you can safely take to mean he doesn't take losing well and tends to blame others.
Chalk it up to the fact that competitive sports can make grown men regress to childhood. But Koeman's words perhaps cut a bit closer to the bone because they point to another narrative. The one that paints Wenger as some kind of perpetual, almost-but-not-quite-good-enough, inveterate loser. A guy whose teams flatter to deceive, tease but never deliver and ultimately are destined to shrivel up. It goes hand in hand with that other familiar Wenger trope whereby his team is somehow too effete and pretty and too style-over-substance to go the last mile.
But is there an actual basis to all this? Is there something endemic in Wenger's teams that makes them collapse?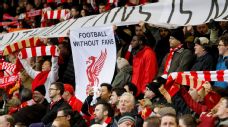 First of all, it's simply not true that Arsenal somehow regularly collapse. Look at the 11 years since the Invincibles and you'll note a decidedly mixed bag. In 2013-14 they were two points clear of Manchester City at the top of the Premier League on Feb. 2. They then lost to Liverpool 5-1, won just seven of their remaining 14 games and ended the season in fourth place, seven points back.
If that's your definition of "bottling it," then fair enough. But what about the other campaigns?
Last year, they started the season poorly but got stronger as it wore on, rising from sixth in February to fourth at the end of the season. It was the same thing in 2012-13 (sixth to fourth) and 2011-12 (seventh to third). In 2010-11 they were second, seven points back with seven games to go, and ended up tumbling to fourth after winning just one of seven, but that's a bit different: it's not as if they were in contention even when they were second.
In 2009-10 and 2007-08, they were in fact top of the table as late as March and January respectively, though their rivals had games in hand. In both years they fell away and finished third. And in the other four seasons in that time frame, there was no great change in their status for most of the campaign. This is obviously just a rough count, but it's enough to show that the Arsenal collapse -- an inevitable annual event like Black Friday -- is far-fetched. Sometimes they finish strong, sometimes they finish poorly, sometimes there's no great change throughout the season.
In fact they're probably no different in that sense from most other contending teams. Chelsea, for example, were top of the league in March 2014 and finished third. We don't call Jose Mourinho a bottler for that reason. The difference is that Wenger -- as he probably reminds himself daily -- hasn't won the title since 2004, so the the idea of the collapsing house of cards remains the dominant narrative.
In fact, there's no reason to believe Arsenal will fall apart or even that the four-game stretch without a win is a case of "falling apart" or signs of a deeper malaise. They drew away to Liverpool and Stoke -- ordinarily, you'd call those "good points" -- and the former was only down to a wild injury-time equaliser by Joe Allen. They did lose at home to Chelsea, sure, playing three-quarters of the game down a goal and a man. On Tuesday night, they were held at home by Southampton in a game in which they created an absurd number of chances and encountered a Fraser Forster playing out of his skin.
Truth be told, you really worry when you're not creating chances or when you're conceding far too many. Some of the stuff that went against Arsenal in the past few games -- superhuman keeper efforts, stupid red cards from World Cup-winning veterans, last-ditch equalisers -- is down to those things that we don't like to talk about: happenstance and luck.
If you really want to go there, Manchester City (most people's favorites to win the title) only scraped a 1-0 win at second-from-bottom Sunderland and could easily have been held to a draw or worse. And while top-of-the-table Leicester looked impressive against Liverpool, Jamie Vardy's opener was the epitome of the low-percentage shot, and his second benefited from a massive deflection in the build-up.
You can't control for those things. You can only do your best to get in positions to take advantage of luck when it does show up. And when it does rear its head, you hope it goes your way.
Wenger might be giving his players a reality check today and imparting a few home truths. First and foremost, they control their destiny. They host Leicester City on Valentine's Day and, depending what happens this weekend, a win might see them pass Claudio Ranieri's men. As for Tottenham, there's a North London derby to come that will give Arsenal ample opportunity to eliminate the neighbours from contention.
And then there's Manchester City. There's a head-to-head clash on the penultimate day of the season; the key will be getting there while still in contention. City might be a better, deeper squad, but they're also a team with a lame duck manager and, crucially, a side that's far more likely than Arsenal to progress in the Champions League. Battling on three fronts -- four, if you count the League Cup -- is tough for a team whose bigger stars seem perpetually injury-prone. Vincent Kompany has played nine minutes of football since early November, and the whole City universe held its breath when Sergio Aguero grimaced and held his leg after scoring against Sunderland on Tuesday.
The bottom line is that Arsenal are still very much a part of the most wide-open Premier League title hunt in years. And whatever "loser vibe" Wenger might give off to some, it's just a convenient (and maybe comforting) narrative that has no basis in reality.
Always the same with you? Maybe when it comes to being stubborn and passing the buck in the heat of the postgame but not when it comes to throwing away titles. Here, Wenger can help write his own history.
Gabriele Marcotti is a senior writer for ESPN FC. Follow him on Twitter @Marcotti.