Man City force Pep Guardiola to commit, Barca-Atletico fallout, more
At the risk of being conspiratorial, you wonder about Manchester City's decision to announce on Monday what most already knew: Pep Guardiola will be taking over from Manuel Pellegrini at the end of the season.
City said in their statement that the choice was made "out of respect for Manuel Pellegrini and the players" and that this way, they can "remove the unnecessary burden of speculation."
Well, unless Pellegrini spends his time off the grid in an underground cement bunker, emerging only for games and training sessions, there was no "burden of speculation." Even when he signed that one-year contract extension, Pellegrini knew that the club were going to go after Guardiola. And he knew that when Bayern announced Guardiola would not be back that there was a very good chance he'd be replaced by the Catalan.
Unless Txiki Begiristain and Ferrano Soriano are inveterate Pinocchios, you would assume that they told him exactly what was going on. That's how you show respect to a guy, and by all accounts, that's what they did. The same goes for the players, at least the ones who matter.
So why now? Why create a potentially uncomfortable situation for Guardiola, particularly if -- and it's certainly possible that they will -- Bayern end up facing City in the latter stages of the Champions League?
Mainly for two reasons, you would speculate.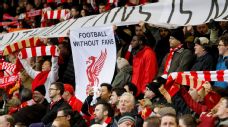 The first has to do with Pellegrini. He wants to be free to pursue another job next year. At the very least, he wanted the club's blessing to go and do so without the extra year's contract hanging over him.
The other is purely about Guardiola. Contracts are great and all, but particularly when it comes to managers, there's a simple truth. You might choose to play a player who would really rather be somewhere else, but you wouldn't hand over the keys to your billion-dollar investment to a guy who is not committed.
Guardiola has changed his mind on several occasions in the past; twice at Barcelona and indeed, before joining Bayern, he has agonized over his decision. Begiristain and Soriano have known him for years. They are undoubtedly 99 percent sure that he won't do a 180-degree turn and will rock up at the Etihad on July 1.
A contract won't protect you if for whatever reason a manager decides his heart is no longer in it. Nor will a penalty clause for breaching a contract safeguard you if there's another uber-wealthy club willing to pay it and Guardiola wants to go.
But making things public in this way -- and it will be interesting to see the words Guardiola uses when he's next asked about this -- does safeguard you that tiny bit more. It means things are out in the open, and if Pep flip-flops, it will be entirely on him.
Simeone's plan worked until Barca took over
He had the game plan, and for a while, it worked.
Atletico Madrid may have gone ahead on the back of a defensive mix-up, but make no mistake about it: the first 20-25 minutes of Saturday's game saw them bottle up and frustrate Barcelona to a degree few teams have done.
Playing Antoine Griezmann and Yannick Ferreira-Carrasco up front not only tied up the Barca back four, making it difficult to play out of the back (which is how Atletico took the lead), it also set the platform for a devastating counter. The narrow, physical midfield forced Luis Enrique's crew wide and into sterile alleys, while Gabi and Augusto Fernandez seemed to cage their opponents' creative impetus.
The ethos was that of the best Diego Simeone days: gut-busting work, heroism under siege and balancing on the edge of the Laws of the Game, making sure that when you did fall to the wrong side, you'd scamper back across as quickly as you could.
The problem was that Atleti couldn't play with the intensity of the first 25 minutes for the entire game, partly because they're humans and not jacked-up androids, and partly because Barca would not let them. Their center of gravity got pushed further back in hopes of finding more space for the counter, and Barca gobbled up every additional space, making their technical advantage count.
The way Neymar held the ball, hypnotizing the opposition before laying it off for Jordi Alba's overlap and subsequent cross, was just as important as Lionel Messi's ability to conjure space between flailing tackles and beat Jan Oblak with his first-time finish. Equally, while Luis Suarez's run to gather Dani Alves' pass was perfectly timed, Jose Gimenez appeared to be in a position to shepherd his countryman to an innocuous position. Yet Suarez's strength, savvy and balance kept the young defender just far enough away for him to invent that angled shot that disappeared under Oblak.
These are qualities that you can't coach. Such functions of vision, awareness and pigheadedness help make Suarez and Neymar the stars that they are, possibly as much as their athletic and technical abilities.
Filipe Luis' decision to leave his boot that little bit higher for that little bit longer (and to do it on a guy like Messi) rightfully earned him his marching orders at the end of the first half, and at that point, the heroism to get back into the game would have required Paul Bunyanesque proportions. And when the colchoneros' own folk hero, Diego Godin, was also sent off for a foolish and unnecessary lunge on Suarez, Atletico's race was run.
The upshot is that if Barca win their game in hand (Sporting Gijon away), they'll be six points clear of Atletico and seven ahead of Real Madrid, with Zinedine Zidane's crew not visiting the Camp Nou until April. You obviously don't win leagues in February, but Barcelona clearly took a massive step closer to the title on Saturday.
Why did Terry announce his Chelsea exit now?
John Terry is leaving Chelsea, the club he joined nearly 20 years ago, at the end of the season. Cue hagiographies of what he meant to the club, with his backers (the "Captain-Leader-Legend" crew) bemoaning the loss and cursing Stamford Bridge and his perennial critics (mostly, you would think, for some of his non-footballing activities) wishing him farewell.
Terry asked to speak to the media after Chelsea's 5-1 pasting of MK Dons in the FA Cup. "It's not going to be a fairy-tale ending, I'm not going to retire at Chelsea. It's going to be elsewhere, which it took me a couple of days to get over. The club will go on. No player is ever bigger than the club. I couldn't play for another Premier League club -- it will be elsewhere for sure. I couldn't do that to Chelsea fans."
There will be plenty of time to debate where he might go -- the knee-jerk brigade is already talking about China or Major League Soccer -- and what he can still contribute, but you wonder if maybe there isn't something more to this.
No more than two weeks ago, the official club line was that they weren't going to commit to extending Terry's contract until the new manager had been confirmed, which makes sense. Terry is one of the highest earners in the Premier League, but he turns 36 in November and is a huge presence (maybe too big for some managers) in the dressing room. Why would you commit those funds, particularly when you know you're going to take a financial hit with a poor league finish and no Champions League football last year?
And yet Terry seemed to speak with uncharacteristic finality -- though weirdly he also said, "It's a no at the minute, suggesting that things might change -- which seems unusual. You wonder if maybe this isn't a way to turn the screws on the club a little bit. And perhaps reposition himself vis-a-vis the new manager, whoever that turns out to be.
Mancini out-thinks himself in dismal derby defeat
It was billed as a must-win for both managers, albeit for different reasons. Sinisa Mihajlovic needed a victory, if not to save his job, at least to continue getting support from the powers-that-be at Milan. Roberto Mancini needed three points to keep Inter's waning title hopes intact and stop what now looks like a free fall.
It's telling that of the two bosses, it was Mancini who seemed more preoccupied with outsmarting the other with his tactical machinations. While Mihajlovic opted for a familiar, blue-collar 4-4-2, Mancini pulled all sorts of schematic rabbits out of his hat. He dropped Mauro Icardi, Serie A's top goal scorer last year and Inter's leading scorer (as well, for a while, captain), opting instead for Stevan Jovetic in the center-forward role.
Icardi isn't exactly a paragon of consistency and was criticized heavily (by Mancini, no less) for missing chances a week ago, but you wonder if the Milan derby really is the place to make a statement or teach life lessons. Gary Medel was the lone defensive midfielder, surrounded by a gaggle of hybrid attacking types and no offensive terminus.
Alongside Jovetic was Eder: a great player in his own right but a guy who had only joined the club 48 hours earlier and who, ironically, had forged a tremendous natural partnership with Icardi at Sampdoria a few years back. At right-back Mancini opted for David Santon, who hadn't actually played a single minute of football since October.
Evidently, far too much time spent thinking outside the box. Alex gave Milan the lead (with the help of some absurd marking), and while there was an Inter fight-back, it evaporated when Icardi (who came on as a sub) smacked his penalty off the post. Carlos Bacca and M'Baye Niang broke through at the other end to make it 3-0 in the second half.
Before that, we got to see Mancini at his hysterical worst. After being sent from the sidelines, he made an obscene gesture to the Milan fans and then followed it up by throwing a hissy fit in a TV interview. This is the behaviour of a man who isn't dealing well with the pressure, and it's affecting his team, perhaps as much as his game-day choices.
Inter have gone from being four points clear at the top in mid-December to being nine points back just six weeks later. Given what the club have invested in him, his job isn't in danger (for now). What is at risk, though, is Inter's season. And, perhaps, Mancini's reputation as a guy level-headed enough to deal with these situations.
Tasci a Band-Aid for Bayern
Last week we talked about Bayern's defensive crisis ahead of their Champions League clash with Juventus and following Jerome Boateng's injury. Since then, there's been good news -- Mehdi Benatia is set to come back to training this week -- and not-so-good news: Javi Martinez has broken down again and Spanish media are suggesting he may need an arthroscopic procedure.
That's why they pulled the trigger Monday to bring centre-back Serdar Tasci in from Spartak Moscow. It ticks so many boxes. He's German, he's solid, he's not cup-tied in Europe and because it's a loan with an option to buy, you have an out if Carlo Ancelotti has different plans next summer. Without the signing, Guardiola would have had a major headache, forced to dig deep into his repertoire of tactical voodoo to find a solution.
Against Hoffenheim, Guardiola drew up a hybrid back three of David Alaba, Holger Badstuber and Joshua Kimmich, with Phillip Lahm and Xabi Alonso taking turns slotting into the back to make it four on occasion. Given Hoffenheim's deep defending, it wasn't a huge deal but against Juventus, you'd expect it will be different.
Bayern don't need Tasci to be a superstar. They just need him to a short-term Band-Aid (and one who might not even be needed if Benatia returns to full fitness and Badstuber holds up).
'Bully' Ronaldo shows vintage form
Cristiano Ronaldo notched a hat trick in Real Madrid's 6-0 stomping of Espanyol on Sunday. It takes his seasonal total up to 30 goals in 28 games, and to those who measure the guys solely on scoring stats, it's a sign that all is well and he's as good as ever.
But that's when his critics point to stats like this:
Esta es la "curiosa" distribución por rivales de los 30 goles que ha marcado Cristiano esta temporada. pic.twitter.com/VwiREKmgeQ

- MisterChip (Alexis) (@2010MisterChip) January 31, 2016
For those who view him purely as the ultimate "flat-track bully," it's a godsend. It suggests he beats up on bad Liga teams, or Champions League cannon fodder like Malmo FF and Shakthar Donetsk, but ends up with a big goose egg against the better sides.
It may be also be a statistical aberration. Ronaldo has certainly proved in the past that he has scored big goals in big games. Far more telling, in this situation, is the eye test. His second goal, when he skipped past one defender, bamboozled another with quick feet and unloaded a vicious shot inside the far post, was much more significant in my opinion. That was vintage Ronaldo.
If that goal is a sign of what's to come between now and the summer, then he's still by some distance the king of the Bernabeu.
Napoli are the real deal in Serie A
There was a moment after Leandro Paredes put Empoli ahead at the San Paolo on Sunday when Juventus, who had pummelled Chievo 4-0 earlier, were actually on top of Serie A. It lasted all of nine minutes, though, as Gonzalo Higuain and a gorgeous Lorenzo Insigne free kick put Napoli back ahead on their way to a 5-1 win.
Yet it was still telling. Over the years, we've seen so many Napoli false dawns and missteps against opponents they were supposed to crush. This was a perfect opportunity to wilt under pressure. But they did not. They didn't panic, secure in the knowledge that they were outplaying the opposition, and went on knowing they'd be rewarded. And they were.
Juve may be the better side (though it remains to be seen how much the Champions League takes out of them), but Napoli feel like a confident, grown-up team. And it has been a while since that has been the case. It's a fascinating clash of footballing cultures that you hope will go down to the wire if you're a neutral.
Gabriele Marcotti is a senior writer for ESPN FC. Follow him on Twitter @Marcotti.