Man United's 'Twilight Zone'; Barca win as Madrid slip; dynamic Dybala
There have been reports in the British media that Ed Woodward, Manchester United's executive vice-chairman, talked Louis Van Gaal out of resigning not once, but twice, during the festive period.
Let that sink in for a minute.
Between Dec. 19 -- when they lost at home to Norwich -- and Jan. 2, when they beat Swansea 2-1, United played four games, winning one, drawing one and losing two. They were never higher than fifth in the table.
And yet Woodward had to persuade Van Gaal not to walk away.
Van Gaal. The guy who, if he stays, will only stick around until June 2017, because he keeps repeating he won't extend his current contract.
Van Gaal. The guy who has shown little forward progress, who gets ridiculed by former United players and who gets booed off the pitch.
Van Gaal. The guy who is out of the Champions League and out of the League Cup.
Van Gaal. The guy who, after 23 games this season and despite massive spending in the summer, has six fewer points than last season and three fewer than David Moyes had in his one campaign in charge at Old Trafford.
Yeah, that Van Gaal. He wants to leave -- possibly because he has the intellectual honesty to realize that he's not getting it done and, for the good of the club, somebody else ought to be given a chance -- and Woodward talks him out of it?
Huh?
Shouldn't it be the other way around? Shouldn't it be Van Gaal persuading Woodward that, while results have been disappointing, the club is on the right track for whatever reasons he might come up with?
It's just another example of the Twilight Zone that is Old Trafford right now.
Much was made of Van Gaal's words after Saturday's home defeat to Southampton. "I'm very disappointed that I cannot reach the expectations of the fans," he said. "They have -- or they had -- great expectation of me and I cannot fulfill them, so I am very frustrated because of that."
When I heard it, I assumed that he simply got his words wrong, that he meant "have not" rather than "cannot" and wasn't actually throwing in the towel. Now that you hear that he twice wanted to walk away and Woodward would not let him... well, I'm not so sure anymore.
What does appear obvious though is that sooner or later the club-owning Glazer family will run out of patience. And not just with Van Gaal, but with Woodward too.
Experimental Barcelona earn narrow win
On Saturday at Malaga, we saw shades of the rotation and experimentation that were a feature of Luis Enrique's first months at Barcelona, before he won the treble and was still seen as an inexperienced, introverted greenhorn.
With Gerard Pique, Jordi Alba and Neymar out, it was always going to be a new-look Barca, but what you didn't expect was that the manager would also shelve Dani Alves, Sergi Roberto and Jeremy Mathieu, as well as Ivan Rakitic, who was not fully fit.
The resulting set-up, particularly the center-back pairing of Thomas Vermaelen and Javier Mascherano, is not something we'll likely be seeing again soon.
Despite Malaga spotting Barca an early goal, it was Javi Gracia's crew who were more incisive for most of the first half, in part because of the visitors' roller-coaster defending. Juanpi got the equalizer and only a couple of brilliant saves from Claudio Bravo avoided a total meltdown.
Halftime brought sanity, with Mathieu coming on for the overmatched Vermaelen and Lionel Messi duly bagged his 19th goal of the season to give Barcelona the win.
It's a long season and you don't want to blame Enrique for trying out new looks and getting Aleix Vidal and Arda Turan some minutes. But maybe a game at Malaga who, lest we forget, have beaten Atletico Madrid and grabbed a point at Real Madrid, wasn't quite the place to do it.
Cavani falls out of favour
With a 5-1 win, Paris Saint-Germain pounded Angers, who were third in Ligue 1 going into the weekend. PSG's lead at the top of the table is now 21 points with 16 games to go and a chasing pack that inspires nobody. But really that wasn't the storyline coming out of the Parc des Princes
More telling was the fact that Edinson Cavani was relegated to the bench just a few days after coach Laurent Blanc said he "would understand" if the Uruguayan might want to seek employment elsewhere.
First off, it's telling how secure Blanc feels in his job. It was just a year ago this month that PSG's stars were moaning -- if not outright insubordinate -- and it seemed as if the manager was entirely isolated at the helm. Now, he has the chutzpah to shunt his $80 million superstar to the bench.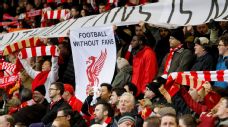 You can't help but feel some sympathy for Cavani. He arrived for huge money, he was told to bide his time and not only play second fiddle to Zlatan Ibrahimovic, but to do a lot of the hard graft out wide.
He did just that and has scored 68 goals in two and a half seasons at PSG, which isn't bad when he generally doesn't take free kicks and penalties and there's a Zlatan-sized object keeping you away from the six-yard box.
Cavani could stay, count his money and enjoy the blowouts against the likes of Troyes and Ajaccio, plus the occasional Champions League night. But at 28, you certainly can't blame him if he wants to move on.
Arsenal must bounce back
Last week I praised the mental toughness and resilience Arsenal showed away to Stoke. This week they're making me eat their words.
Sure, the home defeat to Chelsea was precipitated by Per Mertesacker's sending off. Arsene Wenger didn't like it and got wound up in double negatives: "You cannot say it's not true [that Diego Costa got him sent off"). Fine, but you also expect an experienced back four, led by a 31-year-old World Cup winner with 104 international caps, not to put itself in a situation like this.
It's not easy or fun to play down a man for 72 minutes. But it's equally true that Chelsea could have had a penalty -- Laurent Koscielny on Cesc Fabregas -- and that Arsenal produced very little.
Wenger was harshly criticized for taking off Olivier Giroud when he had to send on Gabriel Paulista to replace Mertesacker, but it was a classic case of no good solutions. The Arsenal boss figured shifting Theo Walcott up front and playing on the break made sense and he was probably right. What hurt him was that Chelsea scored almost straight away and therefore the counterattacking option became moot.
The key now that they pick themselves up and dust themselves off. Arsenal are three points behind Leicester, who they host on Feb. 14. Alexis Sanchez is fit again, Santi Cazorla and Francis Coquelin will return next month. They're still in the thick of it.
Dybala inspires another Juve win
It took them a while, perhaps hypnotized by Luciano Spalletti's crushing -- but too often sterile -- possession game, but Juventus overcame Roma 1-0 to win their 11th straight Serie A game and stay right behind Napoli, who were 4-2 winners at Sampdoria.
The Juve difference-maker was Paulo Dybala. Simply put, he is way ahead of schedule in his development. Bought at great expense in the summer with the idea that he'd be brought along slowly, he's becoming irreplaceable in Max Allegri's set-up.
Dybala has an eerie ability to find space and, once in position, to weave magic. Carlos Tevez, the guy he replaced, brought other qualities to the table but Dybala offers a level of creativity and unpredictability his countryman did not.
He's helped tremendously by the fact that Juve's first-choice midfield -- with Claudio Marchisio growing, Paul Pogba steady and even Sami Khedira finding his form -- gives Dybala a wonderful platform from which to work. And while the back three may not be Allegri's ideal scheme, for now it guarantees cover, leadership and quality.
As for Roma, the message is to give Spalletti time to work. He's not there to achieve miracles overnight, he's there to contend for a Champions League spot (Roma are six points away, which isn't an abyss given the way Serie A is going this season). If we see this version of Roma in May, that's when you worry.
Leicester back on top
Don't look now, but Leicester City are three points clear at the top of the Premier League. Claudio Ranieri did a little jig when they hit 40 points -- traditionally the minimum total to avoid the drop -- but now that they're up to 47, he's running out of dances.
Yep, we all expect them to fall away. After all, we can all name half-a-dozen teams who are better. And they host Liverpool next, followed by trips to Manchester City and Arsenal. Come Valentine's Day, normal service will resume and Ranieri will be looking up the table.
That's what the Official Premier League script says anyway. The trouble is, Ranieri's crew hasn't been too good about following it this season. And, having shown that they're not quite as reliant on Jamie Vardy and Riyad Mahrez as we thought, you wonder whether Leicester might not have a few more tricks up their sleeve.
Frustration for Real Madrid
Zinedine Zidane's Real Madrid dropped their first points since the Frenchman replaced Rafa Benitez three weeks ago as they drew 1-1 away to Betis. It was a game that served a reminder that football is a sport with so many variables beyond your control, that the best you can do is build the team that gives you the best chance of winning.
Zidane's problem, just as it was for Benitez and Carlo Ancelotti before him, is that this is not a rational, balanced team. And so when things go against you -- like ex-Madrid man Antonio Adan playing out of his skin or Karin Benzema not getting what looked like an obvious penalty -- you have to rely on other variables going your way.
Of course, there were things that went in Madrid's favour, such as James Rodriguez possibly being offside in the buildup to Benzema's equaliser, but the bottom line is that the game turned into a siege with wide men intent on cutting inside rather than stretching the Betis back four, plus the continuous threat of a counterattack by the home side.
Which is what tends to happen when you have a bunch of attacking soloists and not much in the way of an orchestra.
Mancini's Inter are struggling
If you looked closely, you could see the smoke coming out of Roberto Mancini's ears in the aftermath of Inter's 1-1 draw at home with Carpi.
Inter did not play particularly well against the newly-promoted side but took the lead through Rodrigo Palacio. However, they wasted several chances to add to it and, despite enjoying a man advantage late in the game, somehow contrived to concede an injury-time equaliser to someone named Kevin Lasagna, who was playing amateur football 18 months ago.
In five games, Inter have gone from having a four-point Serie A lead to being six points behind table-topping Napoli. After the game, Mancini did not hold back:
"We can't throw away all our hard work in this way," he said. "We need to score more than a single goal in a game like this. We probably need to go and buy more strikers. I could have buried some of those chances today and I'm 50..."
He's right on the final point (probably) but that's neither here nor there. Mancini was one of the most gifted players of his generation of the three guys he named -- Palacio, Felipe Melo and Mauro Icardi -- only the latter is in the same conversation in terms of talent.
Mancini speaks bluntly and throws his guys under the bus because he wants a reaction; he believes that playing bad cop they'll respond by being better. It may work that way with some, but you can't have it both ways. You can't talk about replacing players and at the same time peddle the line that they need to take responsibility and live up to their talent.
Bayern's defensive dilemma
Jerome Boateng's injury presents an interesting dilemma for Bayern Munich. ESPN FC blogger Mark Lovell runs through the various scenarios but the upshot is that the Bavarians are suddenly short-handed at the back.
Medhi Benatia is hurt, Holger Badstuber has lost a step (and has a history of injuries) and Javi Martinez at center-back isn't quite what he is in central midfield. David Alaba can deputize and make his pace count, but you still need to fill the other slot.
It's not really about the Bundesliga; Bayern are eight points clear and should coast to the title, with or without Boateng. But in less than a month they face Juventus in the Champions League.
On paper, they're favorites, but that's with a proper center-back pairing. With a makeshift duo of the undersized Alaba and Martinez, who knows? Given the form Paulo Dybala is in, is it a chance you really want to take?
You wonder if Bayern might be tempted to get some short-term help in the transfer market. But, if they do, is it on the advice of the departing Pep Guardiola or do they call upon the man who'll replace him in June, Carlo Ancelotti?
It's an uncomfortable situation, any way you look at it. From Guardiola's perspective, it could also help determine his legacy. He may well leave Munich with three Bundesliga titles, but if he goes out at the Round of 16 stage of the Champions League in his final season, it will leave a bitter taste with some people.
When is a friendly not a friendly?
Memo to whoever had the bright idea to organize a "friendly" SuperClasico between River Plate and Boca Juniors: Make sure the players are fully briefed beforehand.
Video of the 40-man brawl, which kicked off when River's Jonatan Maidana headbutted Carlos Tevez of Boca, became an immediate social media staple but the game itself was going dangerously off the rails from the start.
There were five red cards and 40 fouls in all, as well as a projectile hitting River keeper Marcelo Barovero -- this was Argentina's version of the Royal Rumble.
They're playing another one of these preseason games next week in Mendoza. Hopefully the clubs will act like grown-ups and ensure the players don't behave the way they did on Saturday. And if they're not convinced they will, maybe they should just call the match off.
Gabriele Marcotti is a senior writer for ESPN FC. Follow him on Twitter @Marcotti.